Pilots who overflew airport drop attempt to keep licenses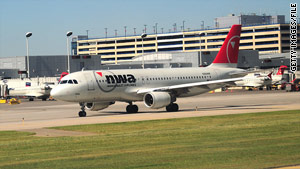 The Northwest Airlines pilots who flew past their destination can reapply for their licenses in 10 months.
STORY HIGHLIGHTS
Pilots who overflew destination reached settlement with Federal Aviation Administration

Northwest Airlines pilots have dropped appeal to keep their licenses

Under agreement, pilots may reapply for licenses in 10 months instead of 12

Washington (CNN) -- The Northwest Airlines pilots who lost their licenses after overflying their Minneapolis destination last year have dropped their appeal, the Federal Aviation Administration said Monday.
Under a settlement with the FAA, the pilots will not contest their license revocation but can reapply for their licenses in 10 months instead of 12, the agency said.
The FAA declined to say why it settled, but the settlement pre-empts the need for an appeals hearing next month before the National Transportation Safety Board that could have resulted in protracted litigation.
The FAA said it reached the settlement Monday.
If the pilots reapply for their licenses, they would need to take tests required of new pilots and would need simulator training to get certificates allowing them to pilot commercial planes, FAA spokeswoman Laura Brown said.
Although acquaintances of the pilots' have launched defenses on the Internet, Capt. Timothy Cheney and First Officer Richard Cole were at least initially apologetic for their actions in the days following the mistake.
"There's no good excuse," Cheney told NTSB investigators four days after the event. "I let my guard down. I wish I could explain why."
Cheney and Cole told investigators that they had not fallen asleep, as originally had been suspected, but had become distracted by an airline scheduling system on their laptop computers and "got deeper and deeper into it."
When a flight attendant called the cockpit to ask when they would land, the pilots realized that not only were they a half-hour late for the scheduled prelanding deceleration, they were about 150 miles beyond the Minneapolis, Minnesota, airport where they were supposed to land.
Cheney, who has about 20,000 hours of flying time, told investigators he was "blown away" that he had been distracted for so long, saying that in 24 years of flying, "I've never, ever, been in this situation."
He acknowledged putting his 144 passengers "at risk" and said he was embarrassed, the safety board report said. "You'll never know how sorry I am," it quoted him as saying.
The crew of Northwest Flight 188 was out of radio contact with radio controllers for 77 minutes during the October 21 flight from San Diego, California, according to the FAA.