STORY HIGHLIGHTS
NEW: Spain closes 11 airports in country's north

KLM carries out test flight, finds air quality suitable

UK flight restrictions stay in place until Sunday evening

Flights to and from a dozen European countries affected

(CNN) -- Here are the latest highlights regarding problems for air travel caused by the volcanic eruption in Iceland.
-- Spain closed 11 airports in the north, the country's first closure of airports due to the cloud of volcanic ash, the government airport authority AENA said. The airport in the capital Madrid remains open.
The airports will be closed at least until 4 p.m. local time (10 a.m. ET) on Sunday. Two more Spanish airports -- at Palma de Mallorca and Menorca -- might close later on Sunday.
More than 1,200 flights between Spain and northern Europe are being canceled Sunday.
-- Germany, Finland, Sweden and Denmark all extended the closure of their airspace, their national aviation authorities said.
German airspace will remain closed at least until 8 p.m. local time (2 p.m. ET) on Sunday.
There will be no flights in or out of Finnish airports before 6 p.m. local time (11 a.m. ET) on Monday.
Swedish airspace is closed until further notice.
There will be no flights in Danish airspace before 2 a.m. local time on Monday (8 p.m. Sunday night ET).
-- Ongoing:
-- Air China and China Southern Airlines, the nation's two major international flight operators, said Sunday they have canceled the majority of their flights to Europe.
-- Paris' Charles de Gaulle and Orly airports will remain closed until 8 a.m. Monday local time (2 a.m. ET) by order of the French Civil Aviation, Air France said on its website late Saturday. Meteorological conditions permitting, Air France said it will operate three flights out of Toulouse on Sunday, bound for Pointe-a-Pitre, Guadeloupe; Montreal, Canada; and Fort-de-France, Martinique.
-- Lufthansa has extended its flight cancellations until 8 p.m. Sunday German time (2 p.m. ET).

Video: Volcanic Delays

Video: From Warsaw to London with no plane

Video: Stranded by volcano? What can you do?

Video: Icelandic volcano update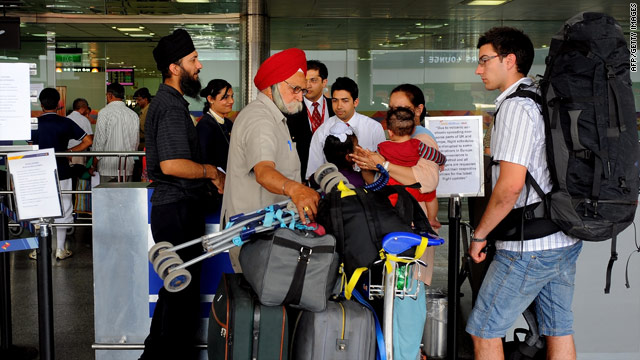 Gallery: Volcano ash causes more travel chaos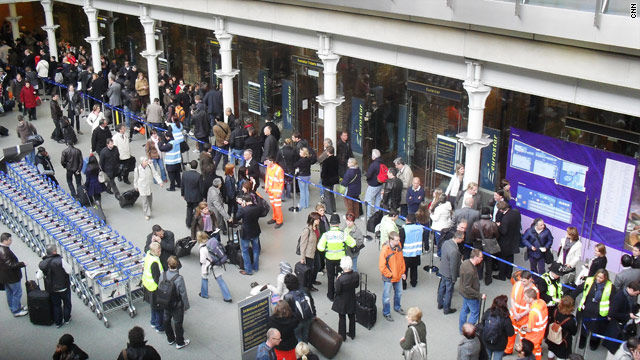 Gallery: UK travelers try to beat ash cloud chaos
-- KLM Royal Dutch Airlines carried out a test flight Saturday evening in the Netherlands airspace and found that the air quality in the atmosphere met the requirements for safe flight, said Peter Hartman, president & CEO.
The airline used a Boeing 737-800 that flew to 41,000 feet (altitude of approximately 13 kilometers), which is the maximum altitude for that type of aircraft.
KLM expects to receive the final results of the technical inspection Sunday morning. If the results hold, the airline will ask for permission to resume its operations.
-- Flight restrictions for the United Kingdom will remain in place until at least 7 p.m. Sunday (2 p.m. ET), the National Air Traffic Services said.
-- All British Airways short-haul flights Sunday into and out of London's Heathrow and Gatwick airports have been canceled, the British Foreign Office said. Airport operating company BAA warned "passengers not to travel to its airports -- Heathrow, Stansted, Southampton, Edinburgh, Glasgow and Aberdeen."
-- European air traffic control officials expected about 5,000 flights to take place Saturday in European air space, a drop from a normal day of about 22,000, according to Eurocontrol, the region's air traffic authority. On Friday, there were 10,400 flights compared with the customary 28,000.
-- There are restrictions on civil flights across most of northern and central Europe. This swath includes Austria, Belgium, Croatia, the Czech Republic, Denmark, Estonia, Finland, most of France, Germany, Hungary, Ireland, northern Italy, the Netherlands, Norway, Poland, Romania, Serbia, Slovenia, Slovakia, Sweden, Switzerland, Ukraine and the United Kingdom.
-- Upper air space has been made available in some of these restricted areas, depending on the observed and forecast area of ash contamination, air traffic officials said.
-- Parts of southern Europe, including the southern Balkan area, southern Italy, Bulgaria, Greece and Turkey remain open and flights are taking place in these areas, the officials said.
-- Approximately 600 trans-Atlantic flights take place each day, 300 in each direction. Of the 300 flights that would usually arrive in Europe, 73 flights arrived in Europe on Saturday morning.
-- The Icelandic volcano was still erupting Saturday, according to an official with Iceland's Department of Civil Protection and Emergency Management. He said it's not clear when the eruption will end.
-- Russia's 10 international airports, including Moscow and St. Petersburg, are all experiencing flight delays or cancellations because of the ash, the Russian Transport Ministry said. Russian national railway company RZHD said it has added extra cars to trains running between Europe and Russia.
-- Australian airline Qantas canceled all flights Saturday to and from London, England, and Frankfurt, Germany, its only two European destinations. Further cancellations are likely, the airline said.
-- Irish budget carrier Ryanair canceled all flights to northern European destinations and Milan, Italy, until Monday because of the volcanic ash, the airline said.