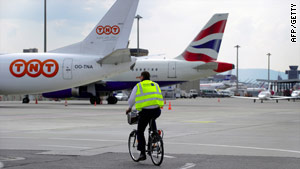 Grounded flights do have some benefits... like less pollution.
STORY HIGHLIGHTS
People benefiting from the flight ban include those living in aircraft landing corridors
Some gardeners have gained as volcanic ash contains minerals and nutrients
Several hundred thousand fewer tons of CO2 are being emitted compared to normal
London, England (CNN) -- Some of the visible winners of the volcanic ash flight chaos include coach companies, ferry operators, car hire firms and national train operators, including Eurostar, which has laid on extra trains in an attempt to cope with the explosion in demand.
But while these high-profile beneficiaries hog the media limelight, there are numerous other groups and individuals across Europe and beyond benefiting from skies free from commercial aviation.
These include the tens of thousands of people in Europe who live in flight path corridors -- there are 720,000 of those in London alone according to the UK Department of Transport -- to bird watchers, ramblers and gardeners who have benefited from volcanic ash enriching their soil.
The ash contains nutrients and minerals that fertilizes soil, say horticulturists, adding that volcanic ash holds air which can insulate plants against temperature change.

Video: IATA head: 'Another European mess'

Video: A volcano 'survival guide'

Video: When will the Iceland volcano stop?
Guy Barter, Head of Advisory at the UK Royal Horticultural Society, said: "Sulphur is an important plant nutrient so the slight additions that may occur when [volcanic] dust is mixed with soil might in fact be helpful."
Another outdoor group benefiting from the lull is bird watchers, who have been listening to birdsong uninterrupted by the periodic passing of jet planes overhead.
Andre Farrar of the Royal Society for the Protection of Birds told CNN: "It is palpably quieter, this is a good time not just for bird watchers, but also sound recordists and wildlife filmmakers. There is a link between birdsong and ambient noise, so for example birds living near motorways have louder birdsong than their counterparts in quieter parts of the country."
And while the birdsong carries further, the people who live in "aircraft landing corridors" in major European cities can also briefly enjoy a quieter life.
Margaret Majundar is a resident of Richmond, southwest London, a few miles from Heathrow.
She told CNN: "This is the first time in decades I can sit in my garden for more than 20 minutes at a time."
John Stewart, chair of HACAN, a British organization that campaigns against excessive aircraft noise, said: "Life is very very different, I can open the windows without worrying about a plane passing every 90 seconds."
The environment is also a winner, at least in the short run, with less carbon dioxide being emitted into the atmosphere.
Greenpeace, the environment campaigning group, estimated that several hundred thousand fewer tons of carbon dioxide were emitted during the flight ban compared to normal.
A Greenpeace spokesman said that this outweighed the carbon dioxide being emitted by the Icelandic volcano.
However, another company benefiting from the ban is Hangar8, a charter airline based in Oxfordshire, England, which over the weekend flew private jet aircraft outside the restricted airspace and against the official advice of NATS, the British air traffic control provider.