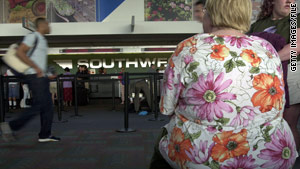 Some travel industry watchers wouldn't be surprised if airlines charged passengers by the pound.
STORY HIGHLIGHTS
Carry-on bags fees have travelers buzzing about what airlines will charge for next

The issue of large passengers has been a touchy one for airlines

Passengers pay more for heavy luggage -- are per-pound passenger charges next?
(Tribune Media Services) -- Now that Spirit Airlines has done the unthinkable, announcing plans to begin charging for carry-on bags this summer -- that's right, carry-on bags -- the question everyone seems to be asking is: What's next?
Pay toilets? Too late. Ryanair, the irreverent Irish discount carrier, is reportedly considering the concept. No, the next big idea could be paying by the pound. Seriously.
Airlines have always had a strained relationship with passengers of size, at least the ones in economy class. Fitting into a 17-inch wide seat is a squeeze for the average American, and it's becoming even more of one as the population expands. A Gallup poll found that the average American weighed 13 more pounds in 2007 than in 1990.
Solutions have ranged from Southwest's policy of asking XL passengers to buy a second seat, to the Canadian government's "one person, one fare" rule, which gives disabled and obese passengers a free extra seat on domestic flights.
But in the current climate of relatively high fuel prices and an anything-goes attitude toward fees, would anyone be surprised if airlines began charging overweight passengers in the same way that the post office makes you pay more for a heavier parcel?
Making heavy passengers pay more, presumably for a second seat, could help air travelers such as Cricket Moore, who recently had the misfortune of sitting next to an oversize passenger on a flight from Phoenix, Arizona, to Tampa, Florida.
"I was pushed against the armrest with my back twisted to avoid contact with my huge seatmate," remembered Moore, a retired civil servant who lives in Falls Church. "I then spent over an hour standing in the galley with the stewards, even when the seatbelt light was on. The worst part was being made to feel as if it was my fault."
Then again, her flight was on Southwest Airlines, which should have charged the jumbo passenger for an extra seat, in accordance with its longstanding policy. When Moore brought the uncomfortable seating arrangements to the airline's attention, it sent her an apology and a voucher for a future flight.
I'm hardly the first person to suggest that airlines might someday charge us by the pound. Two years ago, when fuel prices peaked and air carriers instituted new luggage fees, even the airlines admitted that nothing was beyond their imagination when it came to getting more money out of passengers and saving fuel.
One of the earliest mentions of an airline weighing passengers dates back to 1985, when the German carrier Lufthansa asked its customers to step on the scales before boarding. But it did so only to get up-to-date numbers on the average weight of the flying public, and the carrier didn't charge more based on passengers' weight.
Last year, Japan's All Nippon Airways asked passengers on certain flights to use the restroom before boarding, because that could lighten the plane's load and save fuel, which would be good for the environment. And the airline's bottom line.
Exactly how an airline might charge passengers by the pound is something of a mystery. Would every passenger get weighed, with anyone over, say, 200 pounds being assessed a surcharge, like the one on overweight luggage?
Would your fare be based on your self-reported weight? Would lighter passengers receive a discount?
There's another solution to the problem of heavy planes, which is to make the planes themselves lighter. The newest aircraft, such as Boeing's 787, use composite materials that make the plane up to 20 percent more fuel-efficient than today's aluminum planes. The lighter plastics used inside the aircraft can also be molded to offer more width for wide-body fliers.
Knowing the airline industry as I do, I bet they'll go for the upgraded planes and the pay-by-the-pound scheme.
As someone who came of age before airline deregulation, I'm troubled that we're even having this discussion. I wonder what legendary airline industry figures like Juan Trippe, the founder of Pan American World Airways, and Eddie Rickenbacker of Eastern Air Lines would think of this if they were still around. They'd probably be horrified.
We know that when it comes to carry-on fees, it'll be a bumpy ride.
Recently, five U.S. senators weighed in on the issue by introducing the Block Airlines' Gratuitous Fees (BAG Fees) Act of 2010, which tries to remove some of the incentive to charge the fees by eliminating an airline tax exemption on luggage surcharges. If an airline such as Spirit decides to put its passengers on the scales, it should expect a similar reaction.
Airline passengers often joke that they're treated like cargo, but this is one of those times when the rhetoric could someday match reality.
If it does, the joke will be on us.
(Christopher Elliott is the ombudsman for National Geographic Traveler magazine. You can read more travel tips on his blog, elliott.org or e-mail him at celliott@ngs.org).
© 2010 CHRISTOPHER ELLIOTT DISTRIBUTED BY TRIBUNE MEDIA SERVICES, INC.