STORY HIGHLIGHTS
Jason Mraz spent five days in Ghana this month with group Free the Slaves
He got to know kids who were freed from slavery and took part in a rescue mission
Singer was moved by children he met at rehabilitation center
He wants to encourage American children to be "global citizens"
(CNN) -- It only makes sense that music is what brought Jason Mraz to Ghana for a humanitarian mission.
The singer of hits like "I'm Yours" and "The Remedy" was so moved by a fellow musician Luc Reynaud's "Freedom Song" that he joined forces with a nonprofit organization, Free the Slaves, to help end child slavery in the West African nation.
In Ghana, it is common for parents to send their children to apprentice with a relative to learn a skill. But sometimes, the children will end up caught in slave labor.
Other parents knowingly sell their children to fishermen to wrangle nets 17 hours a day.
Mraz spent five days in Ghana this month, getting to know kids who were freed from slavery and taking part in a rescue mission himself.
Helping him navigate the intricacies of the rescue was his guide, James Kofi Annan, a former child slave. Now a free adult, Annan works on Lake Volta to rescue enslaved children.

Video: Jason Mraz's mission
"All he ever wanted as a child was a rescue boat to come and get him. So now, that's what he does, and in the last few years he's had the boat, he's freed more than 80 children," Mraz said.
With Annan's help, Mraz also raised awareness about child slavery in Ghana and in his own community. He believes that his trip was truly a success.
He shared the joys and the dangers of his experience with CNN. The following is an edited version of that interview.
CNN: You traveled to Ghana to rescue kids from slavery. What was your rescue mission like?
Mraz: A rescue mission doesn't involve going in and just taking a child and leaving. You can't just choose any child at random. Every kid has a case that is based on that child's original family. So, we made it over to a village, found the child; we were interacting with the child.
The next step was then to let that community know that we were going to be taking that child, and within minutes, they came and sheltered the child and locked him in a hut. The chief and child's owner had mysteriously disappeared, and the protocol was that you communicate with the chief and the trafficker, and you let them know what you're doing.
I was informed that this was very normal. Children work hard, for free, and they don't want to let that go.
CNN: Did you have to leave and let the child stay in that camp?
Mraz: We did, yeah, and the rescuers who are out on the lakes every day said, "You know, we'll come back in a couple of days. This is what we do." They say with some children it takes weeks; some children it takes months.
Sometimes you actually have to live in the fishing village for a week with the chief before you convince them to let the child go. You're really out-numbered; you're one rescue boat with a few people on it, and, really, the lake is controlled by a vast number of fishermen that really know the ins and outs of the area.
They could sink your boat; they could take you out and hide you. So they're really trying to do [the rescue missions] from building relationships and doing it through the art of conversation, and they are succeeding.
CNN: A lot of the inspiration in your music comes from other cultures. Did you draw inspiration from this trip? Is there going to be any influence on your upcoming album from your trip to Ghana?
Mraz: Absolutely! I try not to write songs. I would rather emote them, and I found myself going back to my room every night while on my trip, just pouring out new songs and new stories about what I was seeing, what I was feeling.
And I aim to write songs in a way that you don't have to have gone to Ghana to relate to it, you really just have to have a heart. Everything in my life really filters down to the music, so you can be certain that some of this is going to show up.
CNN: Was there a moment that really captured your heart on this trip and really stands out to you?
Mraz: It was the kids. I spent two days in the shelter with kids who were rescued, then got to spend time in a rehabilitation center where they are given three meals a day, a chance to play as kids, and reintroduced to school or given lessons for the first time.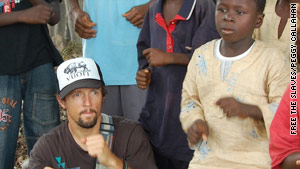 Jason Mraz with Maxwell, one of the children he met during his trip to Ghana.
And how I was immediately accepted. They trusted me as a strange adult. Immediately, they were hanging on me, playing with me, kicking the ball around, singing songs.
There was one kid, Maxwell, who, every time I sat down, he sat down next to me. It was really sitting there, with those children, and I thought, "Uh-oh, when I leave, is Maxwell going to cry?" And no -- he opened the door in the van for me, and he made sure I was in comfortably and slammed the van door, and he waved me good-bye. It was almost as if he knew, "You've got work to do. Go on and do it. I'll be here. I'll be fine!"
It was the cutest thing, and he's the one I found myself writing a song for. I've never had that kind of connection before. Hell, for the first time in my life, it made me want to have kids. I kind of "got it," you know, and I think that's a really powerful thing.
CNN: You've been blogging about your trip, and in one of your posts, you say, "My view of the world in my stance for equality has been blown wide open." What was your definition of equality before you went to Ghana, and how has it changed now that you're back?
Mraz: Well, my view before was a Western view, and I certainly understand marriage equality and civil rights, equal rights for all, but having visited developing nations and some of the poorest nations in the world, I realize how deep it goes and how much work really needs to be done to create equality for all. So I think my conversation is going to get a lot bigger and the work that I do is going to involve a lot more detail.
CNN: What's your next step? You spent five days in Ghana; are you planning on going back? Are you planning on raising more awareness here in the United States?
Mraz: What I'd love to do is work with kids in the U.S. to raise their awareness and encourage them to be global citizens. We're all connected these days; we can listen to the same music as kids all around the world and share our ideas.
So, I think I would like to work in a place where I can relate to people and me coming home with my stories and pictures and tales -- maybe an entire classroom can put together fundraising and activities. And they can, throughout the year, watch what their resources and their actions cause in the world, because I think that it's important that people know that they can make a difference.
FOLLOW THIS TOPIC