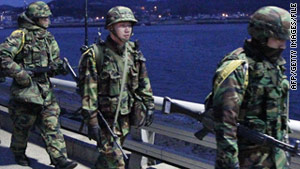 South Korea is preparing for military exercises in the seas southwest of Yeonpyeong Island.
STORY HIGHLIGHTS
NEW: This is "a perfectly legitimate step for South Korea to take," U.S. spokesman says
New: South Korean leadership is feeling the heat of domestic pressure, analyst says
North Korea could react negatively to the South's military exercises, U.S. official says
Washington (CNN) -- The U.S. military is concerned that South Korea's live-fire artillery exercises planned for coming days could spark an uncontrollable clash with the North, but the State Department said the exercises are not meant to be threatening or provocative.
"What we worry about, obviously, is if that is misunderstood or if it's taken advantage of as an opportunity," Gen. James Cartwright, vice chairman of the Joint Chiefs of Staff, said Thursday at the Pentagon. "If North Korea were to react to that in a negative way and fire back at those firing positions on the islands, that would start potentially a chain reaction of firing and counter-firing."
The live-fire exercises will be off the coast of the Korean mainland on Yeonpyeong Island. They come just three weeks after North Korea shelled the island, killing four soldiers and civilians and ratcheting up tensions.
"South Korea is entitled to take appropriate steps in its self-defense, making sure that its military is prepared in the event of further provocations is a perfectly legitimate step for South Korea to take," State Department spokesman P.J. Crowley said at his midday briefing Thursday. "North Korea should not see these South Korean actions as a provocation."
The United States has sent numerous officials to the region to try to ease the tension and work on a response to North Korea. The Joint Chiefs chairman, Adm. Mike Mullen, traveled to South Korea to urge restraint. A State Department delegation is in China now to discuss a range of issues involving the two Koreas. New Mexico Gov. Bill Richardson arrived in Pyongyang on Wednesday, at the invitation of the North Koreans, to meet with government officials and "bring down the temperature" in the peninsula.
The South Koreans announced the new exercises Thursday in a bid to show "firm will" to respond to any North Korean provocation. They have categorized the exercises as routine and legitimate.
"What you don't want to have happen out of that is ... for us to lose control of the escalation. That's the concern," Cartwright said about the military exercises.
Some 20 U.S. military trainers and observers will be on the scene, as well as U.N. observers and international journalists. Cartwright said South Korea had announced specific details and warned mariners of the live-fire exercises, to take place between Saturday and Tuesday.
"The area they are going to conduct these live-fire drills is an established and well-used range. It is not a new activity and it's not one the North Koreans haven't seen on a routine basis," Cartwright said. "We have trainers and monitors that are with the South Koreans to make sure everything from the standpoint of training goes right. The impact area is out in the water, not pointed towards the land. All of that is understood."
Cartwright voiced his concern about potential escalation risks just as the State Department was downplaying its concerns.
"These are routine exercises. There's nothing, you know, provocative or unusual or threatening about these exercises," Crowley said. "There's no need for it to increase tensions in the area. This is a pre-announced live fire exercise. The North Koreans clearly should know what is going to happen. It is not directed at North Korea."
Bruce Klingner, senior research fellow at the Heritage Foundation's Asian Studies Center, says the South Korean leadership is feeling the heat of domestic pressure, with many in the nation disappointed at how the government responded to the deadly November attacks.
"Widespread domestic criticism of Seoul's timid response to the attack on Yeonpyeong Island may push (South Korean) President Lee (Myung-bak) to respond far more sternly to another North Korean provocation," Klingner told CNN. "South Korea recently approved new rules of engagement to allow a much stronger retaliation, raising the risk of miscalculation and escalation by either side."
Klingner also pointed out that North Korea feels it has little to lose as tension rises.
"North Korea has pursued a policy of exacerbating tensions because it perceives heightened international anxiety as providing leverage to force the United States and its allies to abandon their current high-pressure tactics," Klingner said. "Such tactics have worked repeatedly in the past, with Washington and Seoul buying their way back to a calmer status quo. Moreover, the regime perceives it has little to lose from trying the gambit again."