STORY HIGHLIGHTS
South African Dada Masilo is a rising talent in the dance world
The 25-year-old is famous for her aggressive fusion of African dance and classic ballet
Masilo's interpretations of traditional ballets like "Swan Lake" and "Carmen" have won her international acclaim
Every week CNN International's African Voices highlights Africa's most engaging personalities, exploring the lives and passions of people who rarely open themselves up to the camera. This week we talk to South African dancer Dada Masilo about her passion for movement.
(CNN) -- South African dancer and choreographer Dada Masilo doesn't set out to stir controversy, but her unconventional interpretations of ballet classics have a tendency to do just that.
The 25-year-old rising star of the international dance world has often unsettled audiences with interpretations that turn gender and racial stereotypes on their heads.
Think "Swan Lake" with strong homosexual overtones and a tutu-wearing man playing one of the female leads, or "Romeo and Juliet" with a multi-racial Capulet family. Re-envision a more erotic "Carmen" in Masilo's attacking style of dancing.
Masilo says she she's driven by a desire to push herself. "It's not so much about the political message," she tells CNN. "I just do things that I feel like are going to challenge me as a choreographer and a person."

Video: The rainbow nation of dance

Video: 'The stage was made for me'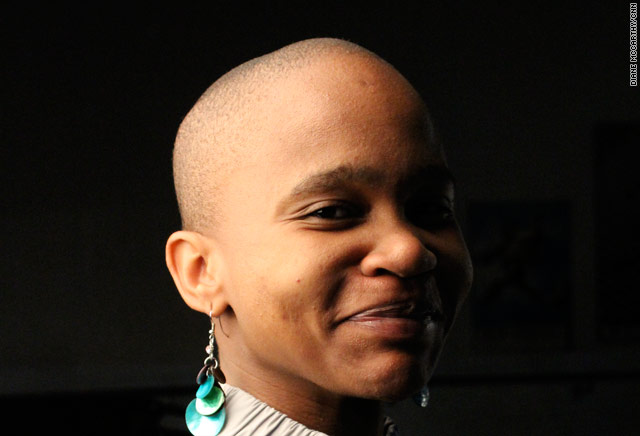 Gallery: South Africa's dazzling dancer
Her modern interpretations have shocked and captivated her audiences nearly as much as her distinctive, astonishingly quick and often jarring fusion of African dance and classical ballet moves.
"I am a dancer who is trained in classical ballet and contemporary dance," says Masilo, "and what I do also is fuse -- I've got my own fusion thing going on."
Born into poverty in the South African township of Soweto, she was discovered at the age of 13 after her street dance troupe performed at the Dance Factory school in Johannesburg. The director of the Factory recognized and nurtured Masilo's talent and originality, and today Masilo is the artist-in-residence at the school.
"It feels like I was made to be here," says Masilo. "I mean this is what I love doing, and I'm happiest when I'm in the studio or when I'm in the theater."
If Masilo's aggressive blend of African and ballet moves were what first captured the attention of her teachers and peers, it is her choreographic approach to her work that has captured the attention of audiences from Cape Town to Tel Aviv.
Masilo's work is frequently sexually charged, and often references homosexual relationships -- still a cultural taboo in many parts of Africa.
One recent reviewer called Masilo's "Swan Lake" "agonizingly beautiful ... an African homophobe's worst nightmare and a dance lover's delight."
I always feel that you've got to know what the rules are before you can break them.
--Dada Masilo
In Masilo's rendition of the classic Tchaikovsky ballet, the male dancers joined the women in wearing tutus and Odile, one of the female leads, was played by Boysie Dikobe, a male friend of Masilo's in real life.
"It didn't start with me going in and wanting to turn things upside down," Masilo says of "Swan Lake." "I didn't want to make a big issue about the homosexuality."
Masilo acknowledges that her willingness to turn traditional gender and sexual stereotypes on their heads would be strictly off-limits in most countries on the continent, but insists that controversy is not the goal of her work.
"[In some countries] maybe it would not be received so well, but for me it's about educating people as well, and it's about being open," says Masilo. "It's about going like, 'How long are we just going to keep looking at things from two different points?'"
One point not up for debate is Masilo's dedication to her craft. The dancer says she trains up to six hours a day when choreographing a new piece, training her body to learn new movements.
For her most recent work, Masilo took flamenco classes to learn the technique, then blended it with contemporary dance and ballet moves to create a "Carmen" unlike any other before her -- an unorthodox approach that has become synonymous with the 2008 Standard Bank Young Artist for Dance winner.
"That was a lot of fun," says Masilo. "You go and learn the technique, and then you fuse. I always feel that you've got to know what the rules are before you can break them."
Going forward, Masilo isn't sure what her next project will be, but one thing is for certain -- the rising star is only getting started.
FOLLOW THIS TOPIC