STORY HIGHLIGHTS
The world assembles rescue and relief efforts for desperate Haitians
Read Twitter feeds to stay up to date on the latest in Haiti
Read CNN's complete special coverage of the latest developments in Haiti
Look here for news updates on the aftermath of a 7.0 earthquake that struck Haiti. All times are Haiti local time, which is the same as Eastern Standard Time in the U.S. and five hours behind GMT.
(CNN) -- 10:24 p.m. -- An Icelandic search-and-rescue team has freed a woman who was entombed -- uninjured -- for 50 hours in the ruins of the Caribbean Market in Port-au-Prince, CNN's Gary Tuchman reports. The team, having heard her voice, had been trying to reach her for about 24 hours. The team rescued at least one other person there; many other people were killed as a result of the building's collapse.
10:11 p.m. -- Video

: People sleeping outside in Port-au-Prince.
Are you there? Send us images, video
9:52 p.m. -- The U.S. Air Force, which arrived at Port-au-Prince's airport last night to re-establish air-traffic control there, is trying to make sure planes flying into the airport arrive with enough fuel to fly out. The airport, which is crucial for quick delivery of aid, is having refueling difficulties: At one point Thursday, 44 planes were parked at the airport, but only two fuel trucks were available to refuel the planes, Air Force Lt. Col. Brett Nelson said.
Follow daily developments:
9:35 p.m. -- Dave Toycen, president of charity World Vision Canada, speaking to CNN's "Larry King Live" from Port-au-Prince, says people in Haiti "aren't getting the help that they need," citing capacity issues at Port-au-Prince's airport and broken and blocked roads.
8:45 p.m. -- The Canadian government will look into easing the country's immigration process in the wake of Tuesday's earthquake in Haiti, Prime Minister Stephen Harper tells reporters in Canada's capital.
8:33 p.m. -- American Express, MasterCard and Visa say they will waive transaction fees when people use credit cards to donate to charities helping in Haiti, according to CNN's Jessica Yellin. Any transaction fees already collected in those transactions will be given to the charities, the credit card companies say.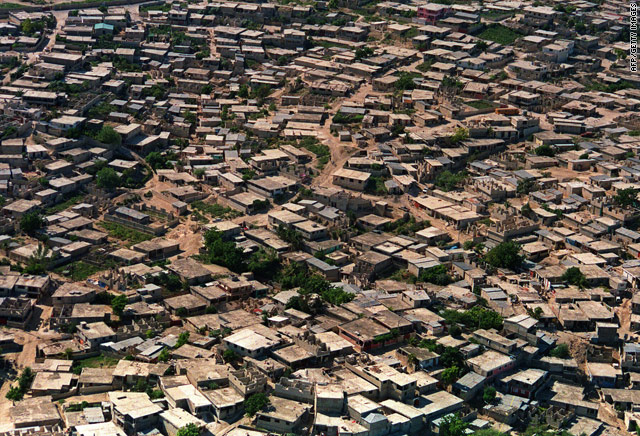 Haiti facts: A history of strife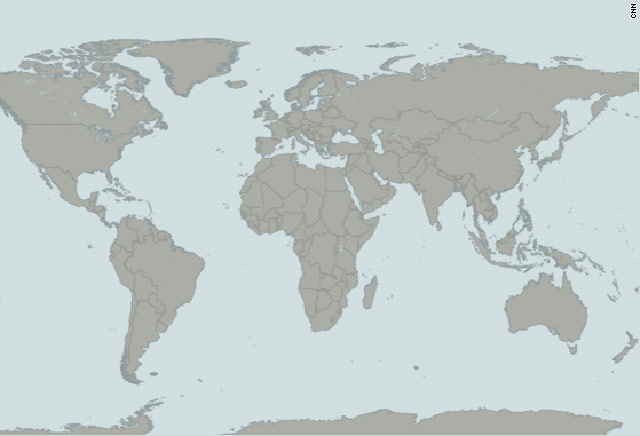 Map: 10 biggest, deadliest earthquakes
8:20 p.m. -- The FAA is again giving takeoff clearances for U.S. planes bound for Haiti with relief workers and supplies, but it is cautioning that planes have been in holding patterns off Haiti "in excess of three hours," CNN's Mike Ahlers reports. Earlier Thursday, the FAA stopped giving clearances because Port-au-Prince's small airport was packed.
8:07 p.m. -- The commander of the U.S. Coast Guard cutter Forward says crew members were "amazed" by the destruction they saw when they arrived in Haiti. Watch video

7:49 p.m. -- A group of men has freed an 11-year-old girl who was trapped in her Port-au-Prince home, CNN's Ivan Watson reports. (See 4:09 and 3:26 p.m. entries.) Using an electric saw powered by a generator, the men cut a metal beam that was pinning her right leg. The leg is badly injured, and the girl has been taken to a first-aid center. People plan to eventually take her to a more advanced medical facility outside Port-au-Prince.
7:20 p.m. -- George Clooney and other celebrities will take part in a Haiti telethon to be shown on all MTV networks on January 22, according to MTV.com.
7:15 p.m. -- The Haitian man who was rescued from the rubble of a five-story Port-au-Prince building (see 3:10 p.m.) is Jean Mackenle Verpre, CNN's Arthur Brice reports. His rescuers included his father and brother, using a chisel and an acetylene torch. A woman's voice can still be heard there, and people are trying to rescue her.
6:40 p.m. -- "Heroes" actor Jimmy Jean-Louis, who yesterday was trying to learn whether his elderly parents in Haiti were OK, says he's talked to his mother and learned his father also survived. They are sleeping outdoors for fear that their damaged home is not safe, he says. Read
6:24 p.m. -- Raymond Joseph, the Haitian ambassador to the United States, says that although he's been in contact with some officials in his government since Tuesday's quake, he has not been able to contact a single government minister.
6:13 p.m. -- More than 300 U.S. military personnel are in Haiti now, helping the aid effort, according to military officials. More than 5,000 are expected there by early next week, including 3,000 soldiers and 2,200 Marines, the officials say.
6:04 p.m. -- The U.S. government has identified a U.S. citizen who was killed in Tuesday's earthquake: Victoria DeLong, a cultural affairs officer from the State Department. The longtime State Department employee had been in Haiti for one year, and died in her home in Port-au-Prince, CNN's Jill Dougherty reported.
5:50 p.m. -- A Brazilian doctor whose work in Haiti earned her comparisons to Mother Teresa was killed in Tuesday's earthquake. Zilda Arns Neumann, 75, founded a charity providing education and aid to children, pregnant women, and families in Haiti. She was a Nobel Peace Prize nominee. Read
5:45 p.m. -- The American Red Cross's efforts to get donations via text messages has raised $5 million for Haiti as of 5 p.m., CNNMoney.com reports. That exceeds the nearly $4 million that was donated to all charities by mobile texts in all of 2009, a Red Cross spokeswoman says. Read
5:23 p.m. -- President Obama tells U.S. House Democrats at a retreat that he "will not put up with any excuses for us not doing the very best in this time of tragedy" in Haiti. The initial $100 million in aid to Haiti he announced earlier Thursday will be "for the basics" like life-saving equipment and food, and the U.S.'s investment will grow as Haiti rebuilds, Obama said.
5:10 p.m. -- Although aid has come into Port-au-Prince's airport, "it's not getting out, because of the [blocked and damaged] road system," said Raymond Joseph, Haitian ambassador to the United States, on CNN's "Amanpour." He said he hoped the United States and other nations would bring in equipment to help clear the roads.
5:02 p.m. -- P.J. Crowley, U.S. State Department spokesman, says U.S. military air traffic controllers are running the Port-au-Prince airport through an agreement with the Haitian government. The Haitian government still is in charge of its airspace, CNN's Jill Dougherty reports.
4:52 p.m. -- Donations via text message raised $4 million for the American Red Cross's Haiti relief efforts as of noon Thursday, CNNMoney.com reports. The Red Cross has said people can text "HAITI" to 90999 to donate $10. Read
4:35 p.m. -- Kate Ramsey, a Caribbean scholar at the University of Miami, says that the "pact to the devil" that evangelical Christian Pat Robertson suggested led to Tuesday's earthquake is a 19th century "fabrication" meant to discredit its slave rebellion and Voodoo religion.
4:25 p.m. -- Retired Lt. Gen. Russel Honore tells CNN he thinks the U.S. military could have arrived in Haiti 24 hours earlier than it did. "They're on the ground now, and they have a brigade en route and that's going to make a big difference," said Honore, who took charge in New Orleans after 2005's Hurricane Katrina. Read
4:16 p.m. -- A video obtained by CBS News shows buildings collapse

as Tuesday's quake happened.
4:09 p.m. -- In this video

, CNN's Ivan Watson reports on the 11-year-old girl whose right leg is pinned in her Port-au-Prince home. Rescuers are trying to cut the concrete pinning her leg, but the action is causing her pain, complicating the rescue effort.
4:05 p.m. -- Benjamin Larson, the 25-year-old Iowa seminary student believed killed in Haiti, was from LaCrosse, Wisconsin, according to a Minnesota church where his mother is pastor. He, his wife and cousin were at a boys' home in Port-au-Prince when the building collapsed; the wife and cousin escaped, the church says. Read
3:58 p.m. -- In the rubble of the five-story school building where a man was rescued in Port-au-Prince earlier this afternoon, rescuers are hearing other voices. Children and teachers are believed to be trapped inside. Read
3:26 p.m. -- The 11-year-old girl described in the previous entry was discovered today -- two days after the earthquake -- trapped in her Port-au-Prince home. The rescuers contemplated cutting off her leg to free her -- they had anesthetics -- but worried they had no blood for a transfusion. About 30 people were thought to be buried in the building. Read
3:18 p.m. -- A group of non-professional rescuers is trying to free an 11-year-old girl whose right leg is trapped in a crumbled structure in Port-au-Prince, CNN's Ivan Watson says. Her arms are free and she is eating food the rescuers are giving her, but freeing the leg has proved difficult without heavy-duty equipment.
3:10 p.m. -- An impromptu group of rescuers with chisels and a blowtorch has rescued a man who was pinned under the rubble of a five-story school building in Port-au-Prince, CNN's Susan Candiotti reports. The group had been trying to reach the man since Wednesday.
3:02 p.m. -- Lindy Lincoln, a program officer for the American Red Cross, says Tuesday's earthquake destroyed about 10 percent of houses in Port-au-Prince -- dwellings of about 200,000 people.
2:09 p.m. -- A fundraising campaign done solely through text messages and networking sites like Twitter and Facebook has raised more than $3 million for the Red Cross' relief work in Haiti.
1:47 p.m. -- Airlines are organizing relief flights and offering incentives to customers who donate to aid organizations.
1:35 p.m. -- The Wartburg Theological Seminary in Dubuque, Iowa, announced that student Benjamin Larson died in Haiti. There was no official confirmation of Larson's death from Haiti.
1:12 p.m. -- The pier used for delivery of cargo to Port-au-Prince by ship was "completely compromised" by Tuesday's earthquake, said CNN's Eric Marrapodi. Three ships filled with medical supplies, food, clothing and water were turned away, he said.
12:55 p.m. -- Former Presidents George W. Bush and Bill Clinton have agreed to help the Obama administration's efforts to help bring swift aid to Haiti, according to two officials familiar with the discussions. The two former presidents will reprise the role that Clinton and Bush's father played after the 2004 tsunami, and are expected to tape public service announcements and eventually travel to Haiti, according to the officials.
12:23 p.m. -- FAA spokeswoman Laura Brown says the Haitian government is not accepting incoming flights because ramp space at the Port au Prince airport is full and no fuel is available. The FAA isn't giving take-off clearances for Haiti-bound flights until space becomes available. There are 10 civilian and and one military aircraft in a holding pattern, waiting to get into Port-au-Prince.
12:15 p.m. -- Within 48 hours, 400 French civil guard and security personnel will be in Haiti, French President Nicolas Sarkozy said Thursday. He said the French army is sending military ships to the region, as well as a hospital boat.
12:02 p.m. -- President Obama pledges $100 million in relief aid to Haiti.
11:45 a.m. -- "The major thing is that help is starting to arrive, but we have a problem with the roads," Haitian Ambassador to the United States Raymond Joseph told CNN Thursday. "Now we are asking for help from the U.S. government to clear the roads, so ... the Marines are bringing heavy equipment."
11:13 a.m. -- The death toll of United Nations personnel, including military and police officers, stands at 22, Secretary-General Ban Ki-moon said. About 150 U.N. staff members remain unaccounted for.
11:06 a.m. -- The State Department confirmed the first U.S. fatality from the Haiti earthquake, but the victim was not identified because family had not been notified.
11:06 a.m. -- The U.S. has evacuated 160 Americans in the last 24 hours, and 370 others are registered to leave Thursday, according to the State Department. Most are being flown to the Dominican Republic, but the injured are being taken to the U.S. military base at Guantanamo Bay, Cuba.
10:39 a.m. -- The Fairfax County, Virginia, Urban Search and Rescue team rescued security officer Tarmo Joveer of Estonia from the rubble of the U.N. mission headquarters Thursday.
10:30 a.m. -- Two students at Lynn University in Florida, Melissa Elliott and Thomas Schloemer, both from Wisconsin, have been located alive in Haiti.
10:16 a.m. -- President Obama said to Haitians from the White House, "You will not be forsaken. You will not be forgotten."
10:12 a.m. -- President Obama said Thursday that the U.S. military has secured Haiti's main airport, which can now receive relief workers.
9:51 a.m. -- Some members of the Haitian parliament are still unaccounted for, as are as many as 150 people at the collapsed five-story headquarters of the U.N. mission in Port-au-Prince.
9:45 a.m. -- Contingents of U.S. experts from agencies and the military began touching down in Haiti on Thursday.
8:31 a.m. -- Secretary of State Hillary Clinton said the United States is providing a communications network to shore up the battered Haitian government infrastructure. "Once we can get communications up so we can tell people where to go, what kind of help they can expect, we'll be able to better manage the crisis," Clinton said on CNN's "American Morning."
8:26 a.m. -- Paratroopers from the 82nd Airborne Division based at Fort Bragg, North Carolina, are to begin leaving for Haiti Thursday, a spokesman for the division told CNN. The first of about 3,500 paratroopers will board C-17 aircraft from Pope Air Force Base in North Carolina, and are expected to arrive in Haiti before nightfall.
8:17 a.m. -- By the end of Thursday, a total of five Spanish aid planes are due to land at the Haitian capital, carrying humanitarian aid and rescue and medical personnel. Spain has a logistical base stocked with disaster relief supplies at a hangar near the airport in Panama City, Panama. Spain has offered use of the base to the other 26 European Union member nations for the relief effort in Haiti.
8:02 a.m. -- Spanish agencies are preparing to help the large numbers of Haitians who are fleeing the earthquake devastation by heading to the border with the Dominican Republic, said Soraya Rodriguez, Spain's secretary of state for international cooperation. "We are going to have to take care of them with medical help and food," she said.
6:50 a.m. -- Haitian airspace was opened Thursday to charitable organizations, a Red Cross official said. The airspace had been closed to charitable organizations Wednesday, said Franklin Graham, president of Samaritan's Purse, an organization that is planning to send charter planes loaded with supplies to Haiti Thursday morning.
6:45 a.m. -- A four-member rescue team from Israel was scheduled to arrive Thursday morning, followed by two more jets carrying a field hospital and 220 rescue and hospital workers.
6:42 a.m. -- A 60-member rescue team with three sniffer dogs arrived from China on Thursday, the official news agency Xinhua reported. Taiwan also sent a team of 23 rescuers and two dogs late Wednesday, according to its Ministry of Foreign Affairs.
6:30 a.m. -- Chile was sending 20 doctors, a rescue team, 12 tons of medical supplies, food and 3 tons of medicine to Haiti on Thursday morning, President Michelle Bachelet said.
4:09 a.m. on January 14, 2010 -- Doctors, medicine and more rescuers were scheduled to land in Haiti on Thursday as nation after nation pledged to help the earthquake-battered country.