STORY HIGHLIGHTS
As dawn breaks, scope of devastation begins to unfold
Read Twitter feeds to stay up to date on the latest in Haiti
Read CNN's complete special coverage of the latest developments in Haiti
Look here for news updates on the aftermath of a 7.0 earthquake that struck Haiti. All times are Haiti local time, which is the same as Eastern Standard Time in the U.S. and five hours behind GMT.
(CNN) -- 10:49 p.m. -- The Argentine Foreign Ministry said in a statement that the Argentine Mobile Military Hospital -- which they say is the only hospital functioning in Port-au-Prince -- has treated more than 800 people. Argentine Armed Forces helicopters are helping evacuate the "gravely injured" people to Santo Domingo, in the neighboring Dominican Republic. Argentina also plans to send an airplane with aid to the area, the statement said.
10:42 p.m. -- CNN Chief Medical Correspondent Sanjay Gupta, who is reporting from Haiti, wrote on his Twitter feed: "what i have seen here in #haiti, i have never seen before. while i hate to say this, it seems somewhat hopeless. bodies still in the streets" Follow Sanjay Gupta's reporting from Haiti through his Twitter feed.
9:54 p.m. -- The people of Jacmel, Haiti, are lining the streets, setting tires on fire to light up a town that has been reduced to rubble in many parts and is without power. The flames are all that illuminate what remains of this town on the southern coast of Haiti, about 25 miles from the capital Port-au-Prince, Haiti.
Follow daily developments:
9:47 p.m. -- At least 16 peacekeepers -- 11 Brazilians, three Jordanians, one Argentine and one Chadian -- working with the U.N. mission in Haiti were reported dead Wednesday afternoon, U.N. Secretary-General Ban Ki-moon said.
9:45 p.m. -- The New York Yankees announced a donation of $500,000 in support of rescue and relief efforts.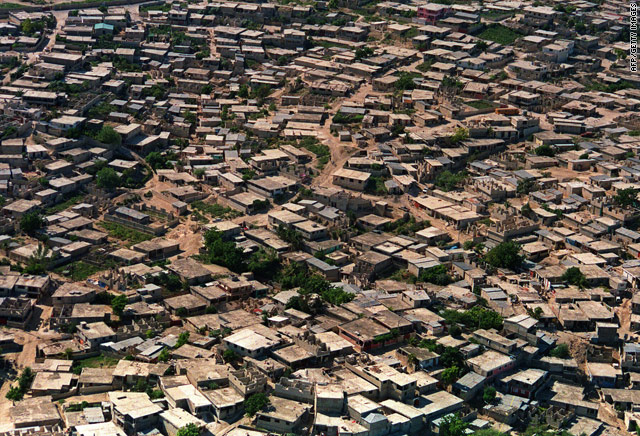 Haiti facts: A history of strife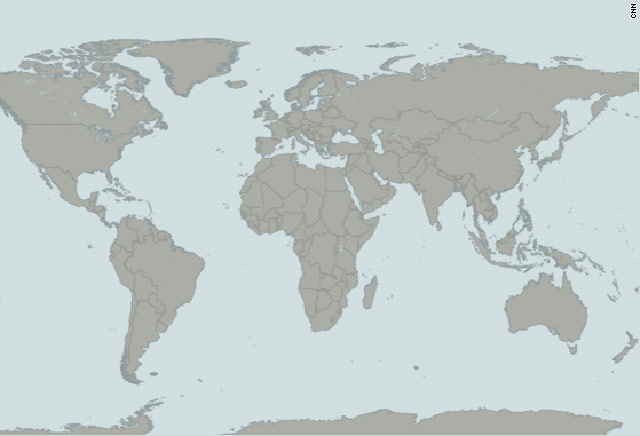 Map: 10 biggest, deadliest earthquakes
9:38 p.m. -- Video images captured just moments after the earthquake in Haiti show dust-covered survivors rushing through the streets, yelling in terror. Other trapped in buildings are seen punching out debris and bricks, and shouting for help and trying to squeeze themselves out through cracks in the structures.
9:00 p.m. -- The Dominican Republic was the first country to give aid to Haiti in the aftermath of Tuesday's devastating earthquake.
8:57 p.m. -- "The hospitals themselves, the destination of those patients who might survive, they're nonexistent or have a terrible infrastructure," Gupta said.
8:54 p.m. -- "Simply getting through the streets to collect the dead bodies is seemingly an impossible task," Gupta reports from the capital, where shooting could be heard in the background. "There's hardly any heavy machinery to try and dig through the rubble -- people are doing it by hand."
8:53 p.m. -- CNN's Sanjay Gupta reports hearing gunfire in the streets of Port-au-Prince, Haiti, as people stay on the streets, fearing aftershocks.
8:40 p.m. -- Rep. John Conyers, D-Michigan, said he is organizing a congressional delegation visit to Haiti. Members will be leaving "as soon as we can," he said, adding that he expects "a large cross-section of members, even Republicans."
8:37 p.m. -- Air space is not open to charitable organizations.
8:36 p.m. -- A unit of U.S. Air Force Special Operations Forces left Hurlburt Field in Florida, with the unit including airmen, search-and-rescue experts and equipment to set up temporary air traffic control systems.
8:32 p.m. -- 16 members of the Brazilian-led peacekeeping force deployed in Haiti are confirmed dead, U.N. Secretary-General Ban Ki-moon says.
8:31 p.m. -- As many as 150 members of the U.N. mission in Haiti remained unaccounted for, U.N. officials say.
8:29 p.m. -- One of two U.S. miltary planes carrying a 30-man assessment team arrived at Port-au-Prince airport about 5:30 pm ET. The team will assess what Haiti needs to cope with the immediate aftermath of this disaster.
8:03 p.m. -- "I've seen people walking with coffins over their heads," Cooper reports.
8:02 p.m. -- Anderson Cooper reports that there are people digging with their hands on every street corner. One woman just found alive.
7:50 p.m. -- The Jolie-Pitt Foundation announced it would contribute $1 million to Doctors Without Borders/Médecins Sans Frontières' (MSF) emergency medical operations responding to the 7.0 magnitude earthquake that struck Haiti on January 12. "It is incredibly horrible to see a catastrophe of this size hit a people who have been suffering from extreme poverty, violence and unrest for so many decades," said Angelina Jolie.
7:39 p.m. -- The coordinator for U.S. assistance to Haiti in the aftermath of Tuesday's earthquake says the entire government is marshaling a massive response, with the immediate goal of saving as many lives as possible within the next 72 hours. "We are working aggressively and in a highly coordinated way, across the federal government, to bring all of the assets and capacities we have to bear to quickly and effectively provide as much assistance as possible," said Rajiv Shah, administrator for the U.S. Agency for International Development (USAID).
7:31 p.m. -- "We need medicine. We need medical help in general," Haitian President Rene Preval told CNN. "Some of the hospitals, they collapsed. The hospitals, they are full and they put people in the outside the hospital. So we need some hospitals, some medicine and some doctors."
7:15 p.m. -- Former U.S. President and U.N. Special Envoy to Haiti Bill Clinton, who in 1975 honeymooned in Haiti with the current secretary of state, Hillary Clinton, urged people to donate to www.clintonfoundation.org/haitiearthquake
7:11 p.m. -- Under a U.S. State Department program, individuals with U.S. cell phones can donate $10 to the Red Cross by texting "Haiti" to 90999. The State Department said Wednesday afternoon that the campaign had received nearly 83,000 hits.
6:43 p.m. -- Iceland is sending a 37-man search-and-rescue team and offered to help evacuate foreign nationals, its foreign ministry said. Authorities in the United States, Sweden and Denmark have already accepted the offer.
6:41 p.m. -- Americans trying to locate family members in Haiti should contact the State Department at 888-407-4747.
6:39 p.m. -- "The major need is for search and rescue. We have enormous numbers of people trapped under the rubble," United Nations' Undersecretary for Humanitarian Affairs John Holmes told CNN's Christiane Amanpour. He added, "There's a big need for medical teams, medical facilities... "We need to get that on the ground very quickly."
6:36 p.m. -- Airlines are uncertain about when commercial service to disaster-ravaged Haiti will resume.
6:31 p.m. -- Pat Robertson, the evangelical Christian who once suggested God was punishing Americans with Hurricane Katrina, says a "pact to the devil" brought on the devastating earthquake in Haiti.
6:29 p.m. -- Washington Post: U.S. Secretary of State Hillary Clinton has decided to cancel the remainder of her trip to Asia and will return to Washington, the State Department says. She had been scheduled to visit Papua New Guinea, New Zealand and Australia.
5:59 p.m. -- U.S. State Department clarifies: Americans do not go to airport now. Seek safe shelter.
5:45 p.m. -- U.S. State Department: About 160 American citizens are at airport waiting for evacuation to Guantanamo. U.S. has heard from less than 100 other Americans. Two C-130s at airport, prepared to evacuate American citizens.
5:36 p.m. -- U.S. State Department asks journalists to get out the word: U.S. citizens in Haiti who want to be evacuated -- go to airport.
5:31 p.m. -- Search-and-rescue teams from the U.S. prepared to head to Haiti, among them the 72-person Los Angeles County, California, Fire Urban Search and Rescue team and the 80-member Miami-Dade, Florida, Urban Search and Rescue Team. The teams include paramedics, search dogs, communication specialists and rescuers trained in combing through collapsed structures looking for victims. Read
5:29 p.m. -- The quake affected roughly one in three Haitians -- about 3 million people, the Red Cross estimated.
4:58 p.m. -- 'Heroes' actor Jimmy Jean-Louis searching for parents in Haiti Read
4:48 p.m. -- Question and answer with Edwidge Danticat, acclaimed Haitian-American writer, who says quake is a "catastrophe beyond measure" but that Haitians have incredible resilience and will rebuild. Read
4:47 p.m. -- The World Bank promised $100 million in emergency funding for recovery and reconstruction, subject to approval by the World Bank's board of directors.
4:44 p.m. -- The main airport in Haiti appears to be operable, which should enable foreign aid to start flowing into the country in the wake of the powerful earthquake that slammed the impoverished nation late Tuesday afternoon.
4:37 p.m. -- Former President Bill Clinton, U.N. special envoy to Haiti, speaks to United Nations on the devastation.
4:28 p.m. -- Another aftershock rattles Port-au-Prince, Haiti.
4:25 p.m. -- Miami Herald: The Obama administration is temporarily suspending deportations of undocumented Haitian nationals who are in the United States, Florida Gov. Charlie Crist said Wednesday at a news conference in Miami.
4:23 p.m. -- Estimated 40,000-45,000 Americans live in Haiti. Conditions of many unknown.
4:19 p.m. -- France, Haiti's former colonial ruler, dispatched two planeloads of rescue personnel, one from Guadeloupe in the Caribbean and one from Marseilles, France. Alain Joyandet, the French minister of cooperation, said there was particular concern about approximately 200 French tourists who were staying at the Hotel Montana in Port au Prince. Reports said the hotel had collapsed.
4:18 p.m. -- Cuba sent an additional 30 doctors, plus medical supplies, to join the 344 doctors and paramedics it already had working throughout Haiti on humanitarian missions, said Foreign Minister Bruno Rodriguez.
4:10 p.m. -- U.S House of Representatives holds a moment of silence for earthquake victims in Haiti.
4:09 p.m. -- "I cannot live in the palace; I cannot live in my own house," said President Preval. "The two collapsed."
4:08 p.m. -- Haitian President Preval: "You have to see it to believe it. Lots of houses destroyed, hospitals, schools, personal homes -- a lot of people in the street, dead."
4:07 p.m. -- Spain is sending three planeloads of aid -- two from Panama in Central America and one from Madrid, the Spanish capital, CNN affiliate CNN+ reported. Spain is also making 3 million euros ($4.35 million) available for aid and will coordinate the European Union response
4:06 p.m. -- Canada already had a five-man team in Haiti as part of U.N. activity there. All five are uninjured and are helping with the relief effort, Capt. Elizabeth Tremblay told CNN.
4:04 p.m. -- Brazil's Ministry of Defense ordered its troops in the country to offer whatever assistance they can, Brazil's official news agency reported. The South American nation has 1,266 troops -- including 250 in an engineering unit -- in Haiti as part of a United Nations stabilization force.
4:02 p.m. -- Habitat for Humanity is sending an assessment team to Haiti and putting together resources "to address shelter solutions for low-income families affected" by the quake, said Torre Nelson, area vice president in Habitat for Humanity International's Latin America and Caribbean office.
4:02 p.m. -- AmeriCares is sending $3 million worth of medical aid to Haiti, including antibiotics, bandages and other medical supplies, and is sending relief workers to help distribute the supplies. It will also send another 10,000 pounds of emergency relief supplies in the coming days from its warehouse in Amsterdam, Netherlands, it said.
4:01 p.m. -- The World Health Organization is sending a 12-person team to Haiti to help with the medical response
4:00 p.m. -- The World Food Programme is immediately airlifting an additional 86 metric tons of food from its emergency hub in El Salvador, which will provide more than half a million emergency meals, the agency said. The aid includes ready-to-eat food and high-energy biscuits.
3:57 p.m. -- The Haitian consul general to the United Nations, Felix Augustin, told reporters Port-au-Prince is "flattened."
3:55 p.m. -- Haitian President Rene Preval told CNN's Dr. Sanjay Gupta in Port-au-Prince that he had heard that 30,000 or 100,000 people had been killed in the earthquake, but added "it's too early to give a number."
3:53 p.m. -- U.S. Senator Jack Reed (D-RI) today released the following statement regarding the earthquake in Haiti: "Like all Rhode Islanders, my heart goes out to the people of Haiti and Haitian-Americans who are struggling with the devastation and loss of life following yesterday's earthquake. President Obama has mobilized U.S. Coast Guard ships and aircraft and is sending additional resources to help with the relief effort. I have been contacted by several families who have relatives in Haiti, some of whom were expected to return to Rhode Island within the week. My office continues to coordinate efforts with the State Department, the American Citizen Service Unit at the U.S. Embassy in Port-au-Prince, the Haitian Consulate in New York, and the Haitian Embassy in Washington, DC."
3:50 p.m. -- Rainn Wilson of "The Office" statement on Haiti: "With a heavy and anxious heart, my prayers go out to the noble, beautiful, broken country of Haiti. My wife and I had the great good fortune to spend a week there this last October on behalf of some charities we were working with, plantingpeace.org and the Mona Foundation. We met beautiful, vital students in many schools, street-children trying to educate themselves and many selfless Haitian teachers and doctors working to be of service to their country. I don't know if they are all alive or dead right now and it's breaking my heart. The hotel we stayed at and most of the places we visited now lie in rubble. I believe in the power of prayer and I believe in the power of service. Even if you can only give 20 bucks, that will go a long, long way In a country as devastatingly poor as Haiti. Please also send prayers and hope that the world takes drastic action to remedy this horrific disaster."
3:47 p.m. -- Lumiere Medical Ministries e-mail to CNN: All 25 employees are fine. The ministry has been in Haiti for 25 years. They have a 30 bed hospital and an orphanage. Hank was able to get in touch with the Head Dr. by telephone and he says there is devastation everywhere and many injured. The ministry was scheduled to do the official ribbon cutting for the brand new hospital in February. They are able to treat out patient and some procedure. A container with supplies was sent last night.
3:45 p.m. -- "I'm still looking to understand the magnitude of the event," Preval says. "There are risks that the houses will continue to collapse."
3:43 p.m. -- Haitian President Rene Preval to CNN's Dr. Sanjay Gupta: "We don't have the capacity" to bring all the injured to hospitals.
3:05 p.m. -- The U.S. Coast Guard has mobilized ships and aircraft to positions where they can be quickly sent to Haiti if needed, the service says on its Web site. Standing by are: A C-130 Hercules aircraft from Coast Guard Air Station Clearwater, Florida; the cutter Valiant, homeported in Miami; The cutter Forward, homeported in Portsmouth, Virginia; the cutter Tahoma, homeported in Portsmouth, New Hampshire; the cutter Mohawk, homeported in Key West, Florida.
2:11 p.m. -- "Port-au-Prince is flattened ... more than 100,000 are dead," Felix Augustin, the Haitian consul general to U.N., tells reporters in New York. The hospitals are gone and medical supplies and heavy equipment are desperately needed, he says.
2:09 p.m. -- Doctors Without Borders has about 800 staff in Haiti, many of whom have not been accounted for.
1:21 p.m. -- With phone lines down and communication cut, Haitians living in U.S. are "sick with worry." State Department line for those seeking information about loved ones: 1-888-407-4747. Full story
1:15 p.m. -- From Anderson Cooper in Port-au-Prince: "The only thing to compare it to is Hurricane Katrina. But in the last 30 minutes -- or the last hour that I've been driving, I've seen probably 20 to 25 bodies on the streets. And that's just on the main avenues in downtown Port-au-Prince."
1 p.m. -- 40,000-45,000 Americans in Haiti, the U.S. State Department says. The Embassy has been in touch with about 40. No confirmed deaths. About a dozen injured. "Clearly that will go up," says Assistant Secretary P.J. Crowley.
12:30 p.m. -- At least 15 U.N. peacekeepers reported dead.
12:27 p.m. -- Joseph Serge Miot, the archbishop of Port-au-Prince, died in the quake, according to the official Vatican newspaper.
12:18 p.m. -- Haiti prime minister tells CNN he believes well over 100,000 have died in earthquake.
12:12 p.m. -- Anderson Cooper says situation at airport "pretty quiet." He says small military presence from Dominican Republic is at the airport.
11:45 a.m. -- National Penitentiary collapsed and inmates escaped, prompting worries about looting by escapees.
11:35 a.m. -- Want to help? Check out Impact Your World
11:13 a.m. -- Fabiola Surena shared photos of her parents' home and her aunt and uncle's property in Debussy, Haiti -- both areas are severely damaged. Aunt and uncle's property; Parents' home
11:07 a.m. -- Catholic Relief Services staff member Karel Zelenka provided this account via e-mail. "Damage incredible all around ... Some major buildings are gone -- the hotel Montana, the National Palace etc... People have been screaming and chanting all over the place ... It is a disaster of the century, we should be prepared for thousands and thousands of dead and injured."
11:03 a.m. -- 50-member Chinese rescue team ready to depart for Haiti, China's Xinhua news agency reports.
11:01 a.m. -- More than 100 employees of U.N. mission unaccounted for.
10:45 a.m. -- Read an easy-to-read guide on Haiti and its history.
10:39 a.m. -- A Haitian-American tells CNN her parents died in the quake, days after visiting her in South Florida. Full story
10:35 a.m. -- Twitter is playing a critical role in collecting donations to help disaster victims, CNNMoney.com reports.
10:26 a.m. -- The people of Haiti have a friend and partner in the United States, President Obama says in concluding news conference. Watch news conference 10:24 a.m. -- USAID Administrator Raj Shah will coordinate American relief efforts, Obama says.
10:23 a.m. -- President Obama extends "deep condolences" to people of Haiti. Says he has ordered a "swift" and "coordinated" response .
10:21 a.m. -- None of three aid centers run by Doctors without Borders in Haiti is operable, the group says.
10:20 a.m. -- People of Haiti will have full support of the United States, President Obama says.
10:16 a.m. -- The main airport in Haiti appears to be operable, U.S. State Department spokesman says.
10:15 a.m. -- The U.N. Haitian mission chief and the agency's deputy special representative are unaccounted for, says U.N. Secretary-General Ban Ki-moon.
10:11 a.m. -- Air traffic control "is very dicey," says CNN's Anderson Cooper. While flying over Haiti, his helicopter had to make last-minute maneuver to avoid hitting another aircraft. Watch Anderson Cooper video

10:10 a.m. -- People are standing around wondering where to go, says Anderson Cooper, who flew over Haiti in a helicopter. Major buildings have collapsed -- pancaked together.
10:07 a.m. -- "It's incredibly shocking," says Anderson Cooper.
10:04 a.m. -- President of Lumiere Medical Ministries, which has been in Haiti for 25 years, tells CNN all 25 employees are fine.
9:57 a.m. -- Follow Tweets from CNN's Anderson Cooper.
9:39 a.m. -- "I heard a lot of people praying, saying that Jesus is coming, saying that we need to pray, we need to save our lives by believing in God," witness Carel Pedre tells CNN.
8:53 a.m. -- President Obama to make statement on Haiti at 10 a.m. ET.
8:41 a.m. -- The U.N. Haitian mission chief and the agency's deputy special representative are unaccounted for, says U.N. Secretary-General Ban Ki-moon said.
8:41 a.m. -- U.S. was the first to offer help, says Haitian ambassador to the U.S.
8:32 a.m. -- Quake destroyed much of Port-au-Prince, the country's first lady reported. Full story
7:30 a.m. -- Reconnaissance flights to go over Haiti soon, says U.S. State Department spokesman P.J. Crowley.
7:07 a.m. --The quake affected roughly one in three Haitians -- about 3 million people, the Red Cross estimated. Full story
4:30 a.m. -- A "large number" of people with the U.N. peacekeeping mission in Haiti were unaccounted for. Three Jordanian peacekeepers killed.
3:40 a.m. on January 13, 2010 -- Residents hunkered down for the night, awaiting daylight to ascertain full scope of devastation.