STORY HIGHLIGHTS
Watch continuing earthquake coverage on CNN
Read Twitter feeds to stay up to date on the latest in Haiti
Read CNN.com's complete special coverage of the Haiti earthquake
Look here for news updates on the aftermath of a 7.0 earthquake that struck Haiti. All times are Haiti local time, which is the same as Eastern Standard Time in the U.S. and five hours behind GMT.
(CNN) -- Sunday.
9:54 p.m. -- CNN has obtained video from inside a collapsing house

in Haiti, recorded as Tuesday's earthquake happened.
9:33 p.m. -- International aid has just started reaching Leogane, Haiti, where the mayor says 90 percent of buildings have collapsed. For five days, the director of a local nursing school and its students gave medical aid to about 5,000 people in a makeshift clinic with few supplies, CNN's Karl Penhaul reports. The first international humanitarian aid arrived with a World Food Programme team on Saturday night, and a Doctors Without Borders team arrived Sunday. Watch

9:20 p.m. -- About 100 children are believed to be buried in the rubble of a school in Leogane, Haiti, about a hour's drive west of Port-au-Prince, CNN's Anderson Cooper reports.
8:49 p.m. -- A family in Elmont, New York, is celebrating the survival of a relative they thought had died in Tuesday's earthquake. Myrtha Manigat, 27, was found alive in the rubble of a friend's home in Port-au-Prince. Before she was found, a friend who saw the home told her family that Myrtha was dead. In New York on Friday, Myrtha's aunt, watching CNN, saw an Associated Press picture of a rescued Myrtha being fed with a spoon. A cousin in Elmont spoke to Myrtha, who lost a leg, by phone on Sunday, CNN's Josh Levs reports. Read
8:19 p.m. -- Karen Jean-Gilles, the Florida woman who didn't learn her husband's parents survived the Haiti earthquake until she saw them on CNN.com (see 7:15 p.m. entry), says the hotel that her in-laws owned in Jacmel, Haiti, was something they'd spent their life savings to build. The hotel was leveled in the quake. "I'm just so happy that they are OK, but I'm sad about the hotel," Jean-Gilles said. "We don't know what they're going to do now. My husband wants to get to Haiti to help them, but the airlines are closed." Read
7:15 p.m. -- A Florida woman says she didn't learn that her father-in-law and mother-in-law in Haiti survived the earthquake until a relative saw their picture on CNN.com. The story is about Joachin "Clark" Jean-Gilles and his wife Marie Jean-Gilles, who owned a hotel in Jacmel, Haiti. Tuesday's quake destroyed the hotel, but the couple are alive, and a story about their ordeal was posted on CNN.com's homepage on Sunday afternoon. Their daughter-in-law, Karen Jean-Gilles of Fort Lauderdale, says her husband's cousin saw the story, and that how the family learned the couple were OK. "I hit the roof. I was crying. I was just so happy that they are OK," Karen Jean-Gilles said.
6:28 p.m. -- A baby girl who suffered multiple injuries, including a broken rib, in the Haiti earthquake has been flown to a Miami, Florida, hospital and is being treated in an intensive care unit. Doctors had been concerned that the baby might not survive the flight. Watch

6:13 p.m. -- Rescuers have reached and spoken to, but not freed, the two trapped people they heard earlier in a collapsed Port-au-Prince grocery store. The Creole-speaking man and woman are in a void space in the ruins, and they are in good condition, said Capt. Joe Zahralban, leader of a Florida-based search and rescue team. Rescuers have given them water. "Hopefully ... we're not too far from getting them out," Zahralban said. Three other people were rescued from the store earlier today.
6:05 p.m. -- An executive order that President Obama signed over the weekend will call up certain reserve members of the U.S. armed forces to support the relief mission in Haiti. The order will allow reserve medical personnel to replace those deployed on the U.S. Naval hospital ship Comfort -- arriving at Haiti later this week -- and it will allow for a Coast Guard unit that will help provide port security.
5:58 p.m. -- U.N. Secretary-General Ban Ki-moon, visiting the site of the U.N.'s collapsed mission in Port-au-Prince on Sunday, says the United Nations "will continue to stand behind the Haitian people." "We will continue to work with the major international donors who have been generous enough to provide humanitarian assistance, dispatching search-and-rescue teams. This is a moment of sadness but it is also a moment of Haiti's need," he said.
5:23 p.m. -- Doctors Without Borders, whose delivery of an inflatable hospital was delayed because its cargo plane was blocked from landing in Port-au-Prince on Saturday, says frustrations at not being able to get all vital supplies quickly are high. "Patients who were not critical only three days ago are now in critical phases," the group said in a news release. "This means that people will die from preventable infections. It's horrible." Read
5:02 p.m. -- Like the Netherlands (see 2:09 p.m.), the United States is cutting red tape to speed up the adoptions of Haitian orphans who were matched with adoptive parents before Tuesday's earthquake. Of the 300 children with pending adoption cases with American families, 150 have already been sent to their parents in the United States, Deputy National Security Adviser Denis McDonough said.
4:39 p.m. -- The U.S. Coast Guard has posted pictures (image 1 | image 2) of a Haitian baby that a rescue swimmer helped deliver aboard a Coast Guard helicopter on Saturday. The mother went into labor as the helicopter was refueling aboard the Coast Guard Cutter Tahoma, which was transferring Haitians to Cap Haitien from Port-au-Prince. The mother and child were taken to a hospital in Cap Haitien and were in good condition, according to the Coast Guard.
4:15 p.m. -- The two people who rescue teams are trying to reach at the Port-au-Prince grocery store are a Creole-speaking man and woman, according to Capt. Joe Zahralban, leader of a Florida-based search and rescue team. Though rescuers had contact with them earlier, as of Sunday afternoon communication had ceased. Three other people were rescued from the store earlier Sunday.
3:54 p.m. -- Rescue teams from the United States and other nations have rescued 62 people alive as of Sunday, Tim Callaghan of the U.S. Agency for International Development (USAID) tells reporters. Americans have rescued at least 29 of those, he says. Read more about rescues
3:51 p.m. -- Former President Bill Clinton will travel to Haiti on Monday to meet with officials and deliver aid supplies to the quake-ravaged country, his foundation says.
3:50 p.m. -- The dead in Haiti include the cultural affairs officer at the U.S. Embassy in Port-au-Prince and 15 private U.S. citizens, up from the 14 known Saturday.
3:46 p.m. -- "Doctors are telling me they don't have enough medicine to treat these patients, they don't have enough gas to run the generators to run the medical machines to treat these patients," CNN's Ivan Watson says. Watch

3:45 p.m. -- Dead bodies are being dumped into trucks and taken to mass graves, CNN's Anderson Cooper says. "No one will ever know what happened to their loved ones," he says. "People are just disappearing and are going to disappear." Watch

2:50 p.m. -- The grocery store rescue effort has been dealt a temporary setback. The floor over rescuers' heads buckled as they were working in a 3-foot-high area, said Lt. Charles McDermott of the Florida search and rescue team. Work was suspended as rescuers evaluated whether they should reinforce the floor or work in a different area, McDermott said.
2:33 p.m. -- Fifteen private U.S. citizens and one U.S. government official have died in Haiti since Tuesday's earthquake, according to the U.S. Department of State. Visit their site
2:09 p.m. -- At least 100 Haitian orphans set for adoption by Dutch families before last week's devastating earthquake are expected to leave for the Netherlands on Monday, Dutch officials say.
1:53 p.m. -- Other members of the New York team rescued a 55-year-old man trapped in the rubble of a four-story building in Port-au-Prince. They used a rescue camera to locate the man, and then a paramedic climbed into a narrow space with him and started an intravenous fluid line to combat the man's dehydration. Rescuers used jackhammers and cutting tools to free him. Read
1:49 p.m. -- Rescuers have used the groceries surrounding the victims to help with the detective work of locating them. It's risky, though: One officer told CNN a victim was surrounded by paper towels, which muffled the sound of the victim's voice.
1:38 p.m. -- The man and teenage girl who were found alive in the grocery store rubble earlier Sunday are believed to be Haitian nationals, officials say.
1:36 p.m. -- The third person rescued from the grocery store rubble Sunday was a 50-year-old American woman, contrary to earlier reports that a second man had been pulled out, says Capt. Joe Zahralban, leader of the Florida team. Workers have made contact with a fourth and possibly a fifth person under the rubble, Zahralban told CNN.
1:09 p.m. -- U.S. Air Force Maj. Ken Bourland has been missing since Tuesday; his last communication to his wife was an e-mail he sent from the Hotel Montana, which collapsed that very day. Read
12:58 p.m. -- Samuel Dalembert of the Philadelphia 76ers has pledged to give $100,000 to UNICEF to help earthquake recovery efforts in his native Haiti. SI.com has this gallery of prominent American athletes with Haitian roots.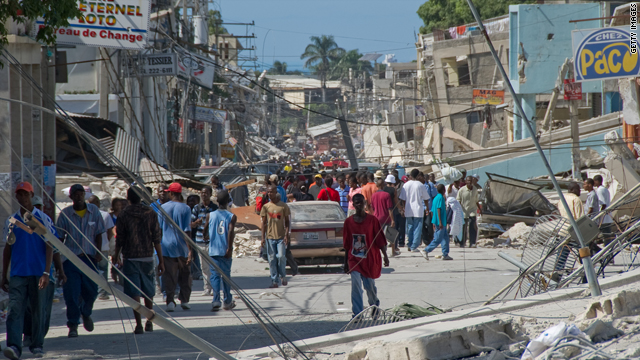 Gallery: Devastation from Haiti earthquake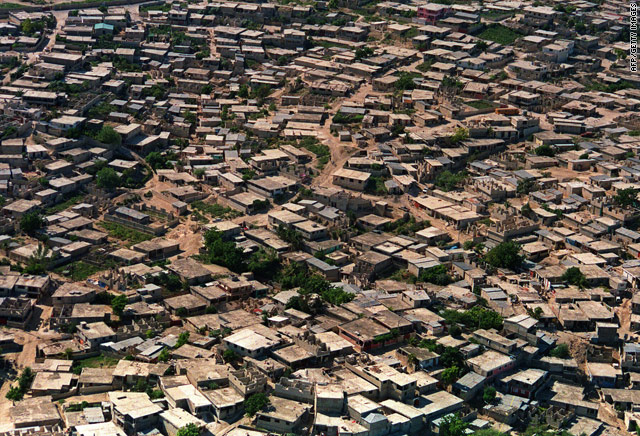 Haiti facts: A history of strife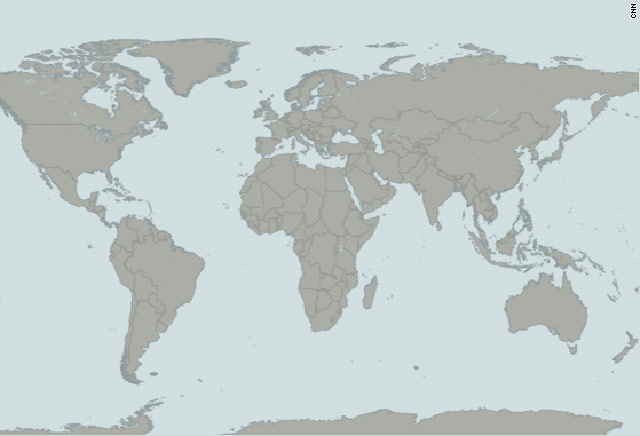 Map: 10 biggest, deadliest earthquakes
11:55 a.m. -- The U.S. Army is sending more than 7,000 soldiers into Haiti to help with the relief effort. The aircraft carrier USS Carl Vinson is already docked offshore, but its helicopters are having trouble finding places to land.
11:52 a.m. -- There are roughly 1,000 American military personnel on the ground, with another approximately 3,600 providing support from the USS Carl Vinson and other naval vessels offshore, Lt. Gen. P.K. Keen, deputy commander of U.S. Southern Command, tells CNN. Read
11:44 a.m. -- The World Food Programme says it reached 40,000 people in and around Port-au-Prince with high-energy biscuits. The organization says its goal is to reach another 60,000 people on Sunday. Convoys and shipments carrying ready-to-eat foods continue to arrive, the group says.
11:42 a.m. -- U.S. paratroopers using helicopters delivered 130,000 daily ration packets on Saturday, Keen said on "Fox News Sunday." Some 70,000 bottles of water were also delivered, he says.
11:03 a.m. -- Crews are working to free a fourth man from the grocery store rubble scene, and have contact with him, said Joe Fernandez, a spokesman for the Florida search and rescue team. It was "a unique situation ... because survivors are encased in food," he said. The trapped quake victims had been living on the store's inventory of food and water, authorities said.
10:41 a.m. -- The NYPD-FDNY team is still working the grocery store rubble scene, and say more are alive there. They could have them out in a few minutes or a few hours. More equipment and personnel were just brought in.
10:31 a.m. -- The NYPD-FDNY team has pulled an additional man out from the grocery store rubble, and says there are no others. The girl was treated for leg injuries and the two men for undetermined injuries. The team did not say how many more are alive inside the collapsed building.
10:21 a.m. -- A Harvard doctor was at a meeting in Port-au-Prince when the earthquake hit. She ended up at a clinic where she was the only doctor, CNN's Elizabeth Cohen reports. Read
9:50 a.m. -- Simply restoring Haiti to its impoverished state before the earthquake would amount to failure, former President Bill Clinton tells CNN. For Clinton, also the U.N. special envoy to Haiti, success is "setting up a network quickly to get the food, water, medicine, security and information people need." Read more and watch
9:49 a.m. -- "Success is helping save lives in the short term, and then we can worry about the long-term after the situation has been stabilized," former U.S. President George W. Bush tells CNN. He and former President Bill Clinton are leading a fund-raising initiative for Haiti.
9:27 a.m. -- The New York Police Department reports that earlier today a man and a teenage girl were pulled from the rubble of a grocery store that was in a collapsed building in Port-au-Prince. The rescue team led by the NYPD and the Fire Department of New York is trying to reach three others also trapped in the wreckage.
9:25 a.m. -- Doctors Without Borders reports that one of its cargo planes carrying an inflatable surgical hospital was blocked from landing in Port-au-Prince. Read
9:20 a.m. -- "We're confident that the Haiti that emerges from this can be strong and significant," Rajiv Shah, administrator for the U.S. Agency for International Development, tells CNN. He notes "the absolute commitment and resilience of the Haitian people."
9:18 a.m. -- "We are going to be here as long as we are needed," Lt. Gen. P.K. Keen, deputy commander of U.S. Southern Command, tells CNN. Read
9:06 a.m. -- "The ground was lifting me up," survivor Nahumy Jean-Louis says. Watch

9:01 a.m. -- Canadians are airlifted out of Haiti; their relief is tinged with anxiety, the Montreal Gazette reports. Read
8:36 a.m. -- There is a feeling among some at the church service that the earthquake was a punishment. Part of the sermon says, "God, when you stomped your foot, the ground shook. Please take care of us, we are sorry for the sins we have committed."
Are you there? Send us images, video
8:32 a.m. -- Despite the devastation, some people at the service at the makeshift sanctuary are dressed in their Sunday best. A crowd is standing on the dirt because there are not enough seats for everyone.
8:06 a.m. -- At a makeshift sanctuary near Port-au-Prince, a woman sings in Creole, "God you're good. If you're alive today, you have a purpose for us. Look over us. Your love is always abundant."
8:02 a.m. -- U.N. Secretary-General Ban-Ki Moon says he is heading to Haiti with a heavy heart. It will be a short but tough trip, he says.
7 a.m. -- Nearly 30 international rescue teams continue to comb the disaster areas for more survivors.
5:10 a.m. -- A Los Angeles County rescue crew chips away at concrete to try to reach a woman who sent a text message that she was buried beneath the ruins of a collapsed bank.
4 a.m. -- After eight hours of digging, Los Angeles County rescuers determine that there is no one alive beneath a collapsed downtown Port-au-Prince day care center. Throughout the dig, distinct tapping against the concrete could be heard. Watch

3:45 a.m. -- One doctor in the region tells CNN approximately 30 percent of patients in one hospital need immediate surgery within the next 24 hours, or they'll die.
1:39 a.m. -- More supplies arrive. Laura Blank, with World Vision, says it sent out truckloads of blankets, food and water out to residents.
Follow daily developments: