Castro accuses U.S. of torturing spy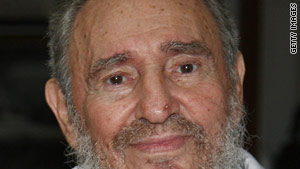 Picture released by Brazil's presidential press office of Castro during a meeting with Brazil's President in Havana on February 24, 2010.
STORY HIGHLIGHTS
Fidel Castro says U.S. is torturing a Cuban agent
Castro made his eighth public appearance in recent weeks
He says Cuba is being pressured to release spies
Havana, Cuba (CNN) -- Fidel Castro on Friday accused the United States of "torturing" a Cuban agent imprisoned there, saying Cuba is being pressured to release its spies.
The former Cuban president made the comments at a meeting of Cuba's Union of Communist Youth in his eighth public appearance in recent weeks after almost four years of virtual seclusion, state-run website CubaDebate.cu said.
Castro said U.S. authorities have put Gerardo Hernandez, one of five Cuban agents imprisoned in 1998, in an isolation "hole," even though Hernandez is ill.
"Not only is he in a high-security prison, which in itself is a deep hole, but he's in a hole inside the hole," Castro said. "He needs medical assistance."
According to Cubadebate, Castro said Cuba is being pressured to release spies "who would never be put in one of those prisons, they would never be tortured." He did not identify who he was referring to.
Alan Gross, an American contractor, has been held in a Havana jail for the last eight months on suspicion of spying, although no charges have been brought against him.
President Raul Castro said Gross was illegally distributing satellite communications to dissidents.
U.S. officials have called for Gross' release. His arrest last December stalled efforts at rapprochement between the two governments.
FOLLOW THIS TOPIC