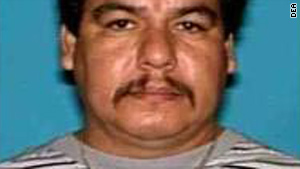 Authorities say Antonio Ezequiel Cardenas Guillan ran one of Mexico's top drug-trafficking organizations.
STORY HIGHLIGHTS
NEW: Obama calls Mexico's president to express his support
Antonio Ezequiel Cardenas Guillen dies in a shootout in the Mexican city of Matamoros
Four other suspected cartel members and 3 members of the navy die in the clash
(CNN) -- Gunmen and security forces exchanged fire near the U.S.-Mexico border Saturday, one day after a top leader of the Gulf drug cartel was killed, the Mexican state media reported.
Authorities in Reynosa, which is across the border from McAllen, Texas, were telling people to avoid road travel, Notimex reported. It also warned of shootouts between gunman and security forces there.
The trouble came one day after Antonio Ezequiel Cardenas Guillen, known as "Tony Tormenta" or "Tony the Storm," was killed in Matamoros, a city to the east of Reynosa.
Cardenas, 48, was a top leader of one of Mexico's major drug-trafficking operations, and the U.S. State Department had been offering a $5 million reward for information leading to his capture.
Saturday, U.S. President Barack Obama called his counterpart in Mexico to express his support for Felipe Calderon's efforts to "end the impunity of organized criminal groups," the White House said in a statement. Obama also reportedly offered his condolences on the death of the Mexican officials who died during the operation.
Naval troops were met with grenades and assault-weapon fire when they approached Cardenas' hideout in the center of the city around 3:30 p.m. Friday (5:30 p.m. ET), the Mexican navy said.
Four other suspected members of the cartel were also killed in the operation, which ended about 5:30 p.m. (7:30 p.m. ET) the navy said. Three naval officers were killed and four others were injured, authorities said.
"Today was another significant step in the destruction of criminal organizations that have done so much to damage the people of this country," said Alejandro Poire, security spokesman for the Mexican government, soon after Friday's clash.
The Gulf cartel is one of Mexico's major drug-trafficking organizations. It is based in Matamoros, which is across the border from Brownsville, Texas. It is also strong in Reynosa.
Both cities are located in the Mexican state of Tamaulipas, which has become a bloody battleground between the Zetas and the Gulf Cartel. The Zetas used to be the armed branch of the Gulf Cartel but split off into a separate drug-trafficking organization earlier this year.
Cardenas allegedly began his drug trafficking career during the late 1980s, rose through the ranks of the Gulf cartel and was eventually given control over the Matamoros-Brownsville corridor, the U.S. State Department said. In that role, he has been responsible for shipments of marijuana and cocaine across the border, according to the State Department.
He has been indicted several times by U.S. federal authorities for alleged drug trafficking crimes, including directing drug shipments by boats, planes and cars from Colombia and Venezuela to Guatemala, Mexico and Texas, according to a statement from the U.S. Justice Department last year.
Friday's operation came after more than six months of intelligence gathering, the Mexican navy said. The four others suspected cartel members killed Friday were "part of the circle of protection closest to 'Tony Tormenta,'" the navy said.
The University of Texas at Brownsville and Texas Southmost College canceled classes through Saturday and said it would rework several weekend events "because of gunfire taking place across the Rio Grande."
Most of the students and faculty members have gone home, said Letty Fernandez, a university spokeswoman. The campus is about half a mile from the U.S.-Mexico border.
More than 28,000 people have died in drug-related violence since Calderon intensified the government's fight against cartels and organized crime after taking office in 2006, according to government figures.
Authorities have scored a string of important wins against drug cartels recently.

Witness to violence: Juarez, Mexico
In September, officials arrested Sergio Villarreal, known to Mexican officials as "El Grande," an alleged top leader of the Beltran Leyva cartel. His capture came soon after the August arrest of American-born "La Barbie," or Edgar Valdez, thought to be one of Mexico's most ruthless drug traffickers.
CNN's Janet DiGiacomo and Gustavo Valdes contributed to this report.
FOLLOW THIS TOPIC