Lawyer: Malaysia commutes woman's caning sentence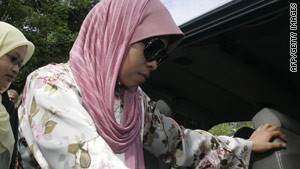 Kartika Sari Dewi Shukarno was sentenced to perform community service for publicly drinking beer in 2007.
STORY HIGHLIGHTS
Sultan commutes woman's caning sentence, lawyer says
Islamic law dictates caning Muslims seen drinking alcohol
In Malaysia, Islamic courts operate alongside civil ones

(CNN) -- A Malaysian model who was sentenced last year to six strokes of a cane for drinking beer in public has had her sentence commuted, her lawyer said Thursday.
Kartika Sari Dewi Shukarno will now instead be required to perform three weeks of community service -- beginning Friday.
The sentencing drew headlines worldwide at the time and caused an uproar, with many citing it as an example of growing fundamentalism in the multiracial country
An Islamic court in the eastern state of Pahang fined Kartika $1,400 (5,000 Malaysian ringgit) and ordered that she be stroked with a rattan cane for drinking beer at a hotel bar in 2007.
The sentence was to have been carried out Thursday.
However on Wednesday night, the sultan of Pahang sent a letter where he commuted the woman's sentence, said Kartika's lawyer Adham Jamalullail Ibrahim.
Each state in Malaysia is ruled by a sultan who, in effect, is the guardian of Islamic matters in that state. He can overrule the decision of an Islamic court -- and Sultan Ahmad Shah did so in this case.
Kartika, a mother of two, was visiting Malaysia from Singapore when her troubles began.
She said she lost her job as a nurse in Singapore and took up part-time modeling to support her husband in raising their two children. Her son has cerebral palsy; her daughter a heart condition.
She pleaded guilty, paid the fine, and wanted her caning to be carried out in public.
"I want to move on. This case has been hanging over me for a long time," she said in August.
The case drew widespread attention and condemnation, in and outside Malaysia.
The moderate Muslim country has a dual-track justice system, in which Islamic courts operate alongside civil courts.
Muslims -- who make up about 60 percent of the 28 million who populate the country -- are forbidden from consuming alcohol. Other religious groups are exempt.
Though caning is used as a supplementary punishment in Malaysia for at least 40 crimes, such as rape or immigration violations, it is not meted out by Malaysia's civil court for alcohol consumption.
But the country's civil system also cannot overrule a sharia court sentence.
FOLLOW THIS TOPIC