STORY HIGHLIGHTS
NEW: All but eight bodies recovered from charred wreck of plane
Eight of 166 passengers aboard plane taken to hospital
Plane overshot the runway, crashed into valley and burst into flames
Boeing 737 flew from Dubai, UAE to Mangalore in southern India

New Delhi, India (CNN) -- Rescue teams worked into the night at the smoldering scene of an Air India plane crash that killed 158 people Saturday after the jet overshot a runway in southern India, crashed into a ravine and burst into flames, officials said.
As darkness descended, workers used portable lights to pull charred bodies out of the wreckage outside Mangalore International Airport.
All but eight bodies have been recovered, the civil aviation ministry said.
Eight of the 166 people on board Air India Flight IX-812 survived the crash and were taken to hospitals, where most were in good condition, CNN-IBN reported.
Are you there? Send photos, video
The Boeing 737 took off from Dubai in the United Arab Emirates and crashed while trying to make its scheduled landing in Mangalore at 6:30 a.m. Saturday (9 p.m. ET Friday), Air India spokesman Anup Srivastava said.
India's civil aviation minister Praful Patel said an investigation was underway but reasons for the crash would not be known until the flight data and voice data recorders have been recovered. Emergency workers were attempting to cool the fiery wreckage Saturday night to keep the data intact.
The U.S. National Transportation Safety Board announced Saturday that it will send a team to India to assist in the investigation.

Video: Plane crash in India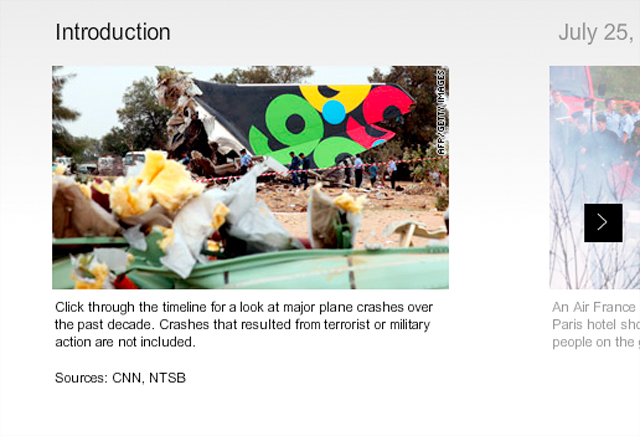 Timeline: Recent plane crashes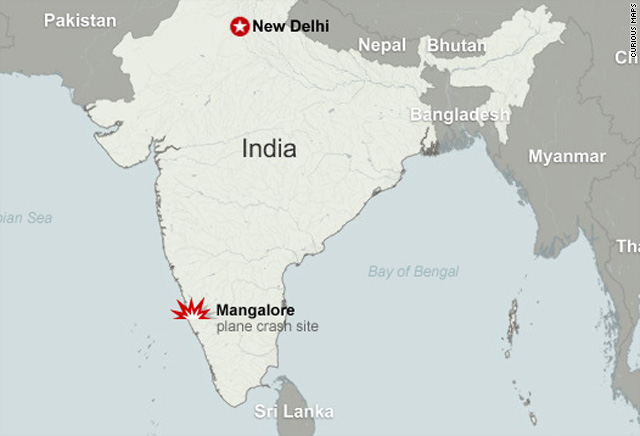 Map of Air India plane crash
The Air India jet touched down on an 8,000-foot runway -- 2,000 feet longer than the old runway and more than sufficient for the Boeing 737, Patel said. The runway has been operational since 2006.
Some of the survivors recounted their harrowing tales for CNN-IBN.
Ummerfarook Mohammed said the cabin quickly filled with smoke after the jet skidded off the runway and hit a boundary wall. The impact created a hole in the plane's body, he said, through which he crawled out and ran for his life.
Nearby villagers carted him in a rickshaw to a hospital.
A medical student said she escaped from the plane but that she then free-fell until she was snagged by a tree, where rescuers found her.
Some of those flying back from Dubai were among the millions of Indians who work as laborers in Persian Gulf states.
Mangalore's airport was "technically certified" by the country's civil aviation regulator.
Patel said weather conditions were good -- calm winds, no rain and good visibility of 6 kilometers -- and both the pilot and co-pilot were experienced and had landed many times before at the Mangalore airport. They did not report any problems before landing the plane, India's civil aviation ministry said.
However, the 90-meter spillover sand bed beyond the runway was limited and was not able to stop the aircraft after it overshot the tarmac, Patel said. Only the tail of the aircraft was left intact.
Witnesses said the plane crashed through the hilltop airport's boundary wall and fell into a valley, CNN-IBN reported.
Survivors told CNN's sister network that they jumped out of the plane after it crashed, seconds before it burst into flames.
Rescue workers struggled to reach the crash site in a hilly wooded area, the network said. Smoke from the plane also hampered rescue efforts and many of the recovered bodies were badly burned, CNN-IBN reported.
Abhay Pathak, a regional manager for Air India based in Dubai, said there were 160 passengers on board the plane and six crew members. Of the passengers, 32 were women, 105 were men, 19 were children and four were infants, he said.
Indian Prime Minister Manmohan Singh announced financial aid for the victims Saturday and canceled scheduled events at his residence to mark the end of his first year in office.
The government said families would receive 200,000 rupees, or about $4,260, for each dead passenger and 50,000 rupees, or $1,064, for every injured passenger.
The airline has offered relatives of crash victims in the United Arab Emirates free passage to India, Pathak said, and about 20 people have accepted the offer.
Boeing released a statement saying the company would send a team to provide technical assistance to Indian authorities during their investigation.
The NTSB team is expected to arrive in Mangalore on Tuesday morning and will include a senior air safety investigator, a flight operations specialist, an aircraft systems specialist, and technical advisers for Boeing and the Federal Aviation Administration, the NTSB said in a statement.
The city of Mangalore, situated in the state of Karnataka along India's Western Ghats or hills, had just christened a new terminal. A week later, it was marred by the crash, India's worst aviation disaster in a decade. In 2000, an Alliance Air jet crashed while trying to land in the northeastern city of Patna, killing about 60 people.
Air India has released the following telephone numbers to learn more information about the crash:
General: +91 2560 3101 +91 2565 6196
In Mangalore: 0824 222 0422
Dubai (Air India Express): 00971 4 2165828/29
CNN's Harmeet Shah Singh, Raja Razek and Jennifer Deaton contributed to this report.