Thai prime minister says state of emergency may be lifted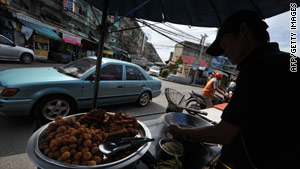 The streets of Bangkok are getting back to normal after weeks of unrest.
STORY HIGHLIGHTS
Thai prime minister says country calm without curfew
Prime Minister Abhisit Vejjajiva says committee will examine political unrest
State of emergency was implemented April 7 in Bangkok and nearby provinces
At least 50 killed in clashes between demonstrators and troops
Bangkok, Thailand (CNN) -- Thai Prime Minister Abhisit Vejjajiva said the country was calm Sunday morning after the first night without a government-imposed curfew in 10 days, state media said.
In his weekly television address, Abhisit said the state of emergency could be lifted, but did not say when a relaxation or removal of emergency regulations would take place, the Thai News Agency reported.
Officials implemented the state of emergency on April 7 in Bangkok and nearby provinces, when thousands of anti-government protesters had amassed in the capital's central shopping district. They imposed a curfew in Bangkok and 23 provinces May 19.
Violent clashes between the demonstrators and government troops broke out earlier this month, killing at least 50 people and injuring nearly 400, government officials said.
More than 30 buildings -- including a bank, a police station, a local television station and Thailand's biggest shopping mall -- were set ablaze.
Abhisit said an independent committee would be established this week to examine the political unrest.
Thai investigators claim former Prime Minister Thaksin Shinawatra, who was ousted in a bloodless military coup in 2006, helped mastermind and fund the Red Shirt anti-government protests, Thailand's state news agency said this week.
A Thai court issued an arrest warrant for Thaksin this week on terrorism charges connected to the clashes, the news agency said.
Thaksin has denied he was a leader of the Red Shirt demonstrations and said the charges in the arrest warrant show the government lacks legitimacy.