STORY HIGHLIGHTS
Documentary explores the atrocities committed under the Khmer Rouge
Filmmaker tracks down former fighters to find out why they participated
Teth lost his family in the mass killings
Film is honored at the Sundance film festival
Phnom Penh, Cambodia (CNN) -- "I come back here to where I killed people. And I feel terrible. My mind, my soul, my body is spinning inside. All the things I did are flashing through my mind."
The speaker is a man named Suon. Sitting alongside a field, the former Khmer Rouge militia commander explains in the documentary "Enemies of the People" how he slit people's throats and talks about drinking gall bladder bile.
The film had its premiere in Asia just ahead of the first verdict to be handed down by the Cambodian genocide tribunal on Monday. It has already won the World Cinema Documentary Special Jury Prize at the Sundance Film Festival
At least 1.7 million people -- nearly a quarter of Cambodia's population -- died under the 1975-1979 Khmer Rouge from execution, disease, starvation and overwork, according to the Documentation Center of Cambodia.

Video: Tracking Khmer Rouge killers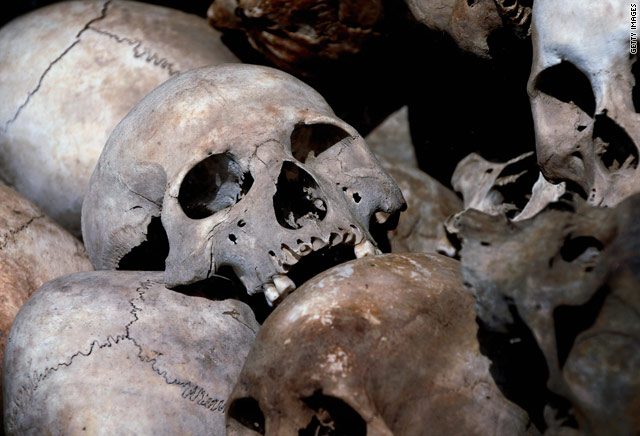 Genocide in Cambodia

Video: Horror of Cambodia's Year Zero

Video: On the trail of Khmer Rouge interrogator

Video: Victims of Khmer Rouge speak out
Four of the ultra-Maoist regime's former leaders are waiting to see if they will stand trial before a U.N.-backed tribunal for war crimes and crimes against humanity.
Timeline: Rise of Khmer Rouge and its aftermath
Kaing Guek Eav, alias Duch, the head of the infamous torture prison in the country's capital of Phnom Penh, has stood trial on charges including crimes against humanity. The verdict will be announced in his case on Monday, more than 30 years after the fall of the regime.
In the film, directed and produced by Cambodian Teth Sambath and Briton Rob Lemkin, Teth tracks down about 100 former Khmer Rouge fighters who were responsible for the killing to learn why they participated.
"We don't have the answers from the Khmer Rouge leaders and from other Khmer Rouge cadre about why there [was] starvation, why they [were] killing the people," he said. "I am very worried that if we [cannot] find out the real history, the Khmer Rouge history would be hidden ... the new generation they would not understand."
Powerful moments in the film, which opens Friday in the United States, include a woman who said she cried in secret so the Khmer Rouge would not kill her. There is also Soun's description of killing a pretty woman he had asked to stay with him but was ordered to get rid of.
"When they talk [about] how they kill[ed] people, it made me feel very frightened, but I kept it in my heart," said Teth, 42, who lost his brother, mother and father to the Khmer Rouge.
"I wanted to get the truth, so I had to ask -- even if there are bad things, because it's for history. We had to ask everything, even bad or good. We need to get everything out."
Teth's odyssey began in 1996. His family's earnings went to his search for the fighters, leading him crisscrossing the southeast Asian nation looking for scarred men and women. But he never told his family or close friends about his mission since he did not want to bring up the hard and sad memories of the past.
A journalist for the English-language Phnom Penh Post, Teth eventually met Nuon Chea, the second-in-command under Khmer Rouge leader Pol Pot and who is now waiting for the genocide tribunal to decide if he will stand trial for crimes against humanity.
He befriended Nuon Chea. At first, Teth did not tell him how his family died because he wanted to get to the truth.
But after years of visits, Nuon Chea told Teth about the orders to kill -- especially those expelled from the party and labeled criminals.
"They were killed and destroyed. If we had let them live, the party line would have been hijacked. They were enemies of the people," Nuon Chea told him.
Teth said he and Nuon Chea are friends, but "it doesn't mean I support him."
"There is a difference between friendship and the law," he said. "If the law judges him and sends him to jail, okay, yes."
Teth has rejected a request from the genocide court reviewing Nuon Chea's case for a copy of the film.
"I told all these people [the killers], I do not work for the court. I do not work for anyone but all the people ... to know about the real history. If I give this kind of stuff to the court, it means that I betray Nuon Chea and I betray the killers," he said.
How many holes in hell must I go through before I can be reborn as a human being again? I will never again see sunlight as a human being in this world
--Suon, former Khmer Rouge militia commander
In the film Teth brings Nuon Chea together with Suon and another former fighter, Khoun.
The two men listen to Nuon Chea, who counsels them that since they had no intention to kill and were following orders, they had committed no sin -- and under Buddhism, need not fear punishment.
"You can start life again," he tells them.
But Suon, in the next scene, is unconvinced.
"How many holes in hell must I go through before I can be reborn as a human being again? I feel desperate, but I don't know what to do. I will never again see sunlight as a human being in this world," he says.
Teth and Lemkin said they have had positive feedback to the film, with Cambodians telling them they had never seen such confessions.
"This film can tell the people the truth, can tell the victims the truth. It can tell the new generation how to avoid -- not to repeat -- the mistakes from the past," Teth said. "One more thing -- it can encourage other Khmer Rouge perpetrators to come out, to confess and to join together to make a real story [of their experience]."
Teth noted that the killers had felt better after confessing what they had done, and Lemkin noted that the process had in turn helped his co-director and producer.
"Another aspect of what this film is really about is that he is trying to lay to rest the ghosts of his dead family in the hope that perhaps he and his new young family, living family, can find a way to go forward," he said.
"He wanted to find that there was some kind of rationality, and I think in discovering the humanity of the killers ... he discovers something that is very much healing and a kind of cathartic resolution to this very, very terrible loss that he had to live through."
FOLLOW THIS TOPIC