Death toll in Karachi violence rises to 81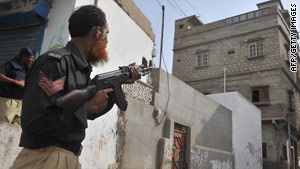 A policeman stands guard in a troubled eastern neighbourhood of Karachi on August 4, 2010.
STORY HIGHLIGHTS
The number of wounded rises to 178 following violence
MQM party leader among those killed Monday
The gunman also killed the politician's bodyguard
Islamabad, Pakistan (CNN) -- The death toll rose to 81 on Friday in the widespread violence that broke out after the killing of a provincial lawmaker in southern Pakistan.
The number of wounded rose to 178, said Rafiq Gul, deputy superintendent of Karachi police.
Syed Raza Haider, a leader of the MQM party, was shot Monday evening at a mosque in the southern Pakistani port city of Karachi.
Haider was attending the funeral of a relative, Gul said. The gunman also killed the politician's bodyguard.
The politician's death triggered political and ethnic violence in the city, as mobs set fire to vehicles and gunfire erupted.
Gul said 48 vehicles, eight shops and several gas stations were set ablaze in the mayhem.
The MQM is part of the ruling coalition backing President Asif Ali Zardari's Pakistan People's Party.