STORY HIGHLIGHTS
Family tell how they evacuated after mosque sounded warnings over loud speakers
They rode train 400 km south to Karachi and one of the largest flood relief camps
In the camp -- now at its 7,000 capacity -- there is food, water and some medicine
Around Karachi, 22,000 flood evacuees are living in camps

Karachi, Pakistan (CNN) -- As a primary school teacher Mohammad Ayoob is used to giving instructions, not taking them. But when the loudspeakers from the nearby mosque blared instructions to evacuate, he obeyed along with 35 members of his extended family.
"It was chaos," Ayoob said. "Everyone was rushing around."
The voice from the mosque warned that deadly floods were rushing towards his hometown of Jacobabad in Sindh province.
Ayoob and his family spent the next few hours trying to gather what they couldn't live without, then dashed to the local train station.
When they got there, there was no room on the train for anything but a few extra clothes. "The train was so full you couldn't even see the train. People were sitting on top, leaning out of the windows. It was suffocating," he said in broken English.
The family includes a father partially paralyzed by stroke, a mother suffering from diabetes, and a sister crippled by severe burns received in an accident at home.
They traveled about 400 kilometers (250 miles) south from Jacobabad to find shelter in Pakistan's most populated city, Karachi.

Video: Life in a flood relief camp

Video: Life at a Pakistan relief camp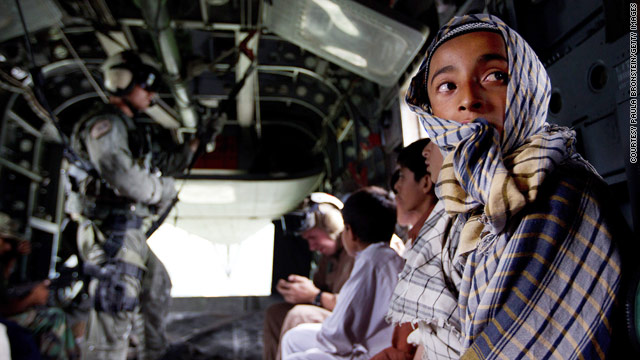 Gallery: Flood rescue mission in Pakistan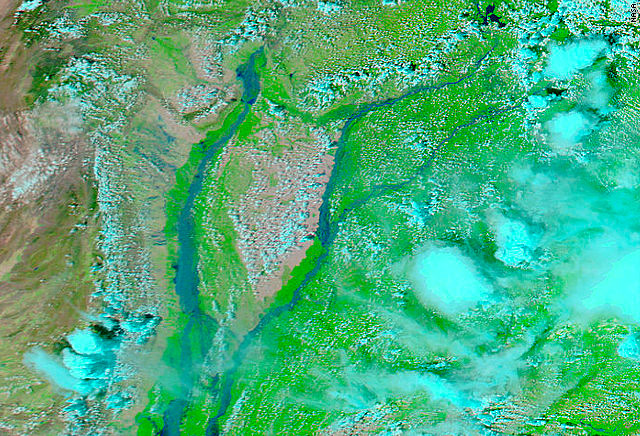 Pakistan flood: Before and after
Now they are in Karachi's largest relief camp with about 7,000 other flood victims. The family occupies four tents. There is nothing inside them.
Ayoob's sister Ayesha Begum is soft-spoken, but her face reveals pain. She shows us the terrible burns on her legs. There are more on her chest -- the result of her clothes setting alight one winter when she got too close to the fire.
She was already uncomfortable in her scarred skin and now she is forced to sleep on the hard ground, in a stifling hot tent filled with nine people.
"I feel a lot of pain and burning. I cry throughout the day," she said through tears. She cries as much out of physical pain as frustration and despair.
She is unable to properly care for her four children or herself in this situation. She relies on her sisters for just about everything.
"I don't know what the future holds for us," she said. Life in this camp is far better than what was available in or near their submerged city. The government has arranged water to be brought in daily.
There is food distributed and fumigation to cut down on disease-carrying insects. There is a makeshift clinic that Ayoob's family has already used.
One of their young children still has a bandage with an IV tube in it. She had to be rehydrated after a bad case of diarrhea that made her extremely weak.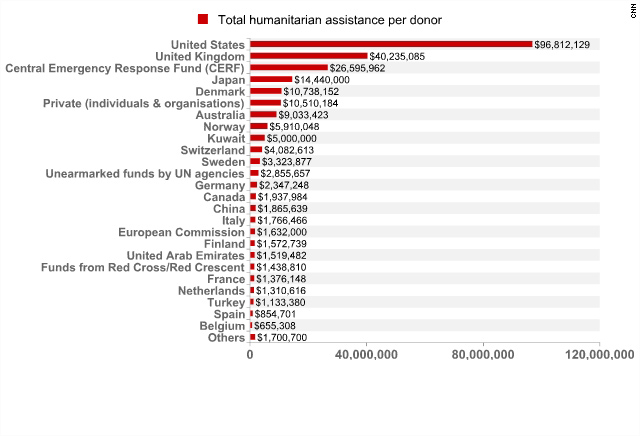 Chart: Aid for Pakistan
There is one major problem with the camp. It is at capacity.
"I have closed this camp because I have no more facilities for staying," said Sayed Mehdi Shah, an officer of the Sindh Revenue Service who is in charge of the camp.
"We are afraid if the number will be increased then an epidemic will break through," he added.
So the next wave of refugees will have to go to one of more than a dozen smaller relief camps that have been opened on the outskirts of Karachi.
In all there are more than 22,000 flood victims that are now in the camps outside Pakistan's largest city, officials say. And trains have been arriving daily loaded with more victims. As for Mohammad Ayoob he is thankful to have a bit of shelter but he says it is hard as a father and schoolteacher to hear his own children pleading to go to school when he can't find work to feed them properly.
"I don't want charity," he said. "I am able. I want to work. Please can you help me? I would be so happy."
FOLLOW THIS TOPIC