Pakistan threatens action over NATO incursions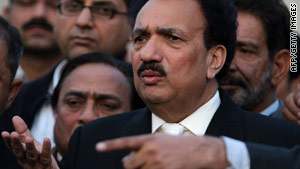 Rehman Malik: "I assure you we are quite capable of defending our homeland."
STORY HIGHLIGHTS
Malik says Pakistan may use military force if the territorial violations continue
Pakistan says NATO and ISAF helicopters crossed the border recently from Afghanistan
Pakistan has protested the issue to NATO headquarters
Islamabad, Pakistan (CNN) -- Pakistan's foreign minister said Wednesday his country may use military force to stop violations of its territory.
"We will not allow anyone in any case to interfere in Pakistan's territory and if this continues, we will adopt all the set measures including military action," Rehman Malik told reporters. "I assure you we are quite capable of defending our homeland."
Malik said he was referring to two incidents of aerial engagements from the Afghanistan side into Pakistani territory by helicopters with the NATO-led International Security Assistance Force over the weekend, in which dozens of suspected militants were killed in what Pakistan said was its territory.
Islamabad strongly protested the action and sent a demarche -- a formal protest relayed through diplomatic channels -- to NATO headquarters in Brussels, Belgium.
"These incidents are a clear violation and breach of the U.N. mandate under which ISAF operates. The said mandate "terminates/finishes" at the Afghanistan border. There are no agreed "hot pursuit" rules. Any impression to the contrary is not factually correct. Such violations are unacceptable," said a statement from Pakistan's foreign affairs ministry on Monday.
"ISAF/NATO has been asked not to participate in any military action that violates the U.N. mandate and infringes upon Pakistan's sovereignty. In the absence of immediate corrective measures, Pakistan will be constrained to consider response options," the statement continued.
Malik said Wednesday that Pakistan has protested the action to Afghanistan as well and will also voice its concerns to the United States.
ISAF described one of the incidents in a statement Monday, saying that "an air weapons team engaged a significant number of insurgents following an attack on a remote Afghan National Security Force outpost in Khost province Saturday."
Khost province, in Afghanistan's northeast, borders Pakistan. ISAF said more than 30 insurgents were killed in the strike.
"Initial reports indicate no civilians were injured or killed during the operation," the ISAF statment said. "At no time during the engagement did ground forces cross into Pakistan territory."
The Pakistani government has had to toe a fine line: While touting its help and willingness to assist in the war on terror, it also strongly defends its sovereignty and has loudly protested strikes by suspected drones in its territory that have killed some civilians.
A series of drone strikes each day since Saturday have killed at least 12 suspected militants in Pakistan's tribal region on the border with Afghanistan, two Pakistani intelligence officials told CNN Tuesday. One of those killed was a top al Qaeda commander, Sheikh Mohammad Fateh al Masri, the officials said.
The United States does not normally comment on suspected drone strikes, but it's the only country operating in the area known to have the capability to launch missiles from drones, which are operated remotely.
FOLLOW THIS TOPIC