STORY HIGHLIGHTS
NEW: Clinton calls the Internet publishing of confidential cables "very irresponsible"
Her trip includes Kazakhstan, the Kyrgyz Republic, Uzbekistan and Bahrain
Clinton says she plans to reassure her counterparts after the leaks
One leaked cable describes lavish lifestyles of Kazakh leaders
(CNN) -- Secretary of State Hillary Clinton landed Tuesday in Astana, Kazakhstan, to begin a four-day trip abroad as the publication of classified U.S. State Department cables by the WikiLeaks site makes headlines around the world.
Taking questions at a town hall session titled "Empowering Civil Society for Central Asia's Future," Clinton called the release of the classified cables on the Internet "very irresponsible" and outlined how she plans to address the revelations when speaking with other diplomats during the trip.
"I, of course, have been reaching to governments and leaders around the world over the last week," she said.
"As I said before I left Washington, we consider it regrettable that information that was meant to be confidential has been made public, and I particularly worry about the human rights activists, the religious leaders, the critics of governments who speak to members of our embassy about abuses in their own country, whose name may either be in a reporting cable or who may be identifiable because of the description of the person," Clinton said.

Clinton responds to WikiLeaks documents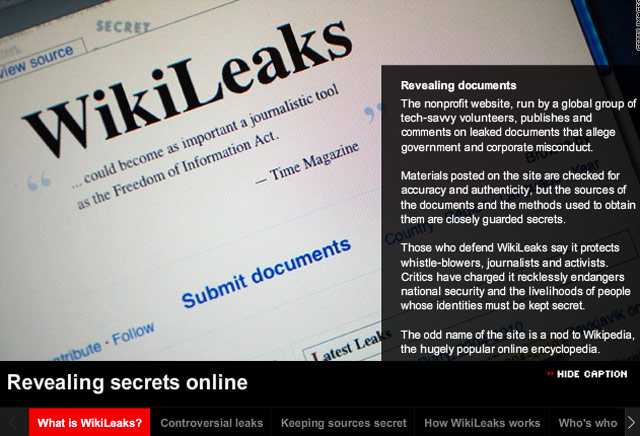 Revealing secrets online

Leak exposes China's N. Korea views

WikiLeaks: China's N. Korea stance

Diplomatic damage control?
"So I believe that was a very irresponsible act that put at risk the lives of innocent people all over the world."
Clinton arrived Tuesday night at the Eurasian University in Astana and was greeted by two young girls in traditional Kazakh dress who presented her with flowers. She then moved to a small room for a meet-and-greet with female leaders.
At another point during the town hall, Clinton was asked about what lessons she had learned by being involved in student government when in college.
"You have to get along with people, you have to listen to them even if you disagree with them," Clinton said. "You have to try to find compromise. You know, in some circles, even in my own country now, compromise is considered a bad thing. But in fact compromise is often the only way to resolve any issue peacefully."
Clinton's itinerary includes stops in the Kyrgyz Republic, Uzbekistan and Bahrain.
A regional security summit in Astana is a key part of the trip.
Clinton will lead the U.S. delegation at the Summit of the Organization for Security and Cooperation in Europe -- a group that includes 56 countries in Europe, Central Asia and North America.
She will also travel to the Middle East to deliver a speech on the role of the United States in regional security at the Manama Dialogue in Bahrain.
But with leaked communiques from American diplomats rippling around the world, Clinton told reporters Monday that she will make a point to connect with foreign officials on the trip.
"We will be seeing dozens of my counterparts. ... I will continue the conversations that I have started with some in person and over the phone over the last days, and I will seek out others, because I want personally to impress upon them the importance that I place on the kind of open, productive discussions that we have had to date and my intention to continue working closely with them," she said.
The latest confidential disclosures, which WikiLeaks says will eventually reach 250,000 pages, contain mostly State Department cables sent by American diplomats between the end of 1966 and February 2010. The release prompted widespread condemnation from U.S. officials and a range of reaction from other governments.
In Kazakhstan, Clinton is scheduled to meet with President Nursultan Nazarbayev and Foreign Minister Kanat Saudabayev, both of whom are mentioned in a cable purportedly written by U.S. Embassy staff and published by WikiLeaks about the "recreational habits of Kazakhstan's leaders."
"Kazakhstan's political elites appear to enjoy typical hobbies -- such as travel, horseback riding, and skiing. Not surprisingly, however, they are able to indulge in their hobbies on a grand scale, whether flying Elton John to Kazakhstan for a concert or trading domestic property for a palace in the United Arab Emirates," the cable says.
It describes John performing at a birthday party for Nazarbayev's son-in-law and says singer Nelly Furtado performed at a birthday bash for his daughter. It also mentions Saudabayev's skiing vacation in Europe with a Kazakhstani billionaire.
Clinton expressed confidence that U.S. diplomatic efforts around the world will survive the leak of the documents.
"I can tell you, in my conversations, at least one of my counterparts said to me, 'Don't worry about it; you should see what we say about you,'" she said.
FOLLOW THIS TOPIC