Drone strike kills 4 in Pakistan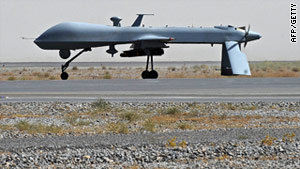 File photograph of a U.S. Predator drone -- four militants were killed by a suspected U.S. drone strike in Pakistan Friday.
STORY HIGHLIGHTS
The attacks targeted a militant vehicle in North Waziristan
Drone strikes jumped to 111 in 2010, according to a CNN count
Islamabad, Pakistan (CNN) -- Suspected U.S. drone strikes killed four militants Friday in Pakistan's tribal areas, intelligence officials said.
The attacks targeted a vehicle in the area of Miran Shah in North Waziristan.
The Pakistani officials asked not to be named because they are not authorized to speak to the media.
Based on a CNN count, Friday's strike raises the number of drone attacks to 111 this year, compared with 52 in all of 2009.
Intense unmanned aircraft missile activity in Pakistan's tribal region has moved northward, mirroring the movement of suspected militants as they try to flee the targeted strikes, according to a senior Pakistani military official.
The United States does not officially confirm that it has drones firing missiles at terror targets in Pakistan, but it is the only country in the region known to have the capability to do so.
CNN's Chris Lawrence and journalist Nasir Habib contributed to this report.
FOLLOW THIS TOPIC