STORY HIGHLIGHTS
Patriarch Ilia II has led one of the world's oldest Christian societies for more than 30 years
According to a recent poll, 94 percent of Georgians rank Ilia II the most trusted man in the country
The Patriarch has helped raise Georgia's birthrate by promising to baptize all newborns
He says helping unify Georgia after collapse of Soviet Union is his greatest accomplishment
Editor's note: CNN's new series i-List takes you to a different country each month. In April, we visit the Republic of Georgia focusing on changes shaping the country's economy, culture and its social fabric.
Tbilisi, Georgia (CNN) -- At the end of a Sunday church that lasts more then three hours, the frail spiritual leader of Georgia's Orthodox Christians emerges through the doors of Holy Trinity Cathedral's ornate wall of icons, and steps towards the waiting congregation.
The crowd surges forward. Hundreds of men, women and adolescents, reach for Patriarch Ilia II. Guided by bodyguards, the bearded cleric works his way through the sea of arms, touching and blessing his admirers' hands as he slowly walks out the cathedral to an armored limousine. Teenagers chase after the vehicle, as the patriarch drives away.
Mariam Turbanidze and her seven-year old son Nikolos stood watching the car disappear, oblivious to the pouring rain. Her family traveled hours from the Black Sea port city of Batumi to attend Sunday's service.
"The patriarch is Nikolos' godfather," Turbanidze explained. She proudly held up a framed church document as proof.
President Saakashvili interview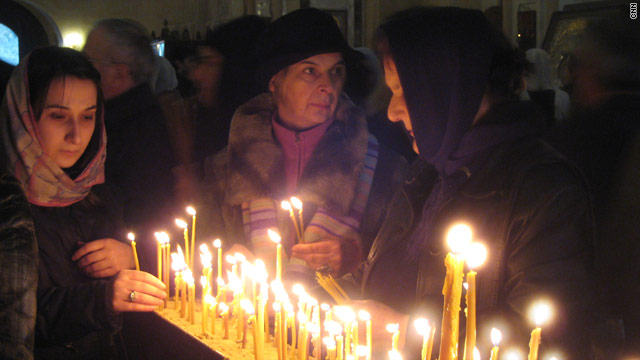 Gallery: Tbilisi orthodox cathedral
The patriarch is not a person who needs a government office
--Patriarch Ilia II
Ilia II has led one of the world's oldest Christian communities for more than 30 years. In a country that has suffered four wars in the past two decades, and experienced harrowing political and economic transformation, the patriarch is seen by many as a respected source of stability.
According to a 2008 poll published by the Tbilisi-based International Centre on Conflicts and Negotiation, 94.2 percent of Georgians surveyed ranked Ilia II the most trusted man in the country.
Born Irakli Shiolashvili, Ilia II was crowned "His Holiness and Beatitude Ilia II Catholicos Patriarch of All Georgia" in 1977, when Georgia was part of the Soviet Union.
He assumed leadership of a church that Soviet authorities had targeted and repressed for decades.
"Many spiritual figures were persecuted and shot. Many churches were closed and some were destroyed," Ilia II said.
He spoke to CNN at the patriarchate's residence in downtown Tbilisi, a three-story building full of icons and church artifacts that had been seized and used as a police headquarters during Soviet times.
"After the liberation of Georgia from the Soviet Union, of course conditions improved. The people go to church, especially the youth," Ilia II explained.
In the last 20 years, the church in Georgia - and its leader - have become some of the most powerful institutions in the country.
In December of 2007, the patriarch announced he would personally baptize newborns in an effort to battle Georgia's declining birthrate. Thousands of people turned up to mass baptisms, during which smiling parents watched as robed priests plunged screaming babies into ornate vats full of holy water.
Irma Amirejibi and her husband Giorgi were among those to answer the patriarch's call. They already had four daughters and decided to have a fifth. Last year, their youngest daughter Nino was baptized by the patriarch.
"We think that with this baptism the patriarch's kindness will bless our family and protect my family in the future," Amirejibi said, as she balanced wriggling Nino on her lap.
Official statistics show that in 2008, Georgia had its highest number of births in nine years. Ilia II claims partial credit for the surge in births.
"I have already baptized about 5,000 children," he said. "Parents decided to give birth to these children because they had a chance to be the patriarch's godchildren."
In person, Ilia II is visibly frail. His voice is at times barely audible and he keeps his eyes averted from bright lights. But the patriarch speaks unapologetically about his position of authority in a country where 84 percent of the population identifies itself as Orthodox Christian.
"The patriarch is not a person who needs a government office," Ilia II said. "That is why the most objective ideas can be expressed by the patriarch and the church."
In his sermons and speeches, Ilia II periodically veers from spiritual advice to outspoken commentary about political events.
Addressing thousands of worshippers at a Sunday service last month, Ilia II denounced a hoax news report on Georgian TV about a fake Russian military invasion. He called the controversial program, which spread panic throughout the population, a "crime against humanity."
After Georgia lost a brief-but-bloody 2008 war with Russia, Ilia II was the highest ranking Georgian dignitary to meet face-to-face with Russian president Dmitry Medvedev in Moscow.
In a recent interview with CNN, the cleric accused Medvedev of failing to follow through on a pledge to allow some of the 30,000 ethnic Georgians displaced by the fighting to return to their homes in Russian-controlled territory.
"First of all he said that refugees must return to their homes. This was very happy news," Ilia II said. "But it is a fact that these words remained just words. And they were not fulfilled. He [Medvedev] is soft-spoken and clever."
In March 2008, Ilia II helped negotiate an end to a hunger strike led by opposition parties against the Georgian government.
"It is tradition that the church has to moderate. The church has to calm down everything," said Alexander Rondeli, a political analyst with the Georgian Foundation for Strategic Studies. "He [Ilia II] is playing this role quite well."
Throughout his career, the patriarch has made political missteps. Three years ago, he called for restoring the monarchy in Georgia, which was dissolved in 1801 when Russia annexed the Georgian kingdom.
Georgia's political elite offered a tepid response to the proposal. Then in 2009, with the patriarch's blessing, two descendants of the Georgian royal family were married in Holy Trinity Cathedral. Less than two months later, the couple were reported to have separated.
Ilia II says his greatest accomplishment has been to help unify Georgia after the collapse of the Soviet Union.
"Society was divided into separate pieces," he said. "My aim was to unify the people, to make them one nation. And I knew that would happen."
At 77, the patriarch is not a young man. Many Georgians now worry about the health of the elderly priest who has helped guide his country through 19 stormy years of independence. Succession to the patriarch could pose a significant challenge, said political analyst Alexander Rondeli.
"Someone else has to be better or at least of the same caliber [as Ilia II]. This is the problem," Rondeli said.
Ilia II is not only a national symbol. He is a leader whose interests extend far beyond faith and politics. During Sunday prayer services, the choir in Holy Trinity Cathedral performs a choral piece called "Kyrie Eleison."
It features a female soloist, backed by an all-male choir. Their full-throated harmonies echo off the stone walls of the huge church, triggering goose bumps among listeners.
The composer of this hauntingly beautiful hymn is the man standing at the front of the cathedral in front of thousands of worshippers: Patriarch Ilia II.
FOLLOW THIS TOPIC