Dozens arrested at Russia protests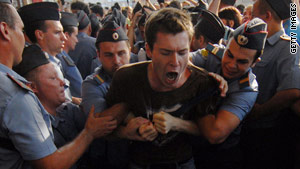 A political opposition activist was arrested Saturday at a rally in Moscow.
STORY HIGHLIGHTS
State media says most arrests were made in Moscow and St. Petersburg
Arrests include a former deputy prime minister
(CNN) -- Russian authorities arrested at least 135 opposition protesters, including a leading Kremlin critic, at rallies demanding freedom of assembly, state media said.
Most of the arrests Saturday were in Moscow and St. Petersburg, an interior ministry spokesman said.
About 200 protesters attended the rally in Moscow, state-run Ria-Novosti reported. Crowds chanted "Shame!" as authorities worked to ensure order.
The arrests included opposition leader Boris Nemtsov, a former deputy prime minister, and Sergei Udaltsov, leader of the Leftist Front opposition group, state media said.
Nemtsov told state media that he was being held at a police station in Moscow. He said he was charged with "disobeying police."
The protests were held in at least 10 territories in Russia, according to state media.
There were "no serious disturbances of public order," the ministry spokesman said.
FOLLOW THIS TOPIC