Muscovites struggle to breathe as acrid smoke grips city
STORY HIGHLIGHTS
NEW: Russian president visits ambulance station
Carbon monoxide levels are dangerously high in Moscow
People are encouraged to stay indoors and wear masks
There are no signs of the heat wave abating, and wildfires are still raging in the countryside
Moscow, Russia (CNN) -- The Moscow skyline of the Kremlin and St. Basil's Cathedral vanished Friday as a blanket of thick, noxious smoke shrouded the metropolis, leaving many of the city's 10 million residents with sore throats and burning eyes.
On Friday, Russian President Dmitry Medvedev visited a Moscow ambulance station, accompanied by top health officials. He was told that the number of emergency calls has increased by about 10 percent lately, related to the heat and smog.
The acrid smoke, from thousands of square miles of wildfires, drove carbon monoxide levels in Moscow five times higher than what is considered safe, the Russian Health Ministry said.
Residents were encouraged to stay indoors. Many who did not could be seen wearing masks as they walked outdoors.
In interviews with the state-run RIA Novosti news agency, health officials likened the pollution levels to smoking several packs of cigarettes a day.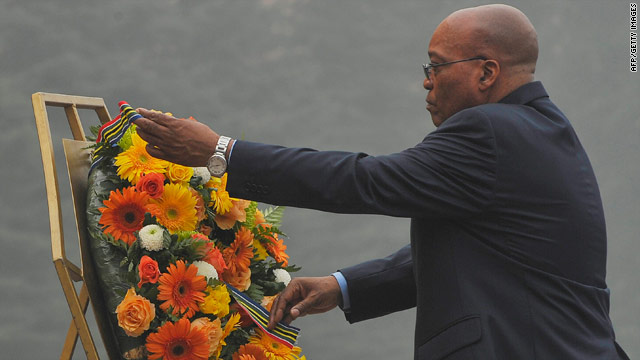 Gallery: Moscow blanketed by smog
Some flights to Moscow were diverted Friday because or poor visibility.
The Russian Ministry for Health and Social Development reported Friday that 52 people have died as a result of the extensive fires in central Russia. Another 72 people needed treatment, 43 of whom remain hospitalized, it said.
Fires were still burning Friday in 22 of the country's 83 regions.
Tens of thousands of firefighters have been deployed to extinguish nearly 600 raging wildfires covering 500,000 acres, among the worst ever.
The record heat wave gripping the country showed no signs of abating Friday.
Temperatures climbed to 37 degrees Celsius (98 degrees Fahrenheit) in Moscow and hit 41 degrees Celsius (nearly 106 Fahrenheit) farther to the southeast in Tambov. By Sunday, Moscow could reach 40 degrees Celsius (104 Fahrenheit), a figure never before officially recorded in the city.
Percy von Lipinski, who is visiting Russia, described the sun as a "barely visible dot of orange trying to light the sky."
Watch Percy's walk through smokey Moscow
"I dared venture outside today but can tell you that it was a difficult job," he said in a CNN iReport. "Tomorrow I have decided to take my chances to see if things are any better in the country side."
CNN's Matthew Chance and Max Tkachenko contributed to this report.
FOLLOW THIS TOPIC