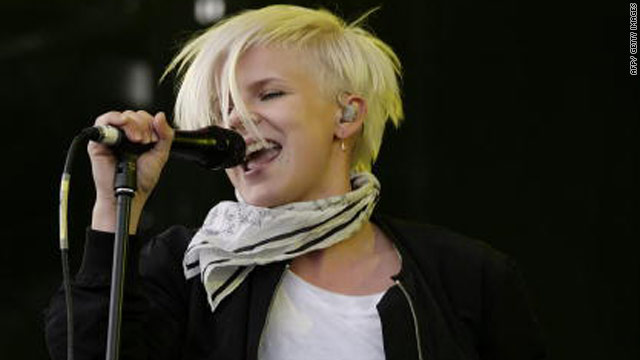 STORY HIGHLIGHTS
Born Robin Miriam Carlsson, Robyn started her career at the age of 12
She achieved international success at 17 with her 1997 single "Show Me Love"
Says she is proud of Sweden's record on equality
Global Connections takes two very different countries and asks you to find the connections. Part of CNN's Connect the World, this week we've picked Sweden and Malaysia. Here we ask Swedish pop-sensation Robyn about the inspirations she draws from her homeland.
London, England (CNN) -- From global pop sensation to self-styled electro-dance songstress, no mould comfortably fits Swedish singing sensation, Robyn.
Once Sweden's answer to Britney Spears, the platinum-blonde has managed to strip her 'sugar coated' image to reveal an edgy singer/songwriter, unwilling to compromise on her music or image.
Born Robin Miriam Carlsson, by the age of 17, the young singer had accomplished the near impossible -- breaking into the U.S. charts with her 1997 single "Show Me Love."
But, unwilling to be labeled another Spears or Aguilera, in 2004 Robyn bought out of her record label and set up her own, entitled Konichiwa Records.
It was a risky move, but one that paid off. Her break spawned a new creative independence, landing her international success with top ten hits including "With Every Heartbeat," "Handle Me" and "Cobrastyle."
Now, set to launch her latest album "Body Talk Pt 2," Robyn talks exclusively to CNN about her homeland and how the country has inspired her music.
Mostly I think geographically we are outsiders, we're tucked away and I think that shapes the way you take in the rest of the world
--Swedish singer Robyn
CNN: What does Sweden mean to you?
Robyn: It's my home, you know. It's where my family is, but it's also where most of the people I work with live. So it's a place that I go back to, even though I work out of Sweden a lot. It's always a place where I'm going to have my home.
I'm also proud of our Swedish culture when it comes to awareness of issues such as equality between men and women. It's something we should be very proud of.
CNN: Where is your favorite place to go in Sweden?
R: There's an island outside of Gotland, in Sweden called Faro where I spent a lot of my summers. It's a really beautiful place. It's a small island, it's almost like the moon, it's very rocky and it's in the middle of the Baltic Sea. It's like nothing else in Sweden, very sparse and stark, but it's very beautiful and very inviting.
CNN: How do you think Sweden has shaped who you are and your mentality?
R: My friends who are not from Sweden tell me that I'm more reserved or maybe more ... I guess the opposite of what a Latin American would be. Maybe because Scandinavians are more careful with their words and I guess it takes a lot to become a friend of a Swede. But I think we're quite warm, maybe in a different way that is not so verbal. I think that's probably quite Swedish.
Then again I don't really feel like the typical Swede because I've been traveling so much since I was little. So a Swedish person would probably say I'm quite open. It's depends on how you look at it...that's how it is with everything.
CNN: Has Sweden inspired your music in anyway?
R: Well in a lot of ways. I think the music environment in Stockholm and Sweden is very interesting at the moment. There are a lot of good bands and artists making music there. Most of the people I work with are Swedish. But then there is also traditionally amazing songwriters -- everything from ABBA to Max Martin. There is pop, then there's a Swedish folk tradition that's very melancholic and beautiful and melodious. So there are lots of different things in Sweden that has inspired me.
Mostly I think geographically we are outsiders, we're tucked away and I think that shapes the way you take in the rest of the world. When I was a kid, popular culture was hard to get in Sweden. We only had two TV channels and two radio stations and no cable TV. You had to really search to find new music and I think that definitely shaped the way I make music now, but also the way I look at my place in the world and how I take in other cultures.
CNN: What do you miss most when you are away from Sweden?
R: The space and the nature. Nature is probably the one thing I value the most when I'm back home. It's so close to the city and there's not a lot of people, there's only eight million people is Sweden, so you have a lot of space. That and Swedish butter!
FOLLOW THIS TOPIC