STORY HIGHLIGHTS
Clashes between police and protesters in Nanterre, Lyon
The government plans to raise the retirement age from 60 to 62
It also plans to make other changes to the pension system
The protests have gone on for more than a week
(CNN) -- Fresh clashes broke out Wednesday between protesters and police in France as hundreds of thousands rallied in opposition to planned pension reforms.
Cars were set alight and buildings damaged in the Paris suburb of Nanterre while a van was set ablaze in Lyon, according to Agence France-Presse.
A week-long strike has caused chaos across France with more than a third of French gas stations running dry on Tuesday, according to the government. Air and rail travel has also been disrupted, with unions blockading access roads to Paris' Charles de Gaulle airport.
French President Nicolas Sarkozy told ministers Wednesday he had ordered police to break the blockades at fuel depots, with three peacefully reopened overnight.
iReport: Are you there? Send pictures, images
"For millions of our citizens, transportation is a vital issue. This is a fundamental freedom," Sarkozy said.
The government is working to raise the retirement age from 60 to 62 and make other changes to the pension system with Senate lawmakers due to vote on the proposals on Thursday.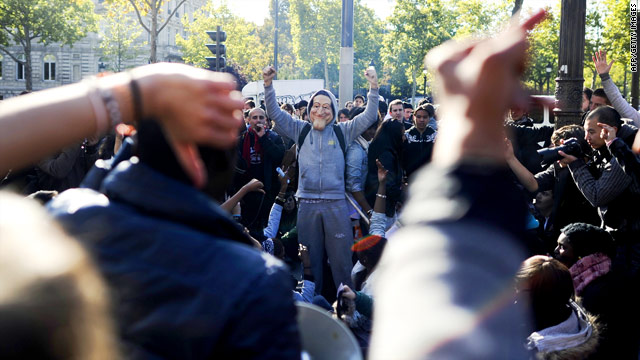 Gallery: French pension protests

Video: Pension fury in France

Video: French protesters point blame at Sarkozy

Video: French protest target oil industry
French senators stayed in the chamber until 3 a.m. Tuesday, working their way through roughly 1,000 amendments to the bill.
About 1.1 million people have demonstrated across the country, French media quoted police as saying.
Unions put the figure at 3.5 million nationwide, with the rolling strike in its second week.
Video footage shot by CNN iReporter dam175 on Monday night showed queues of cars lined up at gas station in the Paris suburbs. He said there was a three to four-hour wait for diesel fuel.
Cars line up at a Paris suburbs gas station
The French education ministry said students from 379 high schools are skipping classes to join the strikes.
Some students told CNN in Paris that they are worried they won't be able to get jobs if the current generation hangs onto jobs for an extra two years.
Sarkozy, the main proponent of pension reform, said it was "essential" and that "France will implement it." The government contends that France cannot afford the earlier retirement payments.
The lower house of parliament has already passed it, by a vote of 329 to 233. If there are substantial differences between the Senate and National Assembly versions, a conference committee will have to iron them out before the final version goes to the president.
"It is natural and normal that it creates certain fears," Sarkozy said about the reform. "And it is also normal and natural that a democratic government in a parliamentary democracy assures that drivers find fuel."
FOLLOW THIS TOPIC