Bodies believed to be missing U.S. balloonists found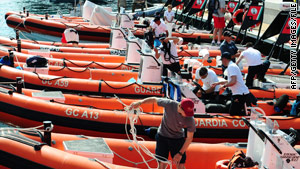 The Italian coast guard, shown here earlier this year, ended its search mission for the balloonists two months ago.
STORY HIGHLIGHTS
Bodies are found a mile from where balloon with Americans was last seen in September
Documents are discovered with one of the bodies
Family members are on the way to Bari, Italy, to identify them
Race organizers say the balloon appeared to have "a sudden and unexpected failure"
Rome (CNN) -- Fishermen found the bodies believed to be two missing American balloonists deep underwater off the coast of Italy early Monday morning, port officials said.
Documents discovered with one of the bodies led authorities to say that they are two Americans who went missing at the end of September. But the victims' families are on the way to Bari, Italy, to officially identify the bodies, the Port of Bari Command Center said.
Richard Abruzzo of New Mexico and Carol Rymer-Davis of Colorado lost contact with officials during a race after the balloon carrying them made a rapid descent during rough weather. Race organizers had said such conditions would make their survival "unlikely."
Fishermen found their bodies in the Adriatic Sea, roughly a mile from the location where their balloon was last spotted on radar tracking, according to the port's command center.
Italian coast guard teams combed the water's surface in the area during their search mission, but the command center said the bodies were found in the "depths of the sea water" around 1 a.m. Monday.
Two U.S. aircraft helped eight Italian vessels and aircraft in the search, which covered 3,600 square miles and ended more than two months ago.
Race organizers Coupe Aeronautique Gordon Bennett said in an October statement that the balloon appeared "to have suffered a sudden and unexpected failure," but it was still investigating what caused the balloon's plunge.
In October, Massimo Maccheroni of the Italian coast guard listed three hypotheses about what may have happened: Lightning struck the balloon and it exploded; the balloon suffered a failure and went down quickly into the ocean; or the balloon dropped slowly, making survivability more likely.
The balloon was equipped with a satellite phone, VHF radios, a radar transponder and two mobile phones, but efforts to contact Abruzzo and Rymer-Davis were unsuccessful.
Last week, supporters planted a tree in Abruzzo's honor outside a balloon museum in Albuquerque, New Mexico, which bears his father's name, CNN affiliate KRQE reported.
FOLLOW THIS TOPIC