STORY HIGHLIGHTS
Istanbul's Grand Bazaar dates back nearly 550 years
Shopkeepers say the ancient market needs a makeover
Planned restoration aims to balance old and new
CNN's global series i-List takes you to a different country each month. In December, we visit Turkey and look at changes shaping the country's economy, culture and social fabric.
Istanbul (CNN) -- Istanbul's Grand Bazaar, one of the world's oldest shopping meccas, is facing a dilemma: How to modernize without losing its unique character.
The bazaar -- a huge covered market with 60 streets and some 4,000 shops known for their carpets, jewelry, ceramics, spices and antiques -- is in need of restoration, according to shopkeepers.
They complain of a leaking roof, bad smells, broken toilets and failing air conditioning.
Mustafa Demir, the mayor of Istanbul's Fatih district, said he is planning to spend around $100 million to restore the bazaar and has enlisted a team of surveyors to make sure it's done properly.
He said: "We can't change the shape of the Grand Bazaar. But the Grand Bazaar needs something."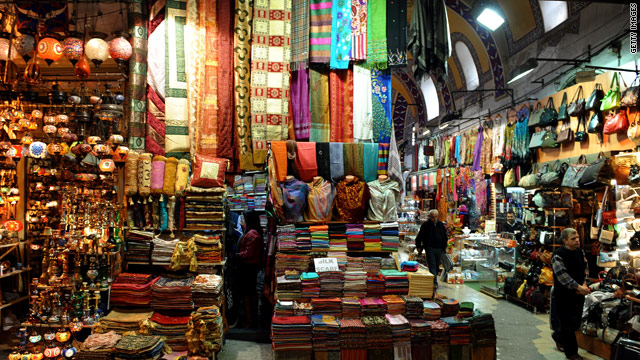 Gallery: Istanbul's Grand Bazaar
The bazaar, or Kapalicarsi in Turkish, is steeped in history.
An important trading center since the 15th century when it was built for Sultan Mehmet the Conqueror, it was enlarged during the 16th century for Sultan Suleiman the Magnificent.
Art historian Claire Karaz says the bazaar was formed when Sultan Mehmet the Conqueror made Istanbul the capital of the Ottoman empire.
She said: "One of Mehmet's aims was to bring the populations back to the city that could revive commerce. Who were they? Of course they were Turks, Armenians, Greeks, Jews and Levantines -- that means people from Italy.
Let's hope it doesn't end up being completely rebuilt in a kind of Disney-ish way.
--Claire Karaz, art historian
"They would bring their wares here and may even sell to some of the shops located on the lower floor."
The bazaar has been restored several times over the centuries after fires or earthquakes. The last time it was repaired was after a fire in the mid-1950s, according to the Istanbul mayor's office.
Karaz wants to be sure the latest facelift doesn't alter the bazaar's character.
She said: "When you're talking about the actual structure of the Grand Bazaar, let's hope it doesn't end up being completely rebuilt in a kind of Disney-ish way."
Today, the bazaar is a giant labyrinth covering 31,000 square meters with 22 gates. It has shops, workshops, inns, cafes, restaurants, fountains, wells, mosques, a school, a police station and a bath.
The bazaar attracts around 300,000 visitors a day. Some estimates put the combined value of the shops at $1.5 billion.
Muzaffer Biber, whose family has sold carpets in the bazaar for generations, said: "It is the heart of Istanbul. It is the heart of Turkey. Everyone comes from around the world to visit Turkey and meet the people."
FOLLOW THIS TOPIC