Allawi edges ahead of al-Maliki in Iraq vote count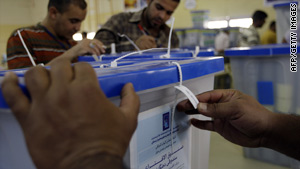 Iraqis count and sort votes in Baghdad on Tuesday.
STORY HIGHLIGHTS
Former Prime Minister Ayad Allawi's bloc ahead by about 9,000 votes out of 4.2 million
Prime Minister Nuri al-Maliki's State of Law leads in seven provinces, including two largest
Latest figures are based on about 80% of votes cast within Iraq in the March 7 election
Still to be counted are votes from army, police force, prisoners, hospital patients, Iraqis abroad
Baghdad, Iraq (CNN) -- Former Iraqi Prime Minister Ayad Allawi's bloc has edged ahead of the coalition led by Prime Minister Nuri al-Maliki in Iraq's parliamentary vote, election officials announced.
Iraq's parliament, the Council of Representatives, will choose a new government once seated.
Allawi's al-Iraqia bloc was ahead of al-Maliki's State of Law coalition by about 9,000 votes of the more than 4.2 million cast for the two leading slates.
But al-Maliki's bloc continues to hold a lead in the expected number of seats in Iraq's parliament, because the prime minister is ahead in some of the largest provinces.
State of Law still leads in seven of Iraq's 18 provinces, including two of the largest -- Baghdad, where 68 of the new parliament's 325 seats are up for grabs; and Basra, with 24 seats at stake.
Allawi's coalition led in five predominantly Sunni provinces, including Nineveh, with 31 seats.

Video: Iraqis await election results
The latest figures from the Independent High Electoral Commission are based on about 80 percent of the votes cast in Iraq in the March 7 election.
Still to be counted are the remainder of those ballots, plus votes from the country's army and police force, prisoners and hospital patients, and 270,000-plus votes from Iraqis living abroad.
The mostly Shiite Iraqi National Alliance was ahead in three provinces, according to the electoral commission.
The coalition is backed by the country's predominantly Shiite neighbor, Iran, and includes controversial secular politician Ahmed Chalabi, as well as some of Iraq's top Shiite religious parties -- including followers of radical anti-American cleric Muqtada al-Sadr.
An alliance of Iraq's major Kurdish parties led in the three majority-Kurdish provinces in northeastern Iraq.
About 6,200 candidates from more than 80 political entities were on the ballot for seats in parliament.
Millions of Iraqis defied the threat of violence to cast ballots, with nearly two out of three eligible voters turning out. At least 38 people were killed in attacks on voting day.
CNN's Jomana Karadsheh and Mohammed Tawfeeq contributed to this report.