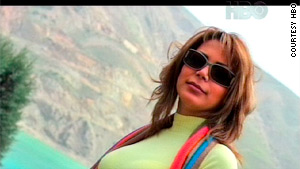 Neda Agha-Soltan's mother's describes her daughter as a rebellious girl who never outgrew her independent streak.
STORY HIGHLIGHTS
Documentary looks at Neda Agha-Soltan, who died last year in Iran's post-election unrest
Film was shot by print journalist who smuggled camera into Iran to interview Neda's family
Voice of America's Persian service broadcast film into Iran last week via satellite TV
HBO documentary will debut in U.S. at 9 p.m. ET Monday
(CNN) -- Music posters still hang on the walls; stuffed animals decorate a twin bed in the corner of the room. Clothes lie neatly folded in the closet.
Neda Agha-Soltan's bedroom in Iran remains practically untouched since the day she died.
A little more than a week away from the one-year anniversary of her death on June 20, 2009, Neda's family refuses to forget their daughter's spirit.
Journalist Saeed Kamali Dehghan traveled to Tehran to interview Neda's relatives in their home for a new documentary on her life and her tragic death.
HBO's new documentary, "For Neda," tells the personal story of the woman who unwittingly became the symbol of the post-election reform movement in Iran when her death was captured on a cell phone video and shown around the world.
"She is any girl, anywhere, but this just wasn't anywhere," the film's producer and director, Antony Thomas, told CNN. "I wanted to show the people who demonstrated, whatever happened, that their courage has not been forgotten."
Not able to find a professional camera crew that would accept the assignment, Kamali Dehghan, a print journalist who had never handled a movie camera before, took a two-day crash course and smuggled a camera into the country.

Video: 'For Neda' blocked in Iran
"I was ready to be arrested in Tehran at any moment. When I rang the bell to their home, I thought an officer could arrest me at anytime," he told CNN.
Explored through the life of Neda, the film examines the repression and inequality that women in Iran have struggled with since the arrival of the Islamic regime.
"She was a hero, but she was not superhuman; she was a hero like millions of other girls in Iran," Kamali Dehghan said.
Speaking out for the first time since Neda's death, her father, Ali Agha-Soltan, describes his youngest daughter as a woman with "no fear in her body."
Her brother, Mohammed, is still mourning the loss of his best friend. He has not cut his hair or shaved since she died. Neda's picture adorns the front of his mobile phone.
Neda's mother's, Hajar Rostami, describes her daughter as a rebellious girl who never outgrew her independent streak. She argued with her schoolteachers about having to wear the mandatory head covering, or hijab, in class.
Growing up in Tehran, Neda enjoyed the latest Western fashions, singing and dancing, all forbidden to women in public.
"She had this freedom to be herself in that family. They have respect for women's rights, so Neda could be herself in that family. She didn't have to play a role; she didn't have to pretend," Kamali Dehghan said.
The HBO film will debut in the U.S. at 9 p.m. ET Monday, but the network allowed Voice of America's Persian service to broadcast it in Farsi into Iran last week through its satellite TV channel and its website.
Voice of America said attempts to show the film were interrupted by Iranian authorities jamming the satellite signal.
Voice of America viewers also complained of electrical outages during the time slot.
On Friday, the Islamic republic aired its own investigative documentary into the death of Neda titled "Intersection."
In the film, the government points the finger at the People's Mujahedeen Organization of Iran for Neda's death. The PMOI is a Marxist group advocating the regime's overthrow that the government often has blamed for post-election violence.
Prepared for a censorship attempt, HBO and Thomas decided to post the full documentary on YouTube and worked with tech specialists to convert the 70-minute film into a small enough file to play on Iranian mobiles via a Bluetooth connection.
Thomas and Kamali Dehghan said they've received thousands of e-mails from inside Iran since the HBO film has been seen around the world. But the most important approval, Thomas said, was from Neda's family, who still lives in Iran.
"We can't leave Iran; she is still here," Neda's mother told Kamali Dehghan. "She is there, still in that room, still in that house."
FOLLOW THIS TOPIC