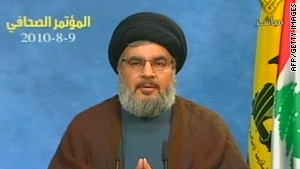 Israel "just wanted to start an internal strife," Hezbollah's Hassan Nasrallah said Monday.
STORY HIGHLIGHTS
No immediate reaction from Israel
Nasrallah: PM Saad Hariri told him rogue Hezbollah members to be implicated
Syria has been blamed for the killing; Damascus denies any role
Nasrallah says Israel "just wanted to start an internal strife"
Beirut, Lebanon (CNN) -- Hezbollah leader Hassan Nasrallah accused Israel on Monday of having been behind the 2005 killing of former Lebanese Prime Minister Rafik Hariri.
"We accuse the Israeli enemy of this assassination," said Nasrallah, who spoke with reporters in Beirut via a video link from an undisclosed location. "Israel has the capabilities to execute this type of assassinations and similar attacks. They are well-known in this field and, indeed, have the expertise in targeting Palestinian and Lebanese figures, here and abroad.
"Lebanon offers Israel a fertile soil with the spies that they have on our land, and this is how Israel was plotting from the beginning to accuse Hezbollah of the assassination of Hariri."
There was no immediate reaction from the Israelis.
Hariri was assassinated February 14, 2005, when a bomb erupted near his motorcade in Beirut. A U.N.-sponsored investigation is under way. Last month, Nasrallah said Hariri's son, current Prime Minister Saad Hariri, had told him that the special tribunal would implicate rogue Hezbollah members for the killing but not the party itself.
Nasrallah said he would reject any such conclusion.
"We absolutely reject accusing any Hezbollah member of the killing of Hariri," the Hezbollah leader said. "We will not accept any indictment to anyone in Hezbollah."
We absolutely reject accusing any Hezbollah member of the killing of Hariri
--Hezbollah leader Hassan Nasrallah
Hariri's killing sparked the Cedar Revolution and Syria's withdrawal of its forces from Lebanon.
Syria, too, has been blamed for the killing; Damascus has denied any role.
Nasrallah said he tried to see whether there was a link between Israeli aerial surveillance and Hariri's movements.
"We worked hard throughout the year and spent hundreds of hours to go over these surveillance tapes, and we did reach interesting results. These Israeli aerial surveillance tapes clearly show that they were tracking Hariri's whereabouts and the roads that he took every day."
Nasrallah played several examples and then asked: "Why did the Israelis wanted to spy on Hariri's movements before his assassination? Is it a coincidence? Just one coincidence after another? These surveillance videos give the Israelis the upper hand to carry out any operation they want on our soil. Everyone knows that there is not a single Hezbollah leader who lives in this area, so why the Israelis are so interested in Rafiq Hariri's movements and every turn his car made?"
Asked why he was presenting the videos now, he said, "If I presented these witnesses videos back in 2005, 2006 or 2007, people would have asked us at that time, 'why are you showing this? No one is accusing you.' "
Nasrallah acknowledged that his evidence does not represent iron-clad proof. "I don't want to say that we have clear evidence but information that will open up new doors for the investigation and those who want to find the truth must investigate with Israel," he said.
The motive for the Israelis? "They just wanted to start an internal strife," Nasrallah said.
The United States considers Hezbollah, which has close ties to Iran and Syria, to be a terrorist organization. The Shiite group is a political party and a major provider of social services in Lebanon but also operates a militant wing.
CNN's Saad Abedine contributed to this story.
FOLLOW THIS TOPIC