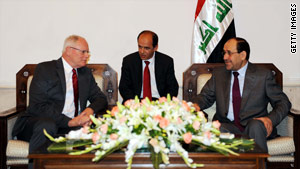 James Jeffrey, left, the new U.S. ambassador to Iraq, talks to Iraqi Prime Minister Nuri al-Maliki, right, via an interpreter.
STORY HIGHLIGHTS
Operation New Dawn presents a massive challenge for the State Department
State Department is having to implement responsibilities for which it cannot fully pay

Security contractors expected to triple in number
Editor's note: Since becoming State Department producer in 2000, Elise Labott has covered four secretaries of state and reported from more than 50 countries. Before joining CNN, she covered the United Nations. Follow her on Twitter at @eliselabottcnn
Washington (CNN) -- For the people of Iraq, the withdrawal of U.S. forces will be largely symbolic. The average Iraqi has not seen U.S. forces since June 2009, when they redeployed to the outskirts of Iraqi cities under the terms of the 2008 security agreement between the United States and Iraq.
Since then, Iraqi forces have been in charge of urban areas: manning most checkpoints, conducting operations against extremists and maintaining law and order.
But for the United States, the transfer from Operation Iraqi Freedom to Operation New Dawn is monumental. The handover will put the U.S. State Department in an expanded and indeed unprecedented role, one it is forced to scale back before it even starts due to budget constraints.
And it will do so with a new ambassador in place. Career diplomat James Jeffrey took over for outgoing Ambassador Chris Hill this month. Jeffrey, a former ambassador to Turkey, previously was the State Department's special adviser for Iraq and deputy chief of mission in Baghdad.
Even on the military side there will be a new face. Next week, Gen. Ray Odierno, the commanding general in Iraq, officially will hand over command to Lt. Gen. Lloyd Austin.

Video: Are Iraqi forces really ready?
Planning for the transition from a military-led, security-dominated relationship with Iraq to a civilian-led, broader, more traditional bilateral relationship began more than two years ago. But with skyrocketing costs, coupled with a global recession and less funding available, the State Department is in the uncomfortable position of having to implement a whole new set of responsibilities for which it cannot fully pay. The Obama administration said it will now approach Iraq as a "regular civilian relationship" in terms of budgeting and programs. But needless to say, Iraq is not a "regular" country.
About 2,400 civilian U.S. employees will work out of the new American embassy in Baghdad -- the largest embassy in the world -- and four other diplomatic sites. In about a year's time, the United States will stand up consulates in two major cites -- Basra in the south and Irbil in the north -- each of which will cost more than $1 billion to complete. The United States also will open "embassy branch offices" in the northern cities of Kirkuk and Mosul. The consulates and embassy outposts will replace 16 provincial reconstruction teams working alongside the U.S. military throughout the country.
For the diplomats to operate in such a highly dangerous environment, the State Department will rely on about 7,000 security contractors, triple the number it currently uses. In addition to serving traditional functions, such as guarding U.S. diplomatic facilities and protecting U.S. personnel, the contractors will handle tasks the military currently does, including operating high-tech radar systems to warn of incoming rocket fire, operating drones and searching for roadside bombs.
The introduction of so many additional contractors is bound to be a sore spot for Iraqis, who have been uneasy about private security companies since Blackwater guards shot and killed 17 Iraqi civilians nearly three years ago. The contractors will continue to be overseen by the department's Diplomatic Security Service and all civilian convoys will be accompanied by DS agents, a system put in place after the September 2007 incident.
To transport civilians around Iraq, the State Department has asked the Pentagon to leave behind about 50 bomb-resistance vehicles, two dozen UH-60 helicopters and high-tech surveillance systems. The Pentagon was able to supply some, but not all of the requested items, because some were needed in Afghanistan.
Officials said Iraq has asked for help in developing a more "professional" police force, moving from the counterinsurgency operations it is doing to traditional crime-solving and community police outreach. The State Department will be entirely responsible for the police training after October 2011, another function to be carried out mostly by contractors under State Department oversight.
The police training program is an $800 million expense on top of a skyrocketing security budget for which the State Department will not be fully funded. Congress slashed the government's request for Iraq funding in last month's supplemental bill, and the appropriation committees in both the Senate and House cut the administration's $1.8 billion request for Iraq in the next fiscal year to about $1 billion. And they want even further cuts. Officials said less funding means the United States will have less security and fewer programs.
Many in Congress believe seven years after the U.S.-led invasion, Iraq should pay for many of its programs with its vast oil wealth. Ultimately that is the goal, but U.S. and Iraqi officials said Iraq is still years away from developing oil resources to the point where U.S. funding is no longer needed.
The northern part of the country will present U.S. civilians with one of their greatest challenges after American forces leave. For the next three to five years, U.S. diplomats in Kirkuk and Mosul will seek to diffuse sectarian tensions between Kurds and Arabs.
The kind of outreach the State Department envisions may not be possible, because of constraints it faces on security costs. Checkpoints operating in the area, currently manned jointly by American soldiers, Iraqi forces and Kurdish soldiers will likely be phased out. That will make it all the more difficult for State Department employees to move around areas such as Mosul, where the insurgency is still strong and terrorist attacks are on the rise.
The most dangerous part of the August 31 drawdown is that it is taking place without a functioning Iraqi government in control five months after the March elections. American and Iraqi officials, as well as many Iraq experts, fear extremists and Iraq's neighbors, most particularly Iran, will exploit the leadership vacuum unless Iraq's politicians can overcome their differences.
This week, Hill, the outgoing U.S. ambassador, acknowledged that violence will not be reduced to a minimum until Iraqis develop the political consensus necessary to strengthen institutions, provide security and preserve human rights.
The escalating violence indicates the United States has a right to be concerned. Nearly 50 people were killed this week when a suicide bomber blew himself up outside a recruiting center for the Iraqi army. This rise in extremist bombings conflicts with the U.S. argument that security is better and the war in Iraq is drawing to a close.
Iraqis have looked to the United States for help in mediating the political standoff. Assistant Secretary of State Jeffrey Feltman just returned from 10 days in Iraq, where he worked intensely with Iraqi politicians on resolving their differences. Senior U.S. officials expect even more senior-level engagement over the next several weeks -- possibly from Vice President Joseph Biden -- to aid Iraqis in reaching a final agreement.
About 50,000 U.S. troops will remain in Iraq to help with training and logistics. Even Iraqis themselves acknowledge their army will need help for sometime to come. U.S. officials say the commitment to remove all forces by the end of 2011 will present a bigger challenge than the current drawdown.
Both U.S. and Iraqi officials acknowledge it is possible, even likely, a U.S. military presence will be needed beyond the October 2011 deadline to continue training Iraqi forces, protect Iraq's airspace until its air force is ready and help Iraqis carry out counterterrorism operations.
Any extension of the U.S. military mission would need to be at the request of, and negotiated with, Iraq's government. However with the Iraqi government still struggling to form a government and the U.S. midterm elections coming up, discussions about a future role for U.S. troops are being closely held. Officials said public disclosure of talks conflict with the U.S. argument that Iraqis are ready to go it alone.
The threat of more terrorist attacks is not the only reason to fear the U.S. withdrawal. With the political environment so fractious, it remains to be seen whether Iraq's political parties will resort to violence once U.S. forces leave. And there are questions as to whether the professionalism that Iraqi forces and police are starting to demonstrate will shift back to an iron fist when U.S. eyes are no longer watching.
The delivery of services in Iraq, such as electricity, water and health care is also weak. Experts on the ground said that Iraqis worry that once the American forces leave, the government will not feel the pressure to deliver those services.
Iraqis have always had a love-hate relationship with the United States. They appreciate that the United States got rid of Saddam Hussein, but there is a strong desire to see American forces leave. After 30 years of war, dictatorship and occupation, Iraqis face a great deal of uncertainty about the road ahead. With little confidence in their own government, Iraqis recognize they still need American support, which makes a successful U.S. transfer from military to civilian operations all the more critical.
FOLLOW THIS TOPIC