Altered photograph in Egyptian newspaper continues to make waves
STORY HIGHLIGHTS
The newspaper swaps the picture to show Mubarak leading the group
The original picture has Obama walking ahead
Al-Ahram reflects the position of the Egyptian government
Cairo, Egypt (CNN) -- Three days after an Egyptian newspaper ran an altered photograph that suggested President Hosni Mubarak led the recent Middle East peace talks, the digital manipulation continues to make waves here.
"I'm amazed at the reaction," said blogger Wael Khalil, who first spotted the altered photograph, on Friday. "Why is everyone so surprised at this?"
On Tuesday, the government-majority owned Al-Ahram newspaper published a picture showing Mubarak leading U.S. President Barack Obama, Jordanian King Abdullah, Palestinian President Mahmoud Abbas and Israeli Prime Minister Benjamin Netanyahu on the red carpet, with the words "The route to Sharm Al-Sheikh" beneath it. The phrase referred to the Sharm Al-Sheikh peace talks on that same day.
The original photo, taken September 1, had Obama leading the group. Khalil discovered the altered image had swapped Mubarak for Obama.
Read my blog on why the doctored photo flap is a lesson to old media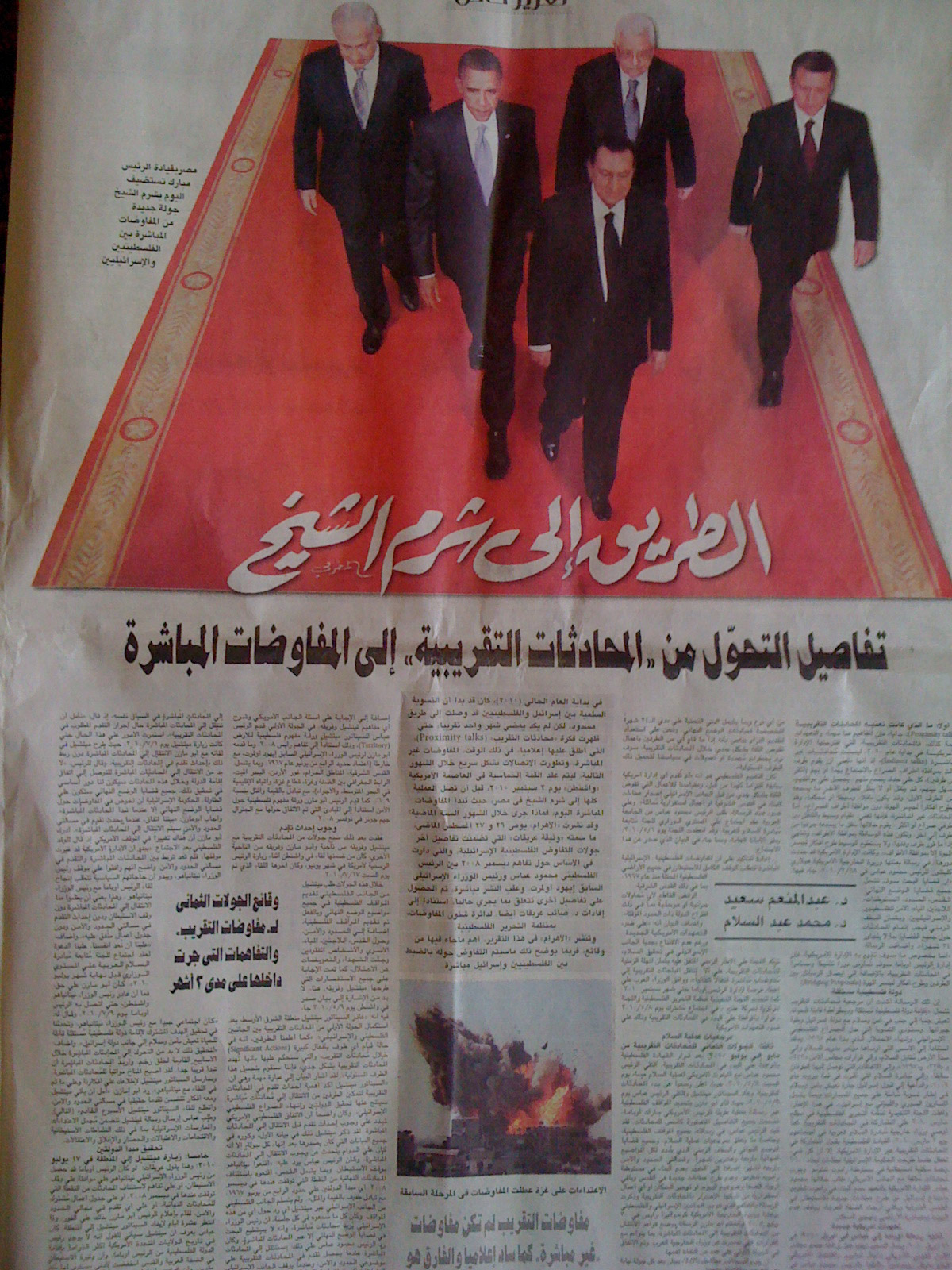 Altered picture published in Al-Ahram
Al-Ahram generally reflects the position of the government. Editor Osama Saraya wrote Friday that the controversial picture was "expressive" and it underscored Egypt's historic role in the peace process.
But Hisham Qasim, an independent newspaper publisher and human rights activist, did not mince words.
"The editors of Al-Ahram have gone over the top. They are making Mubarak look silly worldwide," he said. "It's amazing how much coverage Mubarak is getting. It has become the joke of journalism.
"I don't know what the editors can do. Any explanation will make them look even sillier," he added.
FOLLOW THIS TOPIC