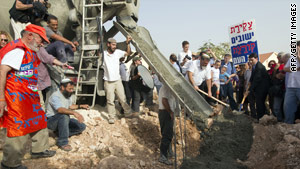 Israeli settlers surround a cement mixer as it pours cement into a new house in a West Bank settlement on Sunday.
STORY HIGHLIGHTS
The U.S. is urging both sides to "show restraint," State Department spokesman says
U.S. special Mideast envoy George Mitchell arrives in the region on Tuesday
The U.S. continues its full-court press for resumption of peace talks
Washington (CNN) -- With Israel's decision to let its 10-month moratorium on settlement building lapse, the U.S. is refusing to concede that direct negotiations between Israelis and Palestinians are dead in the water.
The U.S. is "disappointed" but "we remain focused on our long-term objective and will be talking with the parties about the implications of the Israeli decision," State Department spokesman P.J. Crowley, in New York, said Monday.
Crowley admitted that, "given the decision yesterday (Sunday), we've still got a dilemma that we have to resolve and there are no direct negotiations scheduled at this point but we will be in touch with the parties and see how we move ahead."
While not abandoning hopes of a new Israeli settlement moratorium, U.S. officials say the Obama administration is now focused on defining the "restraint" Prime Minister Benjamin Netanyahu is pledging on settlement activity in the wake of the deadline expiring.
Both U.S. and Arab officials say over the next few days they will be looking to see what type of settlement construction takes place. Building in East Jerusalem, the most contentious area in dispute, would be far more explosive and would be more damaging to the talks, for example, than some small natural growth in areas expected to belong to Israel after a peace deal.

Video: Israel restarts settlement building
Arab states have agreed there should be no rash response or reaction to the expiration of the freeze, according to three senior Arab diplomats. Netanyahu didn't just let the deadline expire, they said, he issued this statement calling for talks to continue and now making noises about "restraint." The diplomats said the statement is vague and ambiguous about what this means and what he plans to do now.
The diplomats said they will take their time to study the decision, judge the actions of the next week and consult. They are looking to meet October 4 to formulate a joint recommendation as to whether the talks should proceed, the senior Arab diplomat said.
Although President Abbas will make the final call as to whether to stay at the table, the Arab League position will weigh heavily in his decision, the diplomat explained.
The Arab diplomat says that nobody wants to see the talks break down, but caution Netanyahu's actions this week will be critical.
"If he starts building in East Jerusalem this week, we will have a problem on the 4th," one senior Arab official said.
U.S. officials said Washington is looking for Netanyahu to take measures that limit, or forestall, the most explosive construction activity as a practical -- even if there is no technical "moratorium." That is one of the main topics of discussion for U.S. special Mideast envoy George Mitchell when he arrives in Israel on Tuesday.
The U.S., Crowley said, is urging both sides to "show restraint" and wants to see a successful completion of negotiations within one year. "We believe that we can successfully get by this turbulence that we are experiencing now," he said. "There is absolutely an opportunity for successful negotiations."
Asked whether there will be any consequences for Israel's refusal of President Barack Obama's call to continue the moratorium, Crowley said "We will be in touch with the Israelis this week in the region...we will have our conversation with them about steps that they will be taking from this point forward."
The United States, meanwhile, continues its full-court press for resumption of peace talks. Mitchell, Crowley said, was in touch with both sides Monday. He, along with David Hale and Dan Shapiro from the White House, will depart Monday evening for the region and talks with both sides later in the week to "sort through with the parties where we go from here."
Secretary of State Hillary Clinton, meanwhile, meets Monday with the British, French, Canadian and Syrian Foreign Ministers in New York This will be the first direct meeting between a U.S. Secretary of State and a Syrian Foreign Minister since 2007 when Condoleezza Rice met with the Syrian minister, Crowley said,
Later this week in Washington Clinton will meet with European Union High Representative Catherine Ashton and with the German Foreign Minister.
Urging both sides to stay at the table, Crowley said that, "Absent these direct negotiations, Israel does not get the security that it needs and deserves and the Palestinians do not get the state that they want and deserve. So one way or other the parties have to find a way to continue direct negotiations.
"In the brief period of time that we've had direct negotiations we have attacked this with a seriousness of purpose, have begun constructive dialogue on core issues and we hope to see this continue and this is our focus."
FOLLOW THIS TOPIC