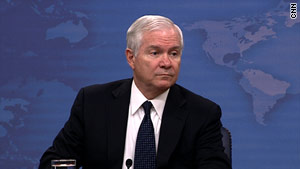 "When it comes to Iran, all options are on the table," Defense Secretary Robert Gibbs said Monday.
STORY HIGHLIGHTS
New: Turkey says it is willing to host Iran's nuclear talks
The U.S. defense secretary says "all options are on the table" when it comes to Iran
"The sanctions are biting more deeply than they anticipated," Gates says
The United States and others fear Iran wants a nuclear bomb, but Tehran denies it
(CNN) -- Sanctions aimed at stopping Iran from developing nuclear weapons are having an impact on that country, U.S. Defense Secretary Robert Gates said Monday.
"We know that they are concerned about the impact of the sanctions. The sanctions are biting more deeply than they anticipated, and we are working very hard at this," he told reporters in Australia.
He said he disagreed with a recent assertion by Israeli Prime Minister Benjamin Netanyahu that a military threat was the only way to influence Iran's nuclear policies.
"I disagree that only a credible military threat can get Iran to take the actions that it needs to, to end its nuclear weapons program. We are prepared to do what is necessary, but, at this point, we continue to believe that the political-economic approach that we are taking is, in fact, having an impact on Iran," he said.
But Gates noted that "when it comes to Iran, all options are on the table."
The United States and other countries believe Iran is trying to develop the technology to build a nuclear bomb, but Tehran consistently denies its program has a military aim.
Iran is now subject to four sets of U.N. sanctions, while the United States and the European Union have also imposed separate penalties on Iran over its refusal to stop enriching uranium.
Still, Iranian President Mahmoud Ahmadinejad has said his country's resolve has not diminished.
"They thought they can weaken the Iranian nation through imposing sanctions and posing threats, but Iranians have showed integrity, convergence and strength," he said in October.
But Iran's foreign minister said Sunday that the country has agreed to new talks about its controversial nuclear program with the United States and its allies, Iran's official news agency reported.
Iran made the offer through Turkey, a potential host for the talks, Foreign Minister Manouchehr Mottaki said.
A spokesman for Turkey's Foreign Ministry confirmed to CNN that Ankara, the capital, received a formal request from Iran to hold the next round of talks in Turkey.
"Since we always believe that there should be a diplomatic solution to this issue, we just said we would do our best to hold this meeting in Turkey," said Selcuk Unal of the Turkish Foreign Ministry. "There's nothing fixed yet -- no date, no time."
Unal added, "The other P5 and one should also say OK," referring to the "P5+1" group. The group consists of the five permanent members of the United Nations Security Council -- the United States, Britain, France, China and Russia -- along with Germany.
But others have advocated a military solution to stop Iran's nuclear program.
Republican Sen. Lindsey Graham said Saturday the United States should consider neutering Iran's navy and air force if Tehran does not halt its nuclear program.
Speaking at the Halifax International Security Forum in Canada, the South Carolina senator told reporters that there will come a point where Iran's nuclear program will reach the state that a conventional limited air strike "won't take them out."
"We're probably even past that point," he said.
"Instead of a surgical strike on their nuclear infrastructure, I think we're to the point now that you have to really neuter the regime's ability to wage war against us and our allies. And that's a different military scenario. It's not a ground invasion but it certainly destroys the ability of the regime to strike back," said Graham, one of his party's top voices on defense.
The talks between Iran and the so-called P5+1 group have been on hold for more than a year, but Iran signalled recently it is ready to come back to the table.
Nuclear talks between Iran and the six powers have been stalled since October 1, 2009, when the two groups last met in Geneva, Switzerland.
Gates and U.S. Secretary of State Hillary Clinton spoke to reporters in Australia Monday after discussing international policies with Australian leaders on a three-day trip.
Efforts in Afghanistan were a key topic of conversation, Clinton said.
"We're convinced that starting next year, there will be parts of Afghanistan that will be under control of the Afghan government and its security forces," she said.
Clinton said there was no specific timetable for that transition because it will be based on conditions as they evolve.
CNN's Ivan Watson contributed to this report.
FOLLOW THIS TOPIC