Are you there? Send images to Open Story
Story highlights
NEW: Structure is dismantled by maintenance crews
31 arrests are made, park police say
Police surround a wood structure erected overnight in McPherson Square
Police could not be reached for comment on the ongoing situation
An hours-long standoff between police and Occupy DC protesters ended Sunday night after officers forcibly removed several people clinging to a wood structure erected earlier in the district's McPherson Square.
A total of 31 people were arrested over the course of the day, according to U.S. Park Police spokesman Sgt. David Schlosser.
The standoff started shortly before 11 a.m. as park police surrounded the structure built overnight as a place where protesters could stay warm in the winter and hold their daily general assembly meetings, according to Wade Simmons, one of the Occupy demonstrators.
Police ordered the structure taken down around noon Sunday, a post on the Occupy DC website reported, but some people remained perched on top of or inside the building, which was donated by a father-son architect team. As many as 200 people gathered at the park to watch the standoff.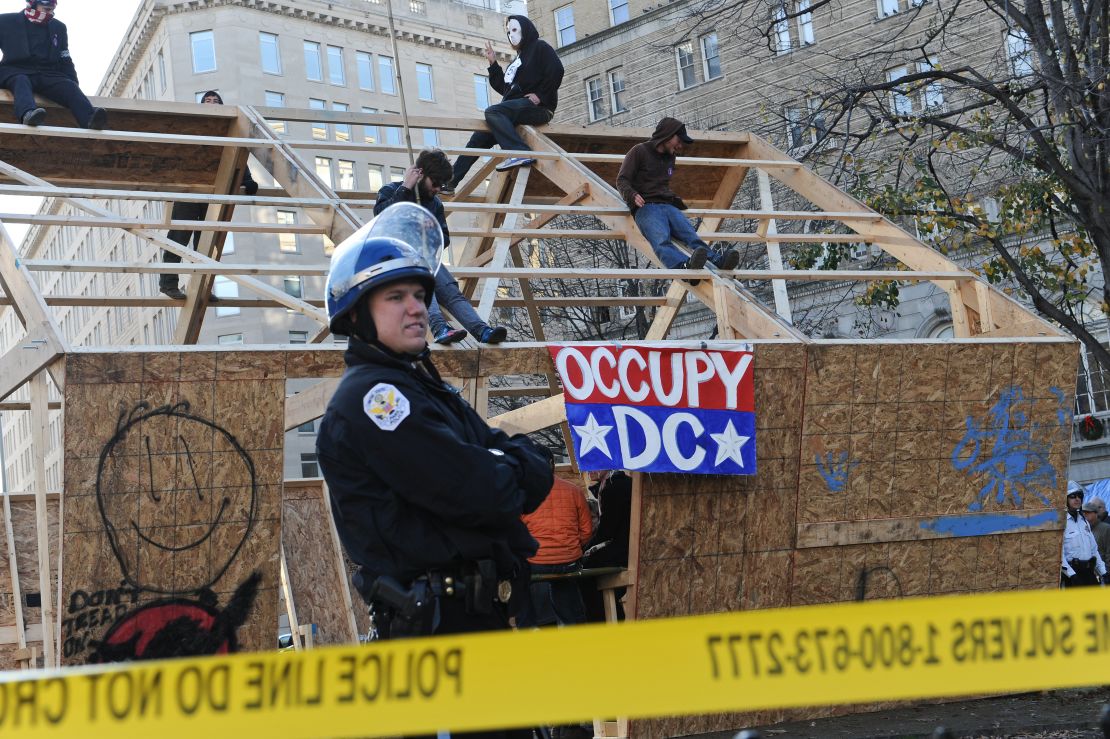 Schlosser said the protesters had not gone through proper permitting procedures for the structure and "police had safety concerns regarding structural integrity." A city inspector was brought in to examine the building and deemed it unsafe, posting orange "danger" signs on its shell.
Shortly before 7 p.m., police pulled an armored truck alongside the structure and two officers standing on the vehicle's roof could be seen negotiating with six remaining protesters – down from a high of 22 earlier in the day.
After several minutes of discussions, two of the protesters voluntarily jumped from the structure onto an inflatable pad brought in by authorities. A third was brought down willingly by an officer in a police cherrypicker. Two others were forcibly pulled into the cherrypicker after two officers tied a safety rope around them.
The last remaining protester was eventually removed in an effort that involved the efforts of four officers to get him to release his grip on the structure's beams.
Onlookers chanted "Let him go!" and "The whole world is watching."
Earlier, police put up barriers around the structure and cordoned off nearby streets with yellow tape as protesters chanted, "This is a nonviolent movement," and, "Put the pepper spray away."
Fifteen of the 31 people detained by police were arrested for crossing the police line. The other 15 were charged with disobeying a lawful order after police ordered them to vacate the structure. The last protester removed from the building was charged with resisting arrest, indecent exposure and urinating in public.
Maintenance crews dismantled the structure about an hour after the standoff ended.
"This is the first major problem we've had with park police," said Simmons, who has been participating in the protest at McPherson Square since November 1.
The Occupy Wall Street movement that began in New York in September has spread across major cities worldwide as a call to action against what protesters consider the unequal distribution of wealth.
In recent weeks, cities have begun clearing encampments, citing economic, health and public safety concerns.
The Occupy DC website called for supporters of the movement to show their "solidarity to the movement by coming down the McPherson Sq. and defend our and yours freedom of speech that is being threatened in this nation for so long."