Editor's Note: This is the first of four stories profiling soldiers and their families whose lives were defined by the Iraq war.
Story highlights
Frank Rosenblatt is among the last soldiers sent to Iraq, to shut down U.S. bases
He leaves his wife and young daughter in Texas in late July, expecting to be gone a year
The military lawyer finds himself going after the enemy -- in an Iraqi court
Among his greatest concerns: Will his 1-year-old know him when he returns?
Rocket alarms pierced the quiet at Camp Warrior, breaking the concentration of Army Maj. Frank Rosenblatt.
The 35-year-old military lawyer was talking strategy with other attorneys on their effort to push the Iraqi government to prosecute a man accused of launching attacks against the American base. Now, another assault was under way.
A voice blared from the loudspeakers: "Incoming! Incoming! Incoming!"
It was early October, and insurgents had targeted the base in northern Iraq with surprising accuracy in recent weeks. Most of the time, the explosives fell short, hitting the ground in the base's protective perimeter. But sometimes a rocket found its mark. One had struck a housing area nine days earlier, killing a young soldier who was part of Rosenblatt's security detail on his trips to the courthouse in Kirkuk.
With American troops set to leave Iraq in just a few weeks, bringing to an end more than eight years of war, Rosenblatt wasn't fighting their attackers on the battlefield – he was going after them in an Iraqi court.
And now, he was running for his life.
He sprinted out his office door toward two concrete bomb shelters. Others were scrambling for safety, too, among them three private security contractors from the West African nation of Sierra Leone.
As Rosenblatt dove into the shelter, a rocket hit. The explosion drowned out the initial screams.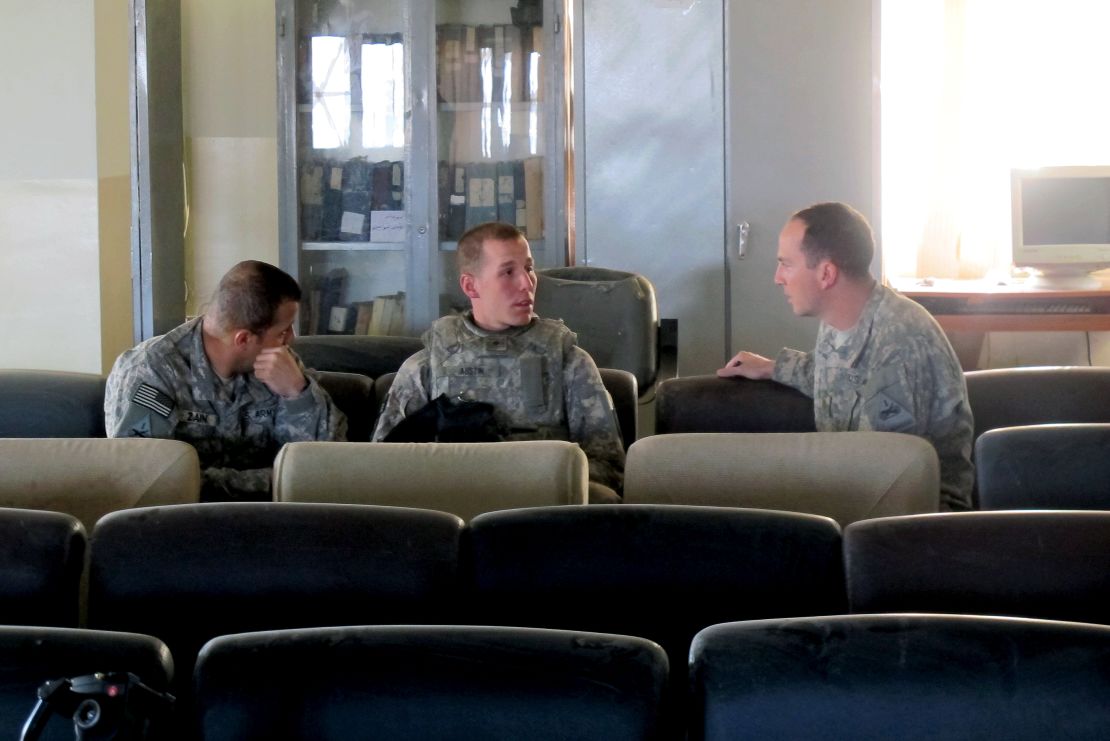 The invasion in reverse
The summer heat in El Paso, Texas, can be withering, with temperatures easily climbing into triple digits. At Fort Bliss, the Army base on the Texas-Mexico border, 3,500 men and women prepared last summer to leave one desert environment for another.
It was an historic deployment. They would be among the last soldiers sent to Iraq. Their assignment: Turn out the lights at U.S. bases before an end of-the-year deadline to withdraw American troops.
It was a fitting mission for "Old Ironsides," as the 1st Armored Division is known. Its soldiers were first to see tank battle in World War II; now its 4th Brigade Combat Team would be the last to see action in Iraq.
For some, the assignment meant going to war for the first time. For most, the deployment marked a second, third, fourth or even fifth time in Iraq.
They would leave Fort Bliss in waves, in late July and early August, expecting to be gone for as long as a year. In Iraq, they would find a place that seemed both unrecognizable and hauntingly familiar.
Taken together, the soldiers' experiences spanned the war's trajectory, from the March 20, 2003, invasion to the toppling and capture of Iraqi dictator Saddam Hussein, from the rise of the insurgency that brought Iraq to the brink of civil war to the surge of 20,000 U.S. troops and, now, the withdrawal of American troops.
They also knew war's personal toll: strained relationships, missed milestones, visible and invisible wounds.
This mission would take some members of the brigade back to the places where they were wounded or lost friends. For many, the deployment meant yet another test for their marriages, a struggle tens of thousands of military couples have lost over the course of the war. A rare few would dare think of this as their last combat tour and look forward, though not without apprehension, to life after the military.
Eight years of war. Eight years of personal history.
Frank Rosenblatt was a single, 26-year-old intelligence officer when the war started. He was part of the "tip of the spear" – the first troops to cross into Iraq from Kuwait during the U.S.-led invasion.
Now he was an Army lawyer, meeting with Iraqi leaders as the U.S. handed over bases and seeking justice for his fellow soldiers with a new weapon – the courts.
He was also a husband this time and a father. A man for whom "home" had new meaning.
Conversations about 'what if?'
On a late July morning at the dining room table in their adobe-style house in El Paso, 30-year-old Alexandra Rosenblatt faced the reality of the deployment. She had not grown up in a military family, had never endured a 12-month separation or the uncertainty of sending a loved one off to war.
When she met Frank in 2004, at the University of Virginia School of Law in Charlottesville, the military wasn't even on her radar. She was Alexandra Rodu then, a young woman full of fire and focused on becoming a lawyer. Frank was the tall, lanky Army officer back from a tour in Iraq and studying law courtesy of the military.
Now, with a deployment just weeks away, they were having conversations about "what if?"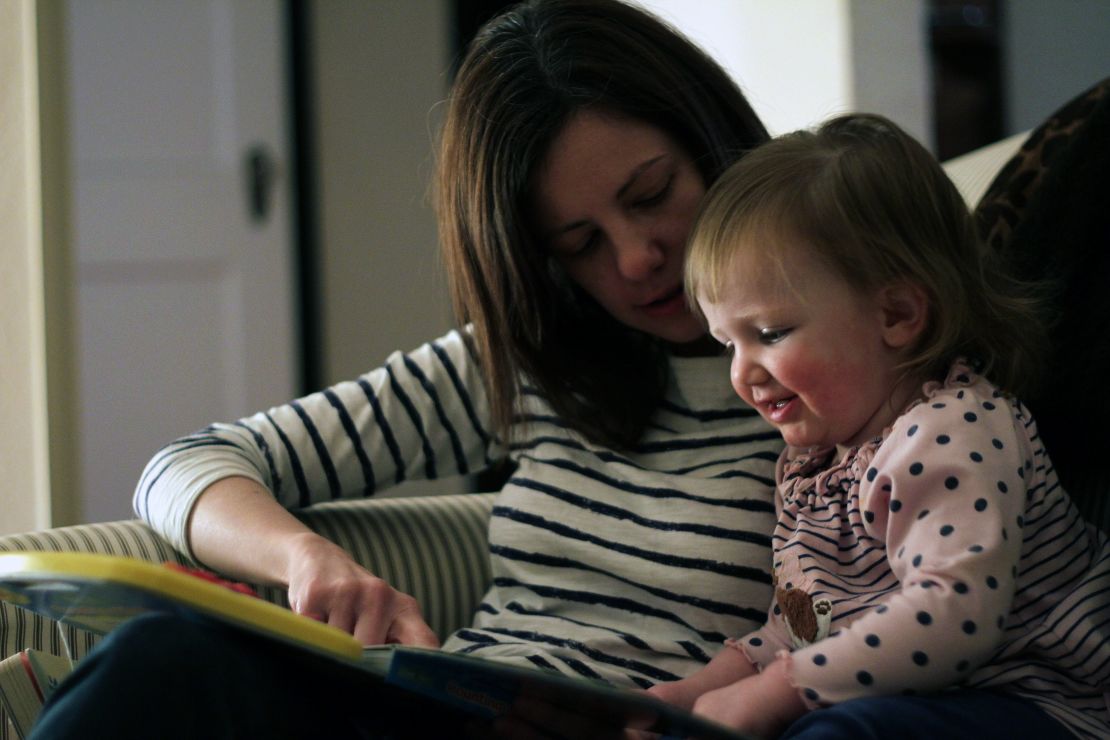 What if there was a family emergency? What if something happened to their 1-year-old daughter, Harper? What if something happened to Frank?
"Invasion in reverse?" Alexandra asked. What did that mean?
The term was being used by some commanders to explain the way the shutdown of bases would affect soldiers during this deployment.
As with the invasion, it was unclear what conditions they would face or when they would come home. Staying in touch with their families, which had gotten progressively easier after the invasion as bases were established and communications ramped up, would get progressively worse this time, as bases were dismantled or turned over to the Iraqis. Talking by phone, e-mail and Skype would give way to nothing but snail mail and then possibly no mail at all.
The logical part of Alexandra, the attorney who always had a game plan, was already preparing for the time apart. She had ideas about how to keep her husband involved in the rearing of Harper. She'd even worked out a long-distance plan for maintaining some semblance of the couple's nightly ritual of reading in bed together. She'd study The New Yorker or The Financial Times with a pen in hand, making notes, and then send them to Frank.
But this "invasion in reverse" news was wreaking havoc on her plans and her confidence.
Over bagels and coffee, with Harper squirming to get out of her high chair, Frank explained the reality of the months ahead. Then he reached across the table, resting his hand atop his wife's.
Neither said anything.
A love for the law
Together, Frank and Alexandra made up a sort of legal dream team.
He was the military attorney for the brigade, handling everything from the prosecution of soldiers to access issues; she worked in Fort Bliss' legal assistance office, representing and advising soldiers, their families and military retirees.
They were never assigned to the same cases, but their legal perspectives complemented one another.
While stationed at Fort Carson, Colorado, Frank helped in the prosecution of a handful of soldiers who came home from war and committed murder. The cases made international headlines, putting a spotlight on the issue of combat stress. At night, as a newly practicing attorney, Frank talked over his strategy with Alexandra, who was working as an attorney at a private firm.
A few years later, he watched the international community criticize the military for holding the trials of soldiers and Marines accused of committing war crimes in the United States, rather than in Iraq and Afghanistan. The furor and fallout prompted him to pen a legal argument saying courts-martial should be held in the countries where the alleged crimes occurred.
Frank discussed it with Alexandra, who helped him fine-tune one of his arguments, making it more cogent. She also read his final draft.
In 2010, after the brief was published in Army Lawyer and later included as part of the curriculum for a Yale University law symposium for international military judges, Rosenblatt and his family were deployed to Fort Bliss. He would take on the job of brigade attorney.
Before they even arrived at the base, the news was out. Next summer: Iraq.
Missing Daddy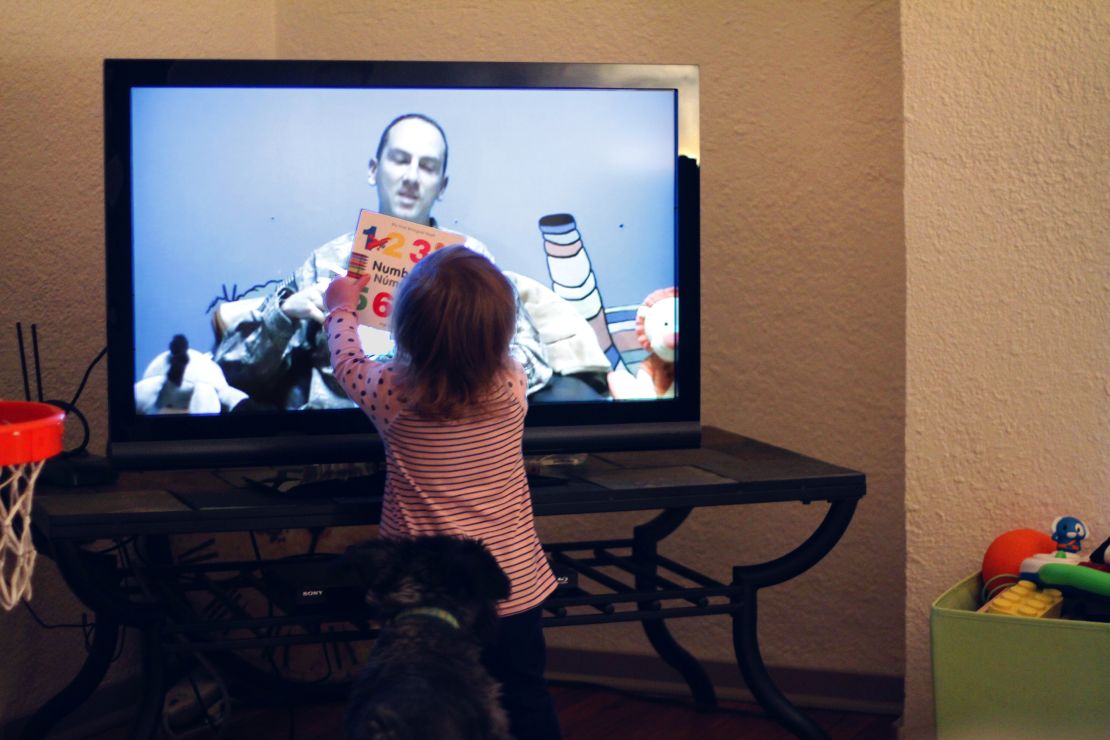 Frank's voice filtered from the television and drifted across the living room. He was reading "Winnie the Pooh" on a video that had arrived in late August from Kuwait. Frank had made the recording for Harper shortly before making the push into Iraq.
Alexandra sat on the couch, unsettled by her husband's image. Frank had only been gone a month, but already he looked different.
Maybe it's the heat, she told herself. Or the long hours.
The day Frank left, the couple had taken Harper to day care before saying their own private goodbye. He held Harper, told her he loved her and let her go.
It was a hard moment. He had been away from Harper and Alexandra before for training, a week here, a month there. But never like this, never for 12 months. Never to go to war.
He wondered whether Harper would recognize him when he returned. Would she run from him? Would she let him hold her? Would she know he was daddy?
In the two weeks after her father disappeared, Harper struggled with his absence. She seemed to sense her mother's distress. She acted out and fussed about going to bed.
But on this day, the 15-month-old played with her toys on the floor, unfazed by the man on the TV screen.
'She still recognized me'
Almost from the beginning, there were questions about how long the 4th Brigade Combat Team would be gone. U.S. officials pressed Iraq's leadership to say whether it would request a troop extension. Adm. Mike Mullen, then chairman of the Joint Chiefs of Staff, said the U.S. needed a decision by August.
But as August faded into September, there was no decision. Meanwhile, the brigade worked to close and hand over bases to the Iraqi army.
Frank's first posting was at Forward Operating Base Marez, on the outskirts of the northern Iraqi city of Mosul, a place the U.S. military once called the last stronghold of al Qaeda in Iraq.
A bustling hub for the U.S. military at one time, it became a "ghost town" as the population dwindled and services, such as the dining facility, the laundry and the Internet, shut down. Within weeks, soldiers were eating prepackaged meals known as MREs.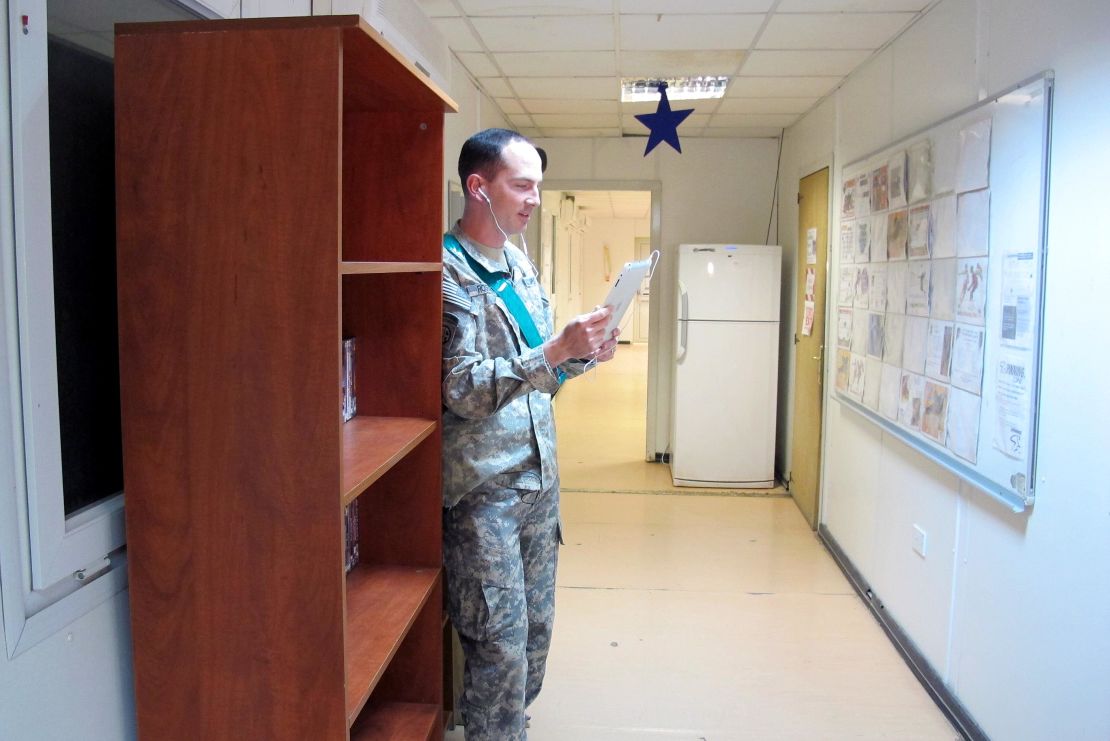 While he could still call Alexandra at the base, using a military phone line, Frank ached to see Harper. Wait times to use one of the few computers still available were long. But a day before the 10th anniversary of the 9/11 terror attacks, Frank managed to connect with Alexandra and Harper on Skype.
Their time together lasted only a few minutes, and sometimes the connection was so slow that the words and images didn't match up. But that hardly mattered. There was his wife and daughter.
"She was saying words and repeating names of colors like 'wellow' and 'porple.' She says 'peas' for "please."
It was the best day he'd had since leaving home.
"She still recognized me and was glad to see me."
A rocket attack, a phone call
By mid-September, with Marez all but closed, Frank moved from Mosul to the outskirts of the disputed city of Kirkuk, north of Baghdad.
During much of the war, American troops worked to keep the peace in Kirkuk, a flashpoint for violence between Kurds, Arabs and Turkmen all vying for control of the city that sits on the country's third-largest oil reserve.
Even as Americans began making their exit from Iraq, Kirkuk was a dangerous place. Troops at Camp Warrior faced rocket attacks launched by al Qaeda and other insurgent groups almost daily.
At home in El Paso, Alexandra scanned news reports for details about Frank's work in Iraq. But with a dwindling Western media presence, stories about the war had fallen out of the headlines. Reports about the activities of American troops were hard to find.
She knew a soldier had been killed in an attack in northern Iraq on September 29. But there was little discussion about it at the base. He wasn't one of theirs.
Frank was safe, she told herself. Then came the phone call.
"I wanted to tell you …., " Frank began.
Over the next few minutes, he described a rocket attack on the base. One soldier was killed; four others wounded.
Spec. Adrian Mills, 23, of Newnan, Georgia, was a member of the 519th Military Police Battalion, based at Fort Polk, Louisiana. He was preparing with his unit that day to head "outside the wire," to provide security for Frank and other attorneys, who were going to a legal conference in Kirkuk.
Frank didn't tell his wife the rocket struck an area where the soldiers sleep. He didn't say they were now reinforcing rooms, including his, with sandbags.
It was enough that she knew he was OK.
A little over a week later, on October 7, the Klaxon bells sounded again at Camp Warrior, the all-too-familiar signal of a rocket attack.
Frank and his fellow attorneys ran out of the wooden A-frame building that served as the legal headquarters, sprinting across rock and gravel to the bunkers.
As Frank dove into the shelter, a rocket struck less than two feet away, sending shrapnel into the shelters.
The noise was deafening, bouncing off the concrete walls.
Frank didn't hear the initial screams that came from three Sierra Leonean guards working private security at the base. Shrapnel had slipped through an opening in the shelter, wounding them.
Alexandra's phone rang again in El Paso.
Frank told her he had been taken to the base's aid station to be checked out for hearing loss. His ears were still ringing.
Later, driving to meet Frank's mother at the airport, Alexandra tried to remain calm.
Lauren Rosenblatt knew what it was like to have a husband in the military. Frank's father was also a military attorney; he'd retired from the Army with 30 years of service.
But unlike Alexandra, Lauren had never seen her husband off to war.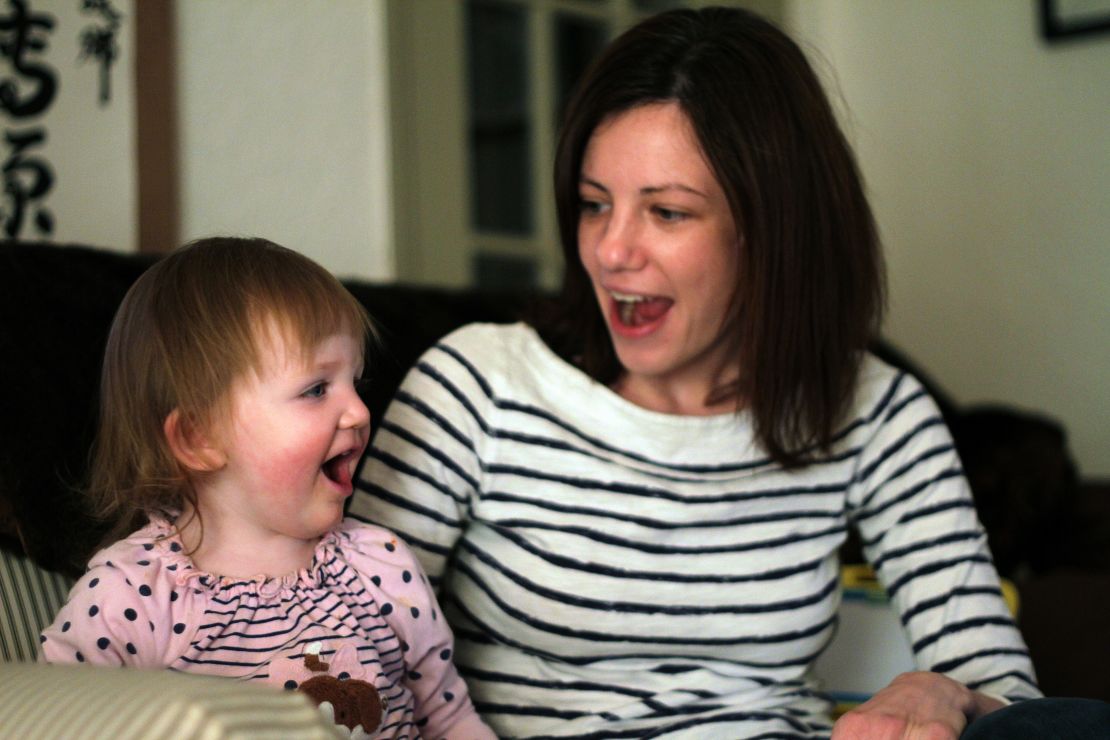 An early return
Alexandra marked the first 100 days of the deployment with a letter to Frank outlining her successes and failures.
When a tire on the car was going flat, she drove to the gas station and aired it up – while wearing high heels.
A light on the front porch had blown out, but she had not gotten around to changing it.
But she, too, withheld some details about her own tough days at work and with Harper, not wanting to worry Frank or take his mind off his job.
She was handling things better than she'd anticipated, she wrote.
By October, rumors at Fort Bliss stoked hopes and fears: Depending on who was doing the talking, the brigade was coming home early, the brigade was being pulled from Iraq to sit in Kuwait or, perhaps the worst scenario, the brigade was being diverted to Afghanistan.
But soon there were reports that two of the brigade's battalions had received orders to return to the States. Talks to keep U.S. troops beyond the withdrawal deadline had broken down after Iraqi political leaders declined to grant soldiers immunity from prosecution in Iraq.
Publicly, Alexandra said she was going by what her husband had told her – 12 months. But privately, she allowed herself to think about the possibility of an early return.
If he were here by Thanksgiving, she'd need another airline ticket to her parents' home in Louisville, Kentucky.
What about February? He'd be home for Harper's second birthday and their fifth wedding anniversary.
By month's end, the suspense was over: Almost all U.S. troops in Iraq would be home by the holidays.
Fighting the war in court
Surrounded by heavily armed soldiers, Frank walked into the Kirkuk courthouse.
He was there for 1st Lt. Dustin D. Vincent, one of the last Americans killed in the Iraq war – and for all the others soldiers still being attacked on U.S. bases.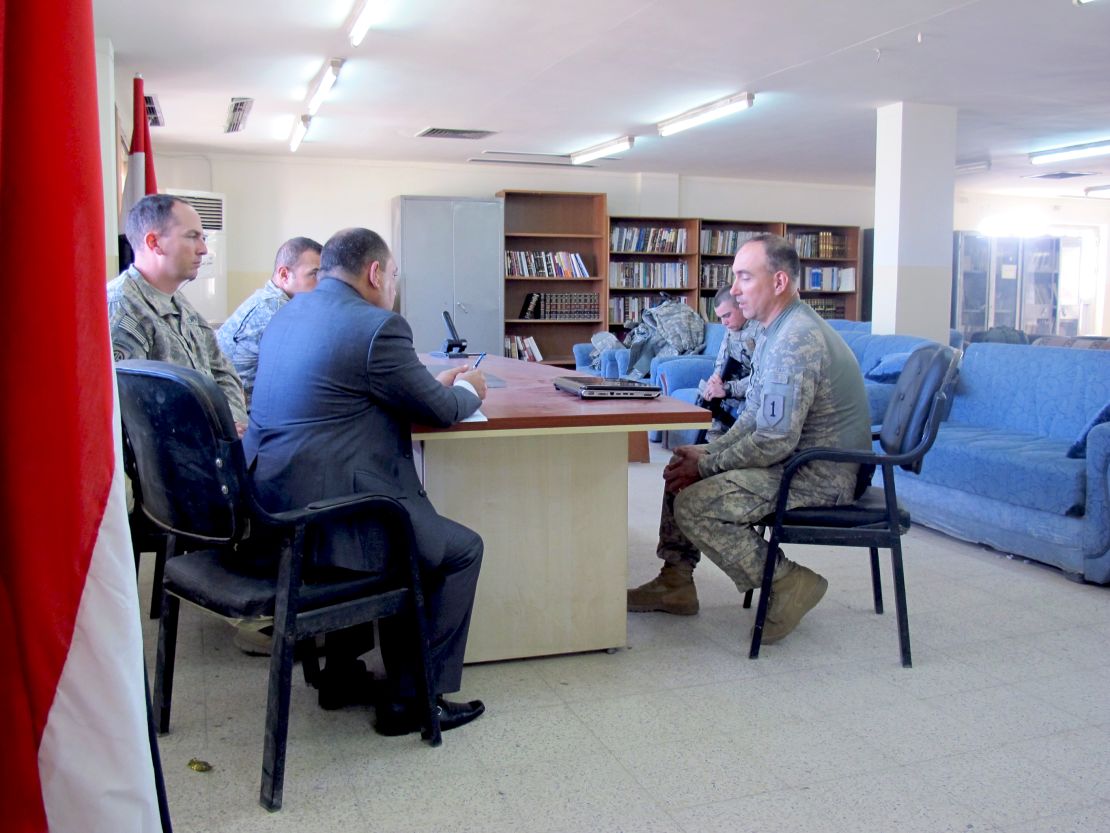 For weeks, Frank had traveled back and forth to the courthouse as part of an effort to see charges brought against suspected insurgents accused of targeting American troops. Now, he was about to participate in one of the U.S. military's final acts in this city of 850,000: He would work with an Iraqi prosecutor to bring murder charges against an insurgent for the first time in Kirkuk.
The shooting of Vincent on November 3 had been captured on videotape by insurgents who then posted it online. Iraqi police arrested the suspected sniper and an alleged accomplice shortly after the attack.
The U.S. military was taking the step of having American soldiers provide testimony because "we are no longer going to be able to show up here in the court," Frank said.
The soldiers testified that Vincent, 25, of Mesquite, Texas, was killed in Kirkuk's volatile al-Wasiti district, when his convoy stopped to fix an electrical cable on the top of a vehicle. "Then we heard a shot," one of the soldiers told the judge.
A few days later, one soldier testified, "A video was posted that claimed the killing of the 1st lieutenant, and it shows the same location we were that day."
The video, which was played in court, was set to music and showed what appeared to be a soldier on the top of an armored vehicle. Superimposed on his back, which was to the camera, was a sniper's crosshair. There is the sound of a gunshot, and the soldier drops from view.
More than eight years ago, Frank had fought his way through Samawah, against Saddam's radical Fadeyeen, a paramilitary unit of irregular soldiers. So many rockets were fired one night that it was dubbed "the night of endless shelling."
But on this day, the battle had moved to the Iraqi courts.
At the conclusion of the testimony, Frank submitted the case to the judge on behalf of the U.S. military.
It felt like an end to the war.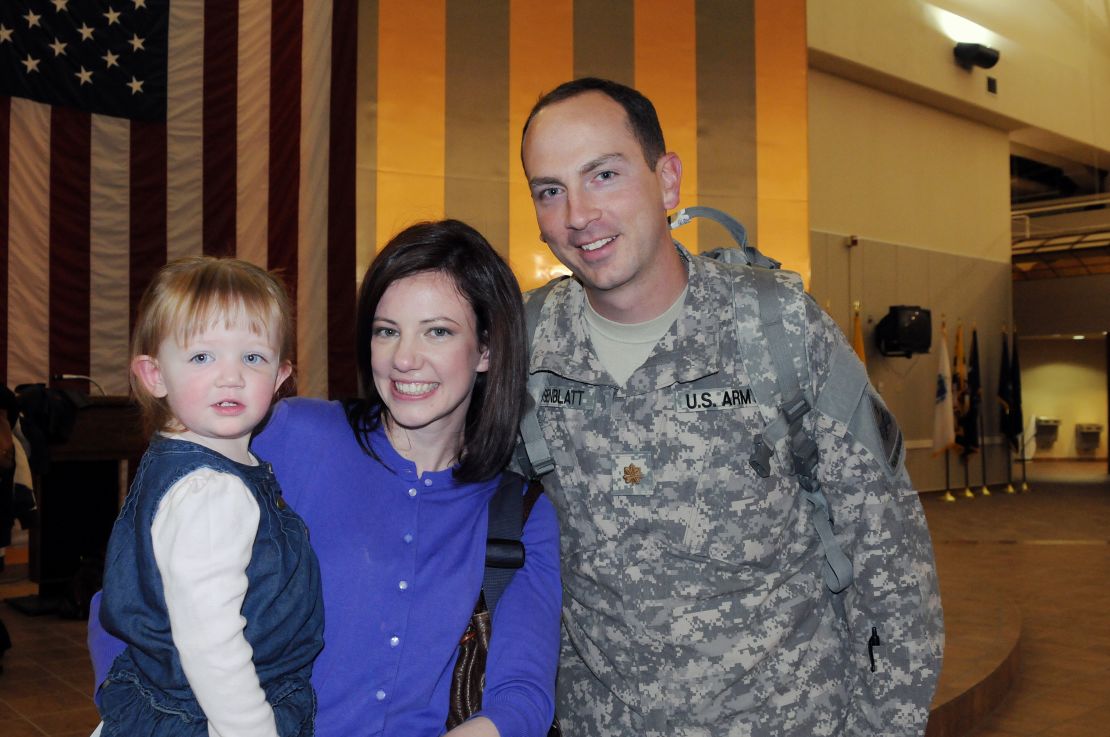 Together again
The door of the plane opened onto a chilly night at Fort Bliss. It was November 23, and nearly 20 hours earlier, Frank began his journey home.
He thought about the first things he would say to his wife, how he would act with his baby girl, Harper. He knew she might be overwhelmed by the crowd, the noise and the emotion.
During a stopover in Bangor, Maine, Frank changed clothes, shaved and checked his hair. He wanted to be presentable so Harper would not be afraid.
Hundreds were gathered at a hangar awaiting their soldiers' return. Frank walked down the steps of the plane, straining to find Alexandra and Harper in the crowd.
Typical of the end of a deployment, soldiers are not immediately reunited with their families on the tarmac. First, they must get into a formation.
At Fort Bliss, families were held back by a rope. But they pressed forward. The young triplets of one soldier even darted under the rope. Alexandra and Harper waited.
They saw Frank get into formation and, then for a moment, they lost him in the crowd.
Suddenly, Frank was walking toward them, opening his arms and folding them into a giant hug.
He stepped back and Harper looked at him shyly for a moment.
Frank slowly reached for his daughter. And Harper opened her arms to him, to her daddy.