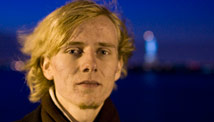 STORY HIGHLIGHTS
Student filmmaker Timothy Wolfer says he went to Haiti after quake to document event
He focused on Saintania, a 14-year-old girl whose parents were giving her up for adoption
He says they hoped for better life for her in Ohio; he visited, and she seemed happy there
Wolfer: Can't draw conclusions from choice; it's harder than most of us have to make
Editor's note: Timothy Wolfer is a student at Pacific Union College and has worked around the world producing documentaries and TV shows. His latest film, "Adopting Haiti," will be available on Hulu on January 12.
(CNN) -- Last year, before the Haitian tragedy receded from the headlines in America, many of the major stories focused on orphans.
Unfortunately, "Haitian orphans" evokes images of the Idaho Baptist missionaries accused of trying to take children with living parents off the streets of Port-au-Prince. This embarrassment overshadowed the legal adoption of hundreds of Haitian children under emergency provisions implemented by the U. S. State Department.
That success is what I saw last January at a Haitian orphanage that got 80 children to America in a dramatic military airlift. Now, reflecting back on that bittersweet experience, some questions about adoption remain.
I had skipped my college classes to go to Haiti, arriving in Port-au-Prince at the Maison des Enfants de Dieu orphanage a few days after the earthquake. It quickly became a media hotspot, with a variety of cable news journalists reporting on the lack of food, water, diapers and formula for the 135 children.
Trying to capture the story, I trained my camera on a 14-year-old girl named Saintania whose eyes sparkled with happiness amidst the terror in her country. She told me that she was excited to be going to America soon, thanks to an Ohio family that had pledged to adopt her before the earthquake. But what she said next surprised me: Saintania's birth mother had just visited her yesterday.

Haiti: Hope emerges from the rubble

Haiti quake survivors remember

Haiti orphanage gets makeover

2010: Dr. Gupta lends a hand
After arriving back in America, with time to think, curiosity set in. What kind of parents would put their children in an orphanage? What kind of situation would lead parents to give up their children to adoption? Should Saintania be allowed to leave her country to live in America?
Adopting children mixes a variety of reasons and emotions. Adding in living parents and crossing international borders further complicates the moral questions.
I decided to learn more about Saintania's situation, so I made a second trip back to Haiti where I found her father, who is a pastor. He was living in the outskirts of Port-au-Prince in a one-bedroom house with a dirt floor. He had given up Saintania and another daughter for adoption because of the violence in the area, and it was clear that he and their mother could not care for them. I could see in his eyes that he thought that this was the best thing for them.
After my visit with her father, it was clear that he thought that going to America was in Saintania's best interest. But I wanted to be sure, so I flew out to Ohio to visit her new family and deliver a letter from home.
She and her sister were being home-schooled along with the family's four biological children, and there was plenty of laughter as they played together. And there were definitely some tears as Saintania read her father's words and began to write a letter home.
As I reflect back on this experience, I know that it would be irresponsible to deduce many answers to my questions about adoption from this one experience. Amidst this physical, social and moral tragedy, there is little that I can know for certain.
But looking into the faces of Saintania and her father, I know that they have asked and answered far more difficult questions then I, and many Americans, will ever face.
The opinions expressed in this commentary are solely those of Timothy Wolfer.
FOLLOW THIS TOPIC