STORY HIGHLIGHTS
Defense Department unit last week tested a hypersonic flight, lost contact with the craft
Michael Belfiore says the technology, if perfected, would cut U.S. air travel times down to minutes
The agency behind the test, DARPA, has had courage to try things and fail
He says agency is responsible for inventing GPS technology and the Internet
Editor's note: Michael Belfiore is the author of "The Department of Mad Scientists: How DARPA Is Remaking Our World, from the Internet to Artificial Limbs" as well as a speaker and commentator on innovation.
(CNN) -- Last week, the Defense Advanced Research Projects Agency, or DARPA, attempted the impossible. It launched an unmanned aircraft from a rocket at 20 times the speed of sound with the goal of controlling its flight through the atmosphere for about 20 minutes -- long enough to glide from the California coast to the Kwajalein atoll in the Pacific.
Ground controllers lost contact with the craft, called the Hypersonic Test Vehicle-2, or HTV-2, nine minutes after it separated from its Minotaur rocket.
Probably the force of the hypersonic gale screaming past it as it sped through the air overcame the thrusters attempting to maintain controlled flight, and it spun out and blew apart. DARPA's first HTV-2 met a similar fate last year.
New York to Los Angeles in 12 minutes?
The HTV-2's hypersonic glide flight test was but one of many high-risk, potentially high-payoff projects funded by DARPA. DARPA is America's hidden innovation engine. Not so many know the name, but nearly everyone is familiar with the agency's work: GPS receivers that slip into our pockets, interactive computer displays and the Internet itself.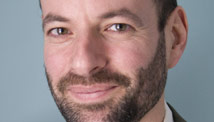 Michael Belfiore
DARPA only undertakes projects that have a good chance of failing -- projects that few others dare to take on. Projects like hypersonic flight. The failure is not surprising; permission to fail is what has enabled the agency's spectacular success over its 53-year history.
With the HTV-2, DARPA and its partners, including the Air Force and Lockheed Martin, were attempting to advance a technology that has captured the imagination of aerospace engineers since the 1960s. Hypersonic flight, that is flight powered by air-breathing engines at greater than five times the speed of sound, could enable airplanes to cross the United States in minutes rather than hours, to jet from one side of the globe to the other and back on the same day.
Last year DARPA and its partners achieved powered hypersonic flight in an unmanned vehicle called the X-51A for more than three minutes. The previous record, a paltry 10 seconds of flight powered by a scramjet -- hypersonic flight's enabling technology -- had been set by NASA's X-43A back in 2004. Researchers hope to put the pieces of the aerodynamic puzzle developed through glide vehicles such as the HTV and powered vehicles such as the X-51A together into a single craft that is aerodynamically stable at hypersonic speed. Obviously they're not there yet.
Failure, as it turns out, has to be an option to enable the big successes.
--Michael Belfiore
But hypersonic flight is worth pursuing, and not just for the military uses for which DARPA is trying to develop it. Scramjets would represent an even bigger leap than the one from propellers to conventional jets. And scramjets could revolutionize not only air travel but also access to space by acting as the first stage of a launch system.
Most of the propellant carried by rockets is in the form of oxygen. Grabbing the oxygen needed for combustion from the air would allow vehicles to do away with much of the bulky, heavy tankage that encumbers rockets and also to operate more efficiently.
DARPA was, in fact, America's first space agency. It was formed as a rapid response to the Soviet Union's launch of the first satellite, Sputnik, in 1957 as a semi-autonomous research and development arm of the Pentagon.
Then as now, it was a nimble, quick-moving organization with a minimal bureaucracy and no laboratories of its own. Instead, its 100 or so program managers cook up ideas to farm out to universities, private companies and other organizations to do the work of bending metal and writing code to make them work (or not). DARPA's director is a presidential appointee who oversees six program offices that are working on everything from self-programming computers and direct neural control of machines to breakthroughs in renewable energy and aerospace.
At $3 billion, DARPA's budget is a mere one-sixth of NASA's and a paltry one-half of one percent of the overall Defense budget. About half of DARPA's work is secret.
It's telling that DARPA has remained wildly successful even as NASA struggles. It boils down to the importance of taking risks, even in the face of great odds, and not being stopped by the fear of failure. Failure, as it turns out, has to be an option to enable the big successes.
DARPA's mission to fail as well as to succeed is something we should all take to heart during these challenging times. Right now, more than ever, we need bold moves, moves that may have a high chance of failure, but with the potential to really move the needle.
The opinions expressed in this commentary are solely those of Michael Belfiore.
An earlier version of this article incorrectly said the HTV-2 flight had never been attempted before.
FOLLOW THIS TOPIC