Marine to receive Medal of Honor next month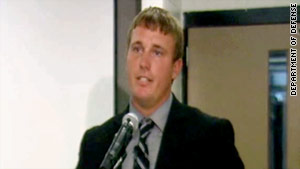 Dakota Meyer says the incident is still difficult to think about because his team members died.
STORY HIGHLIGHTS
Dakota Meyer ran through enemy fire to recover bodies in Afghanistan
He will be first living Marine recipient from current war theaters
He remains hesitant to discuss details of incident
Washington (CNN) -- President Barack Obama next month will present the Medal of Honor to the first living Marine to receive the recognition for actions in Afghanistan or Iraq, the White House announced Friday.
Dakota Meyer was in Afghanistan's Kunar province in September 2009 when he repeatedly ran through enemy fire to recover the bodies of fellow American troops.
He will be honored during a White House ceremony September 15.
Meyer will be the third living Medal of Honor recipient from service in the current war theaters.
No longer on active duty, Meyer returned to Columbia, Kentucky.
"The award honors the men who gave their lives that day, and the men who were in that fight," Meyer said, according to a Marine newsletter. "I didn't do anything more than any other Marine would. I was put in an extraordinary circumstance, and I just did my job."
Meyer, who serves in the Inactive Ready Reserve of the U.S. Marine Corps Reserve as a sergeant, said in November that he didn't want to discuss details of the incident because it's still difficult to think about.
"I was a failure," Meyer told CNN last fall. "My guys died. That was my whole team."
The Marines didn't see it that way. A defense official with knowledge of the award process last fall said that just before he retired, former U.S. Marine Commandant Gen. James Conway recommended Meyer for the nation's highest award for bravery.
According to the Marine Times, which first reported the award recommendation, then-Cpl. Meyer ran four times through a hail of enemy fire to recover the bodies of three fallen Marines and a Navy medic. He had shrapnel wounds in his right arm.
Meyer and others also helped rescue and evacuate 15 wounded Afghan soldiers.
"Sgt. Meyer embodies all that is good about our nation's Corps of Marines," Marine Commandant Gen. James F. Amos said Friday. "He is a living example of the brave young men and women whose service, fidelity and sacrifice make us so proud."
Meyer will become only the second Marine to earn the Medal of Honor from the current wars. In April 2004, Marine Cpl. Jason Dunham was leading a patrol in an Iraqi town near the Syrian border when a person in a vehicle dropped a grenade. Dunham hurled himself on top it, using his helmet to try to blunt the force of the blast. He died eight days later and received the honor posthumously.
"There's not a day -- not a second that goes by where I don't think about what happened that day," the Marines quoted Meyer as saying. "I didn't just lose four Marines that day; I lost four brothers."
CNN Pentagon producer Larry Shaugnessy contributed to this report.