Story highlights
Hundreds of children who've lost a parent or sibling in war attend annual grief camp
Some have been coming for years; for others it's their first time at Washington-area event
Children are paired with volunteer adult mentors, usually active-duty service members
Program gives kids a chance to talk about what happened with those who'll understand
Arlington, Virginia
CNN
—
Jordan Turner looks down at the scrap paper on the table in front of him.
The instructions sound simple enough: On one side, write a negative word associated with grief; on the other, a positive word.
Words have always come easily to the lanky 15-year-old, who hours earlier walked into a Washington-area hotel conference room full of unfamiliar faces and easily fell into conversation with teens and adults alike.
"Where are you from?" asks one teen.
Tacoma, Washington, he says.
"You been here before?" another asks.
No. This is my first time.
Nobody asks Jordan the next question, the one that would explain why he's in this room with more than two dozen teens about his age.
Nobody has to ask. They all know. Not the details, necessarily. But they know the reason: Somebody in the military – a father, a mother, a brother or a sister – is dead.
That is, after all, the only reason any of them are here at grief camp.
For some, it's the first time they'll openly talk about what happened – the first time they'll feel safe enough to admit they feel helpless, alone in their pain. For others, it will be a second, third, fourth … even a seventh time.
Sitting in this group, Jordan stares at the blank piece of scrap paper: How do you sum up grief in one word?
Others around the room are struggling, too.
At a nearby table, a teenage boy plays with a pen, thinking of a word that explains how he feels about his father's death in Balad, Iraq, how it forced him to grow up fast. Across the room, a girl looks up at the ceiling, trying to find a word that describes her feelings about how her father was killed six months earlier in a roadside bomb blast in Afghanistan.
Slowly, in blue ink, Jordan writes: FRUSTRATED.
That word, he will say later, captures everything about the questions he still has more than four months after a rocket struck his brother, Army Pfc. Neil Turner, in the chest.
The other half of the assignment is more painful, more problematic.
What was positive about what happened to Neil, Jordan thought. What good came out of his death?
New generation, stark reality
These teens have never really known a world without a war on terror.
They were too young to understand what it meant when hijacked planes smashed into the World Trade Center, the Pentagon and a Pennsylvania field on a clear September day in 2001.
They have grown up with cycles of long deployments that sent parents and siblings repeatedly off to war.
They are part of a new generation, living with a stark reality: Nearly 6,500 military personnel have been killed in Iraq and Afghanistan.
Home and Away: Iraq and Afghanistan war casualties
Roughly 5,000 children have lost a parent, and more than 5,200 have lost a sibling, according to estimates.
The youngest will grow up only knowing their lost loved one through stories told by family and friends; the older ones will try to come to terms with their loss while coming of age, navigating that awkward period between childhood and adulthood.
For Jordan and other first-timers at grief camp, such a loss has forever altered a time in their lives when they should be looking forward to the possibilities rather than looking back at what could have been.
Every year, the nonprofit Tragedy Assistance Program for Survivors brings together hundreds of children of fallen service members to attend the Good Grief Camp. The camp coincides with TAPS' National Military Survivor Seminar for spouses and parents.
This year, more than 2,000 people, including 500 children, are in attendance. Among them are 120 teens between the ages of 13 and 19, broken into age groups such as the one Jordan is attending.
Each child and teen at the camp is paired with an adult mentor, primarily active-duty service members who can provide an ear and a shoulder.
In this environment, Jordan and the others will find a kinship among a group no one ever wants to belong to – and one that is growing in its ranks.
"So why are you all here?" asks Vicki Jay, a counselor who will spend four days coaxing and cajoling Jordan's group through lessons aimed at constructively coping with loss.
"Fun," yells one 16-year-old boy.
Some of the teens giggle.
"Get out of school for the week," says another.
More teens giggle.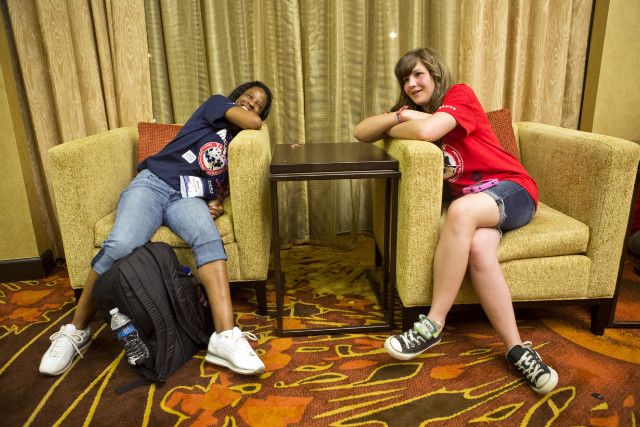 OK, OK, other than to get out of school, Jay asks.
Therapy, says one. New friendships, says another.
Jordan sits quietly. So do 15-year-old Ashlyn McCain and 16-year-old Tyler Gandy, also first-timers.
None of them have any idea what to say. They could say they were forced to go, that their mothers signed them up and that they really don't want to be here.
But that's not what you say when you're a teenager in unfamiliar surroundings. What you say is absolutely nothing.
Then comes the answer from one of the veterans of the group, a slight, 15-year-old blonde from Killeen, Texas, who talks loud and laughs louder.
"It helps you a lot, knowing you're not alone. I try to tell a lot of people about it. I want people to know about him," Hannah Tjaden says of her dad. "They just look at me weird. They don't really listen. Here we can share, so we don't punch a wall or something."
Anger is something Hannah knows a little bit about.
Her 48-year-old father, Army Sgt. 1st Class Christoffer Tjaden, died in January 2009 at Fort Hood, Texas, of complications from a traumatic brain injury he received in Iraq during a roadside bomb blast in 2006.
After he returned from Iraq, she was mad at him. He wasn't the same dad. She knew he suffered from a brain injury, though as a young girl she didn't really understand it. So she told people he died of a heart attack.
Only after his death did she really learn about TBI. It changed the way she felt, and she only wished she could have told him while he was alive.
Hannah's frank answer shifts the tone in the room.
"It gets better with time," says one teen, reflecting on lessons learned at an earlier camp.
"Don't keep it bottled up," says another.
'Just be present'
Air Force Tech Sgt. Rosie Smoots, 36, had reservations even as she volunteered as a mentor at grief camp. She wasn't sure what she was getting herself into with the four-day commitment.
She had heard about it from a comrade, who talked excitedly about the time spent with the children of fallen military service members.
Smoots liked what she heard, but she wasn't sure what she could offer. She had been exposed to death and grief, but not like this – not with a child of a fallen soldier.
"Just be present," she was advised during a training session for prospective mentors. "Be there."
Be present. What did that really mean?
Teens in the group who'd been here before were paired with their previous mentors. Others were paired with mentors because of shared backgrounds or the nature of their loss. A handful of first-timers got to choose their mentor at the start of camp.
"Want to be my mentor?" Jordan asked Air Force Tech Sgt. Lesette Fraser, a 31-year-old computer expert from Atlanta.
The two had fallen into an easy conversation over an icebreaker game of Jenga and then later Uno. Both, it turned out, were gear heads with a passion for computers.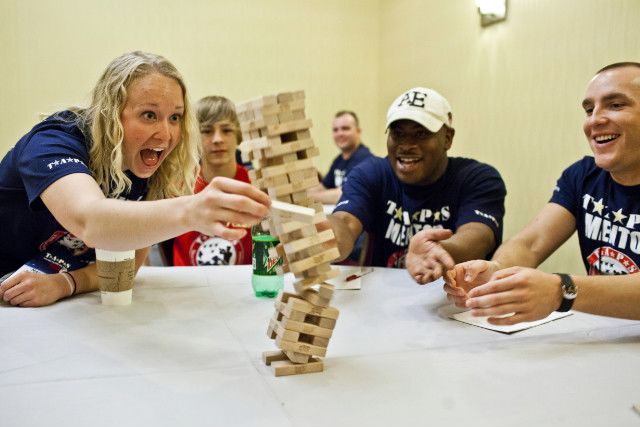 On the other side of the room, Army Staff Sgt. Lauren Veronie of Willis, Texas, surveyed Tyler, whose dark eyes and hair hinted at his Samoan heritage.
Veronie, 27, played the euphonium, a hornlike instrument that sort of resembles a tuba, in the Army Field Band. She had heard one of the teens was in band, and she thought their mutual interest might be a good, initial connection.
"Are you in band?" she asked.
Tyler's answer: yes. He played the oboe and the clarinet.
The two clicked.
Then there was Ashlyn, whose wide eyes and wider smile belied the pain underneath. She didn't have a mentor.
"Is there anybody who does not have a mentee?" one of the group leaders yelled over the din of chattering teens.
Rosie Smoots, the reluctant first-time mentor, raised her hand.
To an outsider, the two couldn't have been more different.
Smoots is black. Ashlyn is white.
Smoots lives in the nation's capital, while Ashlyn lives in rural North Pole, Alaska. Ashlyn wants to learn to moose hunt, while Smoots has only seen a moose on television.
But there was more: Smoots had never lost somebody close in combat; Ashlyn's father – Sgt. 1st Class Johnathan McCain – was killed in a roadside bomb blast in southern Afghanistan's volatile Kandahar province.
What could they possibly have to say to each other?
The moment everything changed
After everyone is paired up, Jay tells the teens to identify themselves and let the group know who they're here to honor.
Ashlyn and Jordan shift uncomfortably in their chairs, while Tyler studies the faces in the room.
The most veteran of the group, 16-year-old Billy Ruocco of Newbury, Massachusetts, goes first. It's his seventh year, and he's here because of his father – Marine Maj. John Ruocco.
He doesn't tell the group what most returning teens and mentors already know – that his father took his own life in 2005 after coming home from Iraq. It was the same deployment that claimed the life of his fellow helicopter pilot, Lt. Col. David Greene – the father of Billy's good friend, 16-year-old Wes Greene of Branford, Connecticut.
Wes is next. It's his fifth year at the camp. His father was killed in July 2004 when an insurgent got off a "one in a million shot" and hit the Cobra pilot in the head while he was providing aid to troops caught up in a firefight in Ramadi, Iraq.
Billy and Wes didn't know each other when their fathers flew together. It was a friendship borne of grief; it grew out of a passion for sports, jokes and girls.
They were united by other things, too. Neither had a father to teach them to drive, to shave. For that, they turned to male relatives, friends and the Internet.
Wes says he learned to tie a tie through instructions he found online, while Billy turned to his brother and friends for advice about girls.
In the hotel conference room, the boys' easy banter and self-confidence catch the attention of Ashlyn. She's envious.
When it's her turn, Ashlyn identifies herself and tells the group she's here because her dad was killed on November 13. She doesn't tell them the rest of the story, the one she will later share with Smoots.
It was a cold Sunday in Alaska when Ashlyn opened the front door to two men in uniform.
Her mom, Leanne, was upstairs on the computer, waiting for her husband to log on and chat from his Afghan outpost, when she caught a glimpse out the window of the two men heading toward their house.
She called to Ashlyn not to open the door. But it was too late. The teen swung the door open – and knew instantly why the men were there.
"There's only one reason two men in uniform come to your door," Ashlyn says.
It was the death notification.
In that moment everything changed. There was her life before her dad was killed, and the one that came after.
"It's never going to be the same," she says, blinking back tears.
Ashlyn dreams of being an actress, maybe taking to the stage as Belle in the musical adaptation of Disney's "Beauty and the Beast."
"I love the character," she says. "She doesn't judge. She accepted the Beast. She loved him even though he looked like a Beast."
Ashlyn was supposed to see the musical with her mother and other siblings. Then her father was killed.
The first day she returned to school after her father's funeral was hard.
"I walked down the hallway and all I heard was people whispering 'That's the girl whose dad died.' 'That's the girl whose dad got killed,' " she recalls.
Ashlyn says she's OK. At least, that's what she tells people. But really, she's not.
Prodded, she will admit she slips into character for the tough moments, acting like the girl before – the one who never knew the constant, hollow ache brought about by a father killed in combat, by a dad who was never coming home.
That character, that girl, smiles and says everything is OK.
Ashlyn watches Billy and Wes, and wonders: Will I ever be able to be like that again?
The next day, she and Smoots purposely take seats next to the boys.
'It's a sign'
A sweltering sun is baking Washington as Tyler and his mentor, Veronie, walk through the National Mall.
It's Memorial Day weekend, and tourists pack the sidewalks from one end of the Mall to the other. Some mill around the Lincoln Memorial, while others visit war monuments or museums.
It's outing day at camp, and the teens are in need of a break after a day and a half inside a hotel conference room doing "grief work."
But there's a catch. As part of the trip, the teens are to take three pictures of something, anything that captures their journey with grief.
There isn't much at the National Mall that Tyler hasn't seen.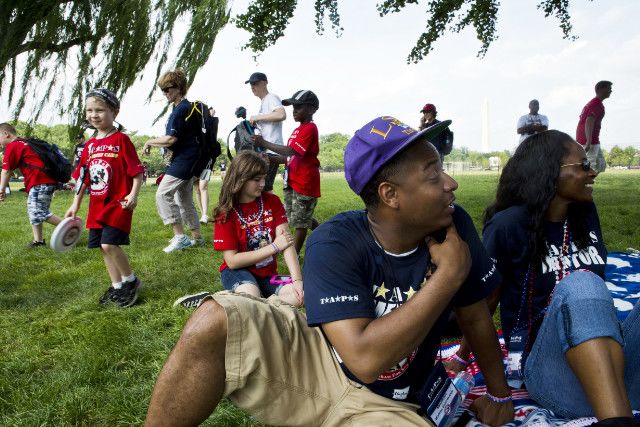 Every year, twice a year, since his father died in Balad in 2010, the teen has made the trip with his mother and brothers to pay respect to his dad, Army Staff Sgt. Loleni W. Gandy, who is buried at Arlington National Cemetery.
The trips, which are made on the anniversary of Gandy's death and his birthday, stem from the family's Samoan heritage – a culture steeped in the celebration of the bonds of family.
Tyler isn't sure what to do with the assignment. He doesn't want to talk about his dad.
"I don't really know what happened to him," Tyler says, sitting in an air-conditioned museum cafe.
There were conflicting stories.
First, the family was told he died alone in his room of an unknown medical issue. Then, they were told he died of a heart attack, and they received letters from comrades who said they were with him at the time.
"You want to say, 'Which is it?' " Tyler says, the frustration in his voice apparent. "You don't know what to believe."
Tyler is looking forward to college, to becoming a doctor who specializes in research – not the bloody "surgery stuff." And he has it all planned out: When he goes to college, he wants to buy his own place and move his mother in with him. It isn't ideal, he admits. But he sees it as his duty.
He doesn't believe his mother will remarry. When his parents married, it was for life and longer, he says.
"I'm not sad for my dad. My family is very religious. We believe he is in a better place," Tyler says.
Later, though, he will admit to an overwhelming sense of sadness. He will talk about growing up fast so he could help his mother with chores around the house, with paperwork.
He won't share any of this with the other teens. But in Veronie, Tyler has found a confidante, somebody to share the hard moments he won't discuss in public, that he won't tell his mother or brothers for fear it will upset them.
And in Veronie, he found somebody to have fun with.
At the Smithsonian National Museum of Natural History's bug exhibit, Tyler and Veronie squeal over a giant beetle gnawing on a slice of apple. They laugh as they hold a fuzzy, green caterpillar that twists and turns in the palm of their hands.
Later, inside the Butterfly Pavilion, Tyler studies the delicate creatures.
There's something about them, about their color, their wingspan that catches his attention. They're just, well, so peaceful.
Then, as Tyler raises his camera to take a picture of a monarch resting on a flower, a brilliant blue butterfly lands on his finger.
It's a quiet moment for the teen, who studies the delicate creature perched on his left index finger.
And just as suddenly as it landed, the butterfly is gone.
Veronie snaps a photo, capturing the moment. Only later would the two realize she had taken a picture that captured part of Tyler's journey with grief.
Later, as Tyler is reunited with his mother, Veronie shares the photo with her.
"See, there's Dad," she tells her son, her eyes filling with tears.
Hating 'I'm sorry'
Marine Lt. Col. Matthew Sterni has been paired with Billy Ruocco every year at camp since 2007 after spotting the familiar last name on a name tag.
It's not a common one. Could this be the child of Marine Maj. John Ruocco? The same Ruocco he had flown with? The answer: yes.
It was that connection that saw Sterni, 41, able to share with Billy stories of Ruocco's selflessness and heroism in Iraq, flying into hot zones to aid troops under fire.
After so many years, there are few surprises between Sterni and Billy about what happened and what it did to the boy who grappled with the stigma of suicide.
Today, at grief camp, the two talk about Billy's desire to go to college, perhaps a military academy. They talk about Billy's prowess in lacrosse.
Billy returns again and again to the camp, he says, because in this room, among this group, he is not alone. He has his mentor, and his longtime friend Wes.
Billy and Wes don't overtly reach out to newcomers. Sure, they talk with first-timers. But they don't pry – unless someone wants to open up.
"We all know why we're here," Billy says.
Even now, years later, the two teens struggle with their fathers' deaths.
"I hate it when people find out about my dad and they say, 'I'm sorry.' You want to ask, 'Why are you sorry?' " Wes says.
What he would rather hear, Wes says, is something along the lines of, "Thank you for your father's sacrifice."
It's a sentiment that is echoed through the room.
Since Ashlyn's father was killed, she admits to pulling away from friends, especially those who don't know what to say. Or those, she says, who say the wrong thing: I know what you're going through.
"How could they know?" she asks. "Was their dad killed in Afghanistan?"
She also hates it when people say, "I'm sorry." "You can't respond to that. What do you say to that?"
When she hears of Wes' preferred condolence, she breaks into a wide smile – an affirmation that somebody here knows what she's talking about.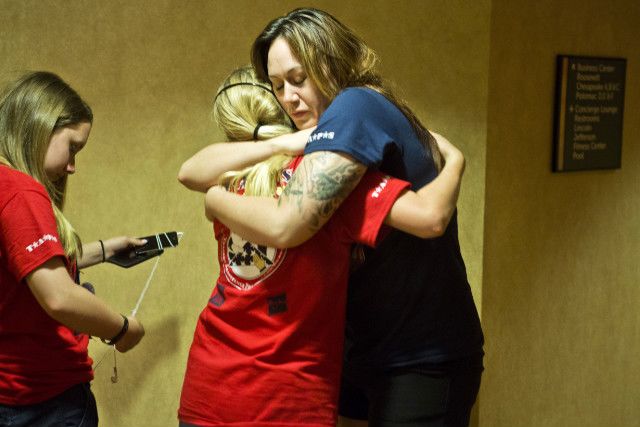 'Blessed'
On the last day of camp, in a huge ballroom, the teens and other children are reunited with their families for the closing event – a slide show.
There are tears and smiles, crying and laughter as photos of loved ones flash across the screen.
They are snapshots of life: weddings, anniversaries and births. They are photos of whole families, before death left a gaping hole.
Jordan sits with his mentor across the room from his two brothers, his mother and his father, waiting for Neil's picture.
The last time the family saw Neil was a month before his death. He was home on a two-week leave, an R&R break given to every soldier in the midst of a 12-month deployment in Afghanistan.
It was Thanksgiving, and the family was whole.
They said goodbye on December 7, putting Neil on a plane for the journey back to an outpost near the Pakistan border.
His father, Leland, tried to talk with his eldest son about what he had seen, what he experienced in Afghanistan. But Neil refused to discuss it.
Only later, at the end of grief camp, will Leland learn Neil shared stories of violence, of a running gunbattle that lasted hours, with 19-year-old Max.
"He didn't want you to worry," Max will gently tell his father.