Story highlights
Police say they checked school attendance records
Two boys, ages 17 and 14, are in custody, police chief says
Teens have been charged with first-degree murder
Woman says two youths tried to rob her, and one shot her baby
Two teen boys in this coastal city were charged with murder Friday, accused in the fatal shooting of a 13-month-old boy who was in a stroller being pushed by his mother.
Aided by a description and a check of school attendance records to determine who was not in classes Thursday, officers searched for the young suspects and took them into custody, police said.
The mother told reporters the shooting occurred when one youth demanded money.
Police expressed confidence they would find the weapon, believed to be a handgun.
Spokesman Todd Rhodes, who described the shooting as "horrific," told CNN's "The Situation Room" on Friday evening that search warrants were being executed in three locations.
Chief Tobe Green identified the older suspect as De'Marquise Elkins, 17, and said he will be treated as an adult in criminal proceedings. The 14-year-old was not identified because of his age. Both have been charged with first-degree murder, police said.
"We are turning every stone to get a motive," said Green.
Police said they received a suspect description from Sherry West, the baby's mother.
No other suspects are being sought, according to Rhodes.
Authorities were tight-lipped about the investigation, which was aided by helicopters and police dogs.
West earlier told reporters that the incident occurred at 9 a.m. Thursday as she was walking home from the post office, pushing her son, Antonio, in a stroller. She said she saw two boys.
"A boy approached me and told me he wanted my money, and I told him I didn't have any money. And he said, 'Give me your money or I'm going to kill you and I'm going to shoot your baby and kill your baby,' and I said, 'I don't have any money,' and 'Don't kill my baby.'"
The boy tried to grab her purse and opened fire when she said tried to tell him she had no money, West said, with the shot grazing her head. She said the boy then shot her in the leg.
West continued, "And then, all of a sudden, he walked over and he shot my baby in the face."
West said she tried to perform CPR on her son and that the police took over when they arrived, but to no avail. "We lost him," she said.
During the incident, the smaller of the two boys was hiding behind the larger one, she said. "I don't know whether it was his brother or a friend."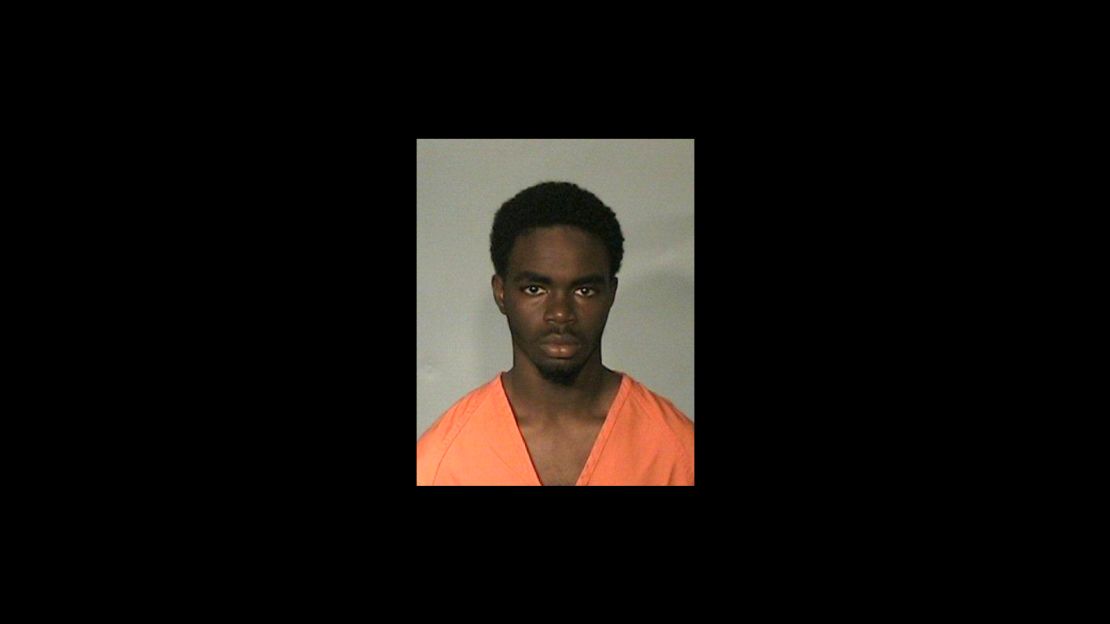 West had said she hopes the boys will receive the maximum sentence possible. "If they can use a gun like an adult, then they can be charged like an adult," she said. "I want to see lethal injection or at least life in prison. This child did nothing to him. He was innocent and helpless."
Louis Santiago, father of the baby, told CNN later Friday: "I'm doing OK. I'm holding on."
Police offered a $10,000 reward for information and have received more than 30 leads. They were still following them Friday afternoon.
Though no one has reported seeing the shooting, several people called 911 after hearing it, Rhodes said.
Rhodes said crime is not common in the residential neighborhood where West said her child was shot. "It's a nice area, it's a clean area, it's an area where law-abiding citizens not only live, they also work and play.
"Much like every other city in these United States, from time to time we will have a glitch. Unfortunately, this happened here in Brunswick, Georgia."
The city's website describes Brunswick, with a population of about 15,000, as "one of the most unique, historic and visually stunning places in the world." It boasts 19th century Victorian-style homes, century-old oaks and magnolia tree-lined streets.
CNN's Nick Valencia reported from Brunswick and Tom Watkins and Phil Gast reported and wrote from Atlanta. CNN's Chandler Friedman, Jim Kavanagh and Dave Alsup contributed to this report.