Editor's Note: Kelly Wallace is CNN's digital correspondent and editor-at-large covering family, career and life. She's a mom of two girls and lives in Manhattan. Read her other columns and follow her reports at CNN Parents and on Twitter.
Story highlights
2-year-old obese boy believed to be youngest ever to have weight-loss surgery
The boy suffered from sleep apnea which restricted his breathing when he slept
Doctors say typically girls under 13 and boys under 15 don't have weight-loss surgery
Women around the country reacted with sadness and concerns about the message it might send
When you hear the story of a 2-year-old boy believed to be the youngest person in the world ever to have bariatric surgery, it's very easy to "point a judgmental finger," as one mom said to me.
"Wasn't there anything else the parents could do besides such a serious surgery at such a young age?" parents will ask.
But then you hear the story of now 18-year-old Maria Caprigno, who weighed 443 pounds when she was just 14.
"I was gaining 40 pounds a year," said Caprigno, in between classes at Bridgewater State University in Massachusetts. "They told me unless something drastic happened, I would not see my 18th birthday."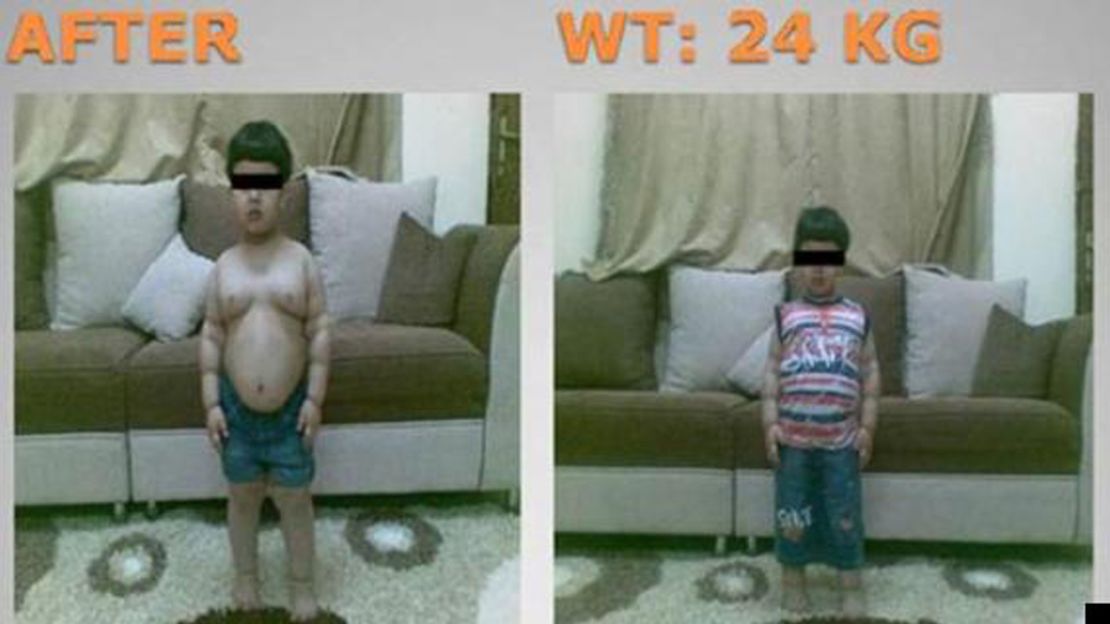 Listening to Caprigno, it becomes clear that the decision by the boy's parents – and what they did or did not do before the surgery – is not so black and white. And as parents grapple with the option of early surgical intervention for childhood obesity, they also must examine whether it's only their child's health on the line or if appearance and social standards are influencing these decisions too.
The boy, from Saudi Arabia, weighed 79 pounds by the age of 2, and suffered from severe sleep apnea which caused him to stop breathing while asleep.
Weight-loss 'sleeve' a good option?
After two different attempts to control the boy's weight through dieting reportedly failed, doctors decided to perform what's called a laparoscopic sleeve gastrectomy, which involves permanently removing 60 to 85% of the stomach and restricting food intake.
Dr. Jennifer Shu, a pediatrician in Atlanta, said such a procedure should be a last resort, and only after close monitoring and dieting have been attempted and proven to be unsuccessful.
Without knowing the details of this particular case, she said that if doctors had not performed the surgery, the boy could have faced physical problems such as pain, injuries and bowed legs, heart disease and diabetes down the road and even death, from the lack of oxygen caused by the sleep apnea.
"I think what (the doctors) are trying to say is this kid may not live without the surgery or without reversing that weight gain," said Shu, CNNHealth's Living Well expert doctor who is also a mother of two.
Shu says the current recommendation is to wait until the child is done growing or close to it, which is around 13 for girls and 15 for boys before considering bariatric surgery.
Caprigno had such surgery three years ago, when she was just 14. To her knowledge, at the time, she was one of the youngest people ever to have it.
It was an immensely difficult decision for her parents, who were both "morbidly obese," she said. Her dad, who also had bariatric surgery, still weighs over 400 pounds.
"My mom always said she was so nervous about putting me under this knife," said Caprigno, who said her mom had the lap-band procedure, which involves placing a device around the top of the stomach to control food intake, before she had hers.
"She told me she wasn't putting me under a knife that she hadn't been under herself," she said. "And I can't even imagine how difficult that decision was for her to allow me to do this and it must be so much harder for the parents of a 2-year-old to do that."
Signs of progress in childhood obesity fight
In my conversations with women across the country, a universal feeling about this case was sorrow for this little boy.
"I'm very saddened to learn of the extreme measures that were taken for the health of this toddler," said Lori Garcia, a mom of two boys, ages 5 and 10, and host of the blog, Mommyfriend. "Were there no other or better alternatives than two failed attempts at dieting?"
Renae Wortz, who is a mom and nurse practitioner, also wondered whether there might have been a less invasive treatment to help the boy lose the weight, but she also thought about what she would do if she were in the same situation.
"I think parents will do anything, even if it's extreme, to help a sick child," said Wortz, who is one of the co-founders of the blog, Mom Colored Glasses. "Maybe they weren't able to stick to the diet, but maybe they were. Maybe they did everything they could to help him lose weight, but weren't successful in the end."
Why is it so hard for kids to lose weight?
Another pressing concern is the unknown long-term impact such a surgery could have on the child's development, including intellectual problems down the road. "The brain just grows so rapidly between birth to 3 years old, he's still in that very phase of development," said Shu. "So we don't know what kind of effects the surgery may have."
"Medicine is not a perfect science and without prior data (exploring similar cases), such impacts would be uncertain and that uncertainty would have to be factored in to the risk/benefit decision for the child's health," said Alpita Shah, an international finance and community development lawyer in Chicago.
iReport: Before weight loss, 'Every beat of my heart hurt'
Beyond the medical uncertainties and possible complications (which could include leakage, infection and blood clots), weight-loss surgery on a 2-year-old raises the question: What does this story say about us? What impact might it have on other kids and families struggling with weight?
"Skinny is not an equation for health," said blogger and author Liz Henry, whose work will be featured in the upcoming book "The Good Mother Myth." "This is unchartered territory and a dangerous precedent for still growing and maturing bodies."
Henry, who is passionate about body image issues, worries about the message this case might send.
Don't miss out on the conversation we're having at CNN Living. Follow us on Twitter and Facebook for the latest stories and tell us what's influencing your life.
"While this may be an extreme case, it can lead to other parents looking at the rubber-band wrists and pudgy thighs of their toddler and immediately seeking medical intervention that leads to irreversible harm," she said.
"I truly hope that pediatric gastric bypass surgery doesn't become just another 'norm' in our culture of instant gratification and 'easy fixes,' " said Wortz.
Physicians group labels obesity a disease
For her part, Caprigno, who has lost over 130 pounds following her surgery, and has completely changed the way she thinks about food, the takeaway from this story is for all of us to talk more openly about obesity and to understand what it is in the first place. The American Medical Association just recognized it as a disease back in June.
"We definitely need to recognize that there's no one to blame for this and that there are genetic components that play a part, lifestyle plays a part, and we just need to change how we view obesity because there's such a stigma," said Caprigno, who currently works with the nonprofit the Obesity Action Coalition.
"We try to get everyone to understand that this is a disease. It's not something we choose," she said.
Follow Kelly Wallace on Twitter and like CNN Living on Facebook.
How young do you think is too young for bariatric surgery? Leave a comment below.