Story highlights
The Diva is an online "eating room" where thousands watch a woman devour food
Park Seo-Yeon makes more than $9,000 a month from online eating
Reasons for the phenomenon include a rise in one-person households
The interactive feature is appealing to Korean lonely hearts who hate eating alone
In increasingly virtual South Korea, the latest bizarre fad is watching someone eat online.
Called 'muk-bang' in Korean, which translates to 'eating broadcasts,' online channels live-stream people eating enormous servings of food while chatting away to those who are watching.
The queen of this particular phenomenon is the Diva, a waifish, pretty 33-year-old woman apparently blessed with the stomach capacity of several elephants and the metabolism of a hummingbird.
Every evening around 8 p.m, several thousand viewers tune in to watch The Diva – real name Park Seo-Yeon – begin inhaling enough food for several college linebackers.
She easily polishes off four large pizzas or three kilograms (6 lb) of beef in one sitting, albeit over the span of several hours.
After she eats, she spends another two or three hours just talking to her fans, who communicate with her via a chat room which accompanies her live-stream channel.
For Park, online eating is not just a niche hobby but a significant source of income — she makes up to ₩10 million ($9,300) a month from her broadcasts alone.
Her costs are also high, however. She says she spends an average of $3,000 per month purchasing food for her show, which she broadcasts for about four to six hours per night.
Confessions of a Diva
Thanks to the live chat room that accompanies her channel, feedback is instantaneous and the show interactive.
Comments flood in and she reads from them in real time.
"My fans tell me that they really love watching me eat because I do so with so much gusto and make everything look so delicious," says Park.
"A lot of my viewers are on diets and they say they live vicariously through me, or they are hospital patients who only have access to hospital food so they also watch my broadcasts to see me eat."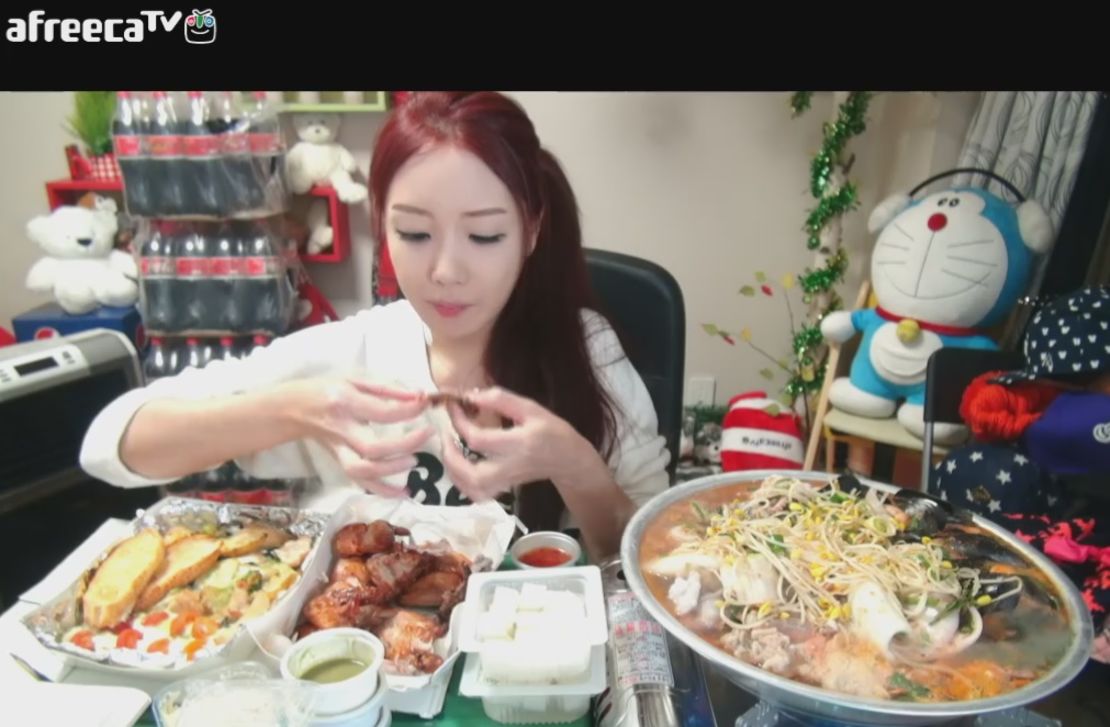 While it would seem that her metabolism would make her public enemy number one, some of the Diva's biggest fans are women, and indeed her channel is more popular with women than with men, with a 60-40 ratio.
MORE: All by my selfie! Blogger shows how to take travel photos with an imaginary girlfriend
"One of the best comments I ever received from a viewer who said that she had gotten over her anorexia by watching me eat," says Park. "That really meant a lot to me."
She cooks about a third of the food that she eats, and the rest she has delivered. Offers of sponsorship have come in thick and fast, but she says she tests out sponsored food first and only features what she truly likes and wants to share.
Her fans show their appreciation by sending her money, in the form of virtual tokens that can be cashed in.
Afreeca TV, the publicly-listed social networking site that hosts her channel, allows users to buy and send virtual "star balloons" which can be monetized after the site takes a 30-40% commission.
Any payment by viewers is purely voluntary, as all channels can be viewed for free.
The service is currently limited to South Korea, although the company has plans to expand it to other countries.
Cultural background
The Diva's success and the Korean eating broadcasting trend can be attributed to a number of specific cultural factors.
"We think it's because of three big reasons — the rise of one-person households in Korea, their ensuing loneliness and finally the huge trend of 'well-being culture' and excessive dieting in Korean society right now," says Afreeca TV public relations coordinator Serim An.
While watching food porn on a diet may sound like masochistic torture, apparently lonely, hungry Koreans prefer to eat vicariously.
Another thing, Koreans hate eating alone.
"For Koreans, eating is an extremely social, communal activity, which is why even the Korean word 'family' means 'those who eat together,'" says Professor Sung-hee Park of Ewha University's Division of Media Studies.
She believes its the interactive aspect of eating broadcasts that's so appealing to these lonely hearts.
MORE: 10 things South Korea does better than anywhere else
Loneliness was also the catalyst for the Diva.
"So many of my friends were getting married and I was living alone and lonely and bored," she says.
"When I first started my channel two years ago, I was showing a variety of content, from dance to outdoor activities, but it was my love of eating that really began drawing a response from fans," says Park.
The setting
And then there's the platform to make the phenomenon possible in the first place.
It's difficult to imagine the unique live-streaming online platform of Afreeca TV working as well on a daily basis anywhere other than South Korea's extremely wired culture.
With 78.5% of the entire population on smartphones and 7 million people riding the Seoul subway network every day, Afreeca TV is becoming particularly popular with Korean commuters, given that the Seoul subway has cellphone reception and Wi-Fi, and South Korean smartphones have TV streaming capabilities.
"Our mobile users surpassed our PC users a while ago, and most of our viewers watch our content while they are on the move," says An.
MORE: Super cars and avatars: Seoul's mind-blowing future technology museum
The majority of Afreeca TV's content is actually online gaming, where individual broadcasters called 'BJs' (short for Broadcast Jockeys), stream their gaming live for others to learn from or comment on. Anyone can live-stream from any device as long as they log in.
"Eating broadcasts" began popping up around 2009, says An, when users began to imitate celebrities' food shows by commenting as they were eating while broadcasting.
Now, of the platform's 5,000 channels that are streaming at any given point in time, 5% of those are eating broadcasts. Afreeca TV has a daily average viewership of 3 million.
Spinning off
The Diva says her success was a huge surprise, but there are still many who don't understand the concept and are liberal with their criticism.
"I get some really awful commenters who make me reexamine 'why am I doing this again?' but at the end of the day the positive feedback overwhelmingly outweighs the bad, so I am happy to continue."
While Park maintained her real estate consulting day job over the past two years, she quit last week to focus more on her eating broadcasts and potential spinoff businesses, including a clothing company.
When asked if she has any time for a private life, considering she broadcasts more than six hours a day every day including weekends, the answer is that she doesn't need one.
"This is a lot more fun," she says.
MORE: Interview: StarCraft II's biggest champ on what makes Korea a pro-gamer's paradise