Story highlights
"Aquascapers" are people who create magical undersea landscapes in large fish tanks
It takes between four months and a year for the seascape to take shape
Enthusiast have an opportunity to square-off in several international competitions
When it comes to pimping out a fish tank, a novice might purchase a bag of brightly colored gravel and a few plastic ornaments.
For Dan Crawford, a founding member of the UK Aquatic Plant Society (UKAPS), that simply will not do.
He and a growing number of "aquascapers" are creating underwater marvels that require knowledge of biology and design—not merely kitsch fish trinkets.
Using rocks, wood, fern-like plants, special lighting, and plenty of creativity, they are dreaming up seascapes that would leave Poseidon in awe.
"For me aquascaping ticks a lot of boxes," Crawford says. "It's relaxing, it's artistic, it's scientific and when done correctly it creates a piece of living art."
For competitive aquascapers, their art goes on show at international aquascaping contests like Russia's International Planted Aquarium Design Contest and the International Aquascaping Contest put on by the Houston-based Aquatic Gardeners Association (AGA).
Competitive designs may invoke the Wild West and include submerged cacti, or recreate the taiga of Russia, the valleys of China, or even lost beaches.
Cheryl Rogers, the president of the AGA, says the desire to innovate leads to a familiar pattern among aqua gardeners.
"For purposes of competition, most aquascapers of winning caliber create a layout, grow it to peak in a few months, snap the photos for competition, then tear it down and create a new one," she says "This is what they do for fun."
Global interest
Interest in aquascaping is particularly strong in Asia.
Takashi Amano, the noted Japanese landscape photographer, helped popularize the hobby in Japan in the mid-1990s with his three-part book series Nature Aquarium World.
Westerners have been slower to latch onto the pursuit—and are often seen as slightly kooky when they do.
Read more: Do these buildings turn you on? The strange psychology of curvy architecture
"It's a very specialized hobby and because of this it's rare that you'll bump into a fellow aquascaper in the local pub or coffee shop," says Crawford. "Generally we will convene at a chosen Aquatic Shop for a chin wag and a look around then move on to the pub to talk about the latest trends and 'scapers."
But today the Internet is helping grow the activity. Web sites connect existing enthusiasts who exchange tips and tricks, and help newbies learn the basics of building their very own marine masterpiece.
Started eight years ago, the UKAPS web site now clocks more than six million page views per month and has 9,000 registered members.
In the online forum they discuss topics like the best water filtration systems, appropriate lighting, why their shop-bought plants are failing to flourish and how to add Java moss to an aquarium.
Sometimes it's a matter of life a death. As one user recently asked in the forum: "Does copper in fertilizer kill shrimp?
Suppliers are also waking up to the opportunities to cater to the aquascaping community.
Read more: Life of a muse: What is it like to inspire art for a living?
Rogers of the AGA says these retailers are helping aquascapers source the plants and materials they need to make their gardens grow.
"Unless you have a local pet store in your area that specializes in our little corner of the hobby, it's difficult to find quality plants, or new plants, or rare plants," she says. "So we get our plants from other hobbyists and online retailers."
Master aquascaping requires a lot more than goldfish and plastic rocks.
Among other things, enthusiasts must stock their supply cabinets with algaecide products that help control green water and systems that supply plants with the carbon dioxide they need to stay alive.
Art in a box
Mastering the hobby takes time.
Karen Randall, an author who has judged several international aquascaping competitions, says that aquascapers approach their work like any other artist would. They have to think about the rule of thirds, areas of negative space, and how best to utilize colors, texture and form.
Rocks and wood formations create the "hardscape", which is used to support the plants in the aquarium. The hardscape also helps set parameters for the rest of the design.
"In the terrestrial garden, the gardener usually has to think more about the natural terrain he or she has to work with, along with large trees and buildings, and work those into the design," she says. "In aquatic gardening, the only thing we start with is four glass walls."
Judging art is always subjective. But competition organizers do their best to ensure fairness and impartiality.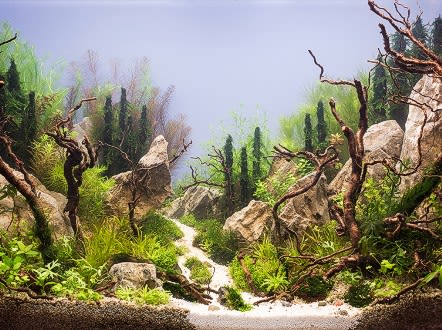 For the Planted Aquarium Design Contest 2013, organizers brought together an international jury of nine aquascapers and aquarium designers from countries including the Czech Republic, Poland, and Turkey.
Judges praise and criticize aquariums in equal measure.
Critiquing "Charm of light", a tank submitted by a Turkish aquascaper, one judge applauded its use of back lighting and left side reflection.
He still saw room for improvement: "White gravel and shape of small stones is inconsistent with bigger rocks and forest soil layer in nature. I would like to see some fishes or invertebrates in this tank."
Competitions promote interest in the hobby and give enthusiasts a platform to share their love of aquariums. But aquascapes don't have to impress a jury to create a sense of Zen.
"You can have a lovely planted tank in your living room that pleases you, even if it would never win a competition," Rogers says. "Most hobbyists are not competitors. They just like plants."
Read more: These shimmering LED installations transport you to an alternate universe
Read more: Addicted to art: The A-listers who can't stop splashing cash on canvas