Africa
AK47s, ammo, and art: The unsettling allure of South Africa's beaded guns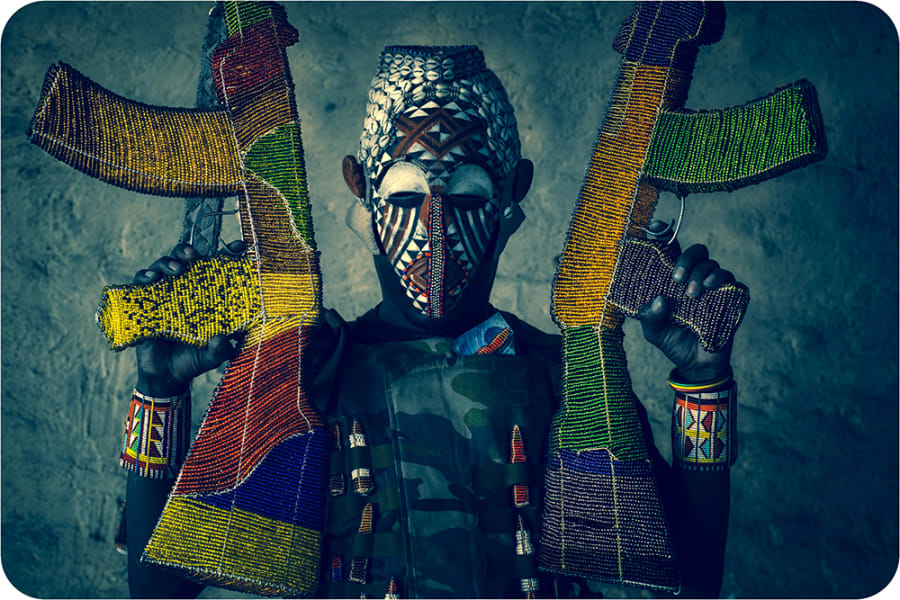 More than 100 million small arms and light weapons are currently circulating in Africa. These weapons stir fear in the masses, but they also inspire reverence. Armed men command status and respect. Freedom songs connect AK-47s with liberation. Mozambique's flag even features the silhouette of the Kalashnikov assault rifle.

South African artist and photographer Ralph Ziman explores the horror and awe of the African arms trade in "Ghosts." Working with local bead artisans and street vendors, he created hundreds of mock bullets and AK-47s. Ziman later traveled with the artists to one of Johannesburg's most crime-ridden neighborhoods, where they posed with their fantasy weapons.

"They have lived around crime and violence both in their adoptive South Africa and their native Zimbabwe," Ziman says. "There is a sadness about the pictures—a loneliness and distance."

The works will go on show at Cape Town's Muti Gallery from April 24.

- Interview by William Lee Adams
Courtesy of Ralph Ziman
CNN: What motivated you to look at the arms trade in Africa?

Ralph Ziman: I started reading up on the enormous quantities of weapons shipped into sub Saharan Africa and the devastation caused by small arms. I thought it would be interesting for us to manufacture non-lethal weapons in South Africa and export them to the West as a commentary on the lethal ones they were sending onto the continent for a profit. It would mean work for local artists and perhaps it could raise awareness of the issues. All of the proceeds from the project are going to non-profit organizations like Human Rights Watch and Control Arms.
Courtesy of Ralph Ziman
CNN: Why did you choose beads as your medium?

RZ: They are quintessentially African. I've only ever seen bead work like this in Africa. The skills and sensibility are quite unique. The sort of bead work we chose is something usually seen and bought by tourists. Beaded animals from the Game Reserve, a memento of Africa to take back to Europe or America to remind you of the lions or cheetahs you saw in the Kruger Park. Curious souvenirs to sit in a child's bedroom or on a mantelpiece. The workmanship is amazing and the talent phenomenal, but they are often discounted as knick-knacks and trinkets. I am constantly amazed by the detail, the colors, and the way that thousands of tiny pieces of glass are transformed into an object.
Courtesy of Ralph Ziman
CNN: How many "weapons" did the artisans create in total?

RZ: We started off with a single gun, then six a week, then ten a week. In the end we had over two hundred guns and thousands of rounds of beaded ammunition. It took a whole day for the packers to wrap and stack the guns in boxes and they filled half of a metal shipping container by volume.
Courtesy of Ralph Ziman
CNN: In your experience, what is the prevalent attitude toward these weapons in South Africa?

RZ: In South Africa the AK-47 is very much fetishized. In modern music we have Spoek Mathambo's awesome, trippy dance tracks belting out to the rhythm of an AK-47. We have our State President Jacob Zuma singing a rousing rendition of "Awuleth' Umshini Wami" (Get Me My Machine Gun) to tens of thousands of supporters who join in the booming refrain whenever he feels threatened politically.
Courtesy of Ralph Ziman
CNN: What about the Kalashnikov makes it so popular?

RZ: The Kalashnikov was very much the weapon of choice and a potent symbol of the armed struggle. I remember in the 90's in the run up to the first democratic election that protesters would make crude replica weapons out of wood or wire and brandish them as they marched. Thousands of marchers would belt out protests songs about the AK-47 and its potential for death and liberation as they toyi-toyi'ed through the streets.
Courtesy of Ralph Ziman
CNN: Why is the AK-47 the weapon of choice for criminals in Johannesburg?

RZ: It is lightweight, compact, easy to conceal, has very little recoil coupled with awesome penetrating power and very little need for training or maintenance. From bank robberies and car-jackings to home invasions and cash in transit heists, the AK -47 is ubiquitous.
Courtesy of Ralph Ziman
You photographed the craftsmen with the weapons in a derelict building in crime-ridden downtown Johannesburg. Did they photograph easily?

They were very at ease. They needed no direction, knew exactly how to stand and pose, how to wield the weapons with threat and menace while still retaining a cool detached air. There were other people who saw us doing the shoot and wanted to pose. A construction worker, a building inspector and a policeman. Again they knew exactly how to brandish the weapon, how to bring real threat to a mass of wire and glass beads.
Courtesy of Ralph Ziman
CNN: Who are the "Ghosts" you reference in the title?

RZ: "Ghosts" refers to the nameless faceless victims of the arms trade. The statistics. The collateral damage. The human fodder. "Ghosts" also refers to the anonymous dealers, hidden traffickers and faceless militias that profit from this industry.
Courtesy of Ralph Ziman
CNN: There is an unsettling beauty to these photographs. How do you explain their allure?

RZ: I think there is a danger and a beauty to the guns, a seductive combination. There is a way the bright colors seduce your eyes while the ugliness of the guns repels you. It's like seeing a brightly colored snake or poisonous spider.
Courtesy of Ralph Ziman
CNN: You'll be shooting the first part of a documentary in April. What's the idea behind the film?

RZ: The idea is to take a dozen beaded AK-47's and travel to various war torn regions of Africa. South Africa, Mozambique, Zimbabwe, Democratic Republic of Congo, Central African Republic, Rwanda, etc. We would create a second series of photographs, using ordinary people, soldiers, children, rebels, peacekeepers, and the like, this time set in real world places where these guns are proliferating. In the documentary I want to talk to people about what the AK-47 and what gun violence means to them personally and in the world they inhabit.
Courtesy of Ralph Ziman
CNN: You recently displayed the works at the C.A.V.E. Gallery in Venice, California. Did you have problems getting these items through customs?
RZ: There was no mention of guns, ammunition or ordinance anywhere on the customs declaration. The boxes were marked "Beaded Ornaments". There is no duty to pay on artwork and they sailed through customs.
Courtesy of Ralph Ziman