Story highlights
Civilians caught in a crossfire between Ukrainian troops and pro-Russian separatists
Social media video shows extensive damage in the city of 130,000 people
President Petro Poroshenko has consulted with France, Germany and Russia on peace push
Poroshenko: 'Every day of Ukraine paying such a high price is an unacceptable one'
The battle for control of the eastern Ukrainian town of Slovyansk has intensified in the past 24 hours, with civilians caught in heavy crossfire between government forces and pro-Russian separatists. Each side blames the other for mortar and rocket fire that has struck apartment buildings and homes in the town, which is now also suffering acute power and water shortages.
Social media video from Slovyansk uploaded Sunday and apparently filmed in the past two days shows extensive damage to an apartment block in the center of the town, which appears to have taken a direct hit to the third floor.
Another building was engulfed by fire. Other videos showed people hurrying to basements, with the sound of artillery and rocket fire in the distance – and at times much closer. The charred ruins of cars littered the streets, and windows in a number of buildings had been blown out.
The office of President Petro Poroshenko, who was inaugurated Sunday in Kiev, said he had opened the first meeting of a three-party contact group on implementing a peace plan he had discussed with French President Francois Hollande, German Chancellor Angela Merkel and Russian President Vladimir Putin on the margins of the D-Day commemorations on Friday.
In an apparent reference to the fighting around Slovyansk, Poroshenko said: "We have to stop fire this week. For me, every day of people dying, every day of Ukraine paying such a high price is an unacceptable one."
The talks involve Ukrainian ambassador to Germany Pavel Klimkin, a special envoy with the Organization on Security and Cooperation in Europe and Russian Ambassador to Ukraine Mikhail Zurabov, the President said.
Slovyansk – normally a city of some 130,000 people – was taken over by separatists early in April. The Ukrainian army first attacked separatist blockades on its outskirts later that month but subsequently withdrew. Only in the past week have Ukrainian troops moved decisively to bottle in the separatists, using tanks, artillery and rockets against their defenses.
A spokesman for the Anti-Terrorist Operation told CNN from outside Slovyansk that the army was not shooting at residential areas and that separatists had launched a counterattack early Sunday.
Separatist officials in the town told the Russian news agency ITAR-TASS that artillery fire had been aimed at the city administration building, the former Security Service compound and Police Department – all of which are occupied by the separatists. ITAR-TASS quoted a local militia official as saying that "there were victims among civilians as many were injured by shrapnel."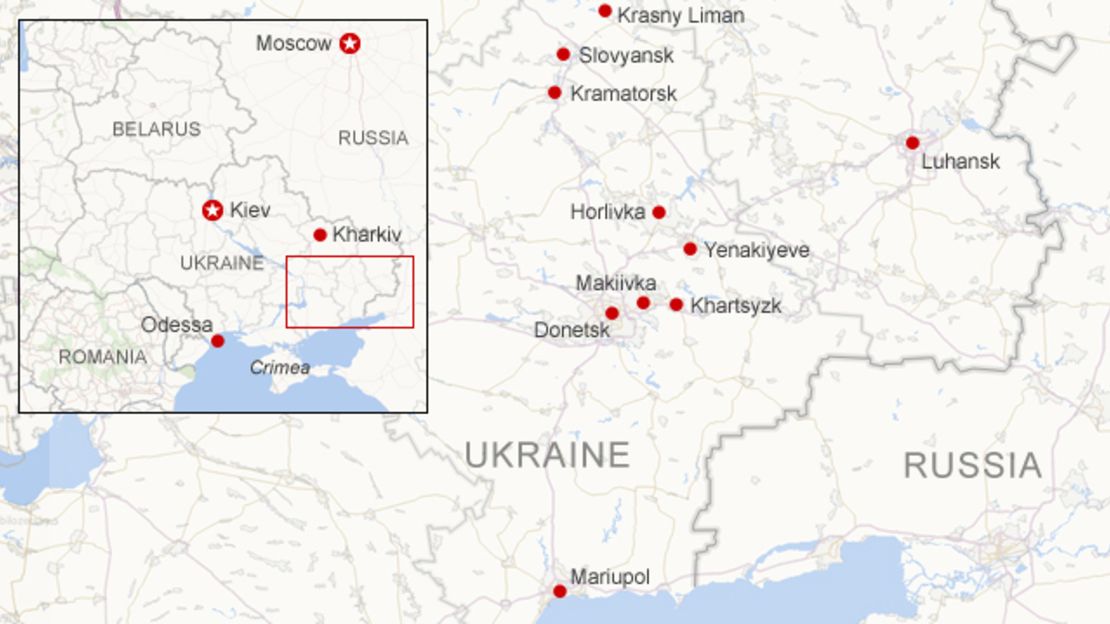 CNN was unable to confirm the account, but one social media video appeared to show a pool of blood close to the impact of a shell. Overall casualties in Slovyansk are impossible to quantify.
A health official with the Donetsk regional administration, Elena Peteyaeva, said 140 bodies had been collected – but it was not clear over what time span. Peteyaeva said there were only three ambulances at work in the town and very few people were able to get out.
A CNN team that reached the area Thursday found all major roads into Slovyansk blocked and deserted. During an extensive tour of the region, only two cars, piled high with belongings, emerged from country tracks.
South of Slovyansk, separatist groups have consolidated their hold of several towns in the Donetsk and Luhansk regions.
A CNN team on Sunday visited Shnizhne, Krasny Luch and Antratsyt, all on or close to the main road east to the Russian border. Separatist roadblocks guarded the fringes of each town in a heavily industrial part of the Donbass region, and dozens of well-armed fighters were seen in the center of Shnizhne. The main administration building in Antratsyt was surrounded by sandbags.
One nearby border crossing at Marynivka – which was the scene of clashes last week when separatists of the so-called Vostok Battalion tried to bring heavy trucks and an infantry fighting vehicle across the border – had been reinforced by the Ukrainian Border Guard, with additional troops deployed on nearby hills. Even so, the troops deployed at the border admitted it was impossible to patrol the 1,200-mile border effectively, much of it unfenced amid rolling, empty countryside.
READ: Ukraine's President vows to defend territory 'no matter what'
READ: 'It's hell down there:' Inside the battle for eastern Ukraine
READ: Obama warns Russia of further costs if it continues meddling in Ukraine
Journalists Azad Safarov and Victoria Butenko contributed to this report