Story highlights
Paralysis patients have electrical stimulators implanted in their spines in study
Stimulators help return their sex lives to normal
Patient: "Walking isn't such a big deal ... sex is a big deal"
While practicing for a national motocross competition in 2009, Kent Stephenson's motorcycle suddenly locked up and crashed, leaving him paralyzed from the chest down. He was just 21 years old and would never walk again.
He was also devastated to learn that he would never have sex again.
Or so he thought.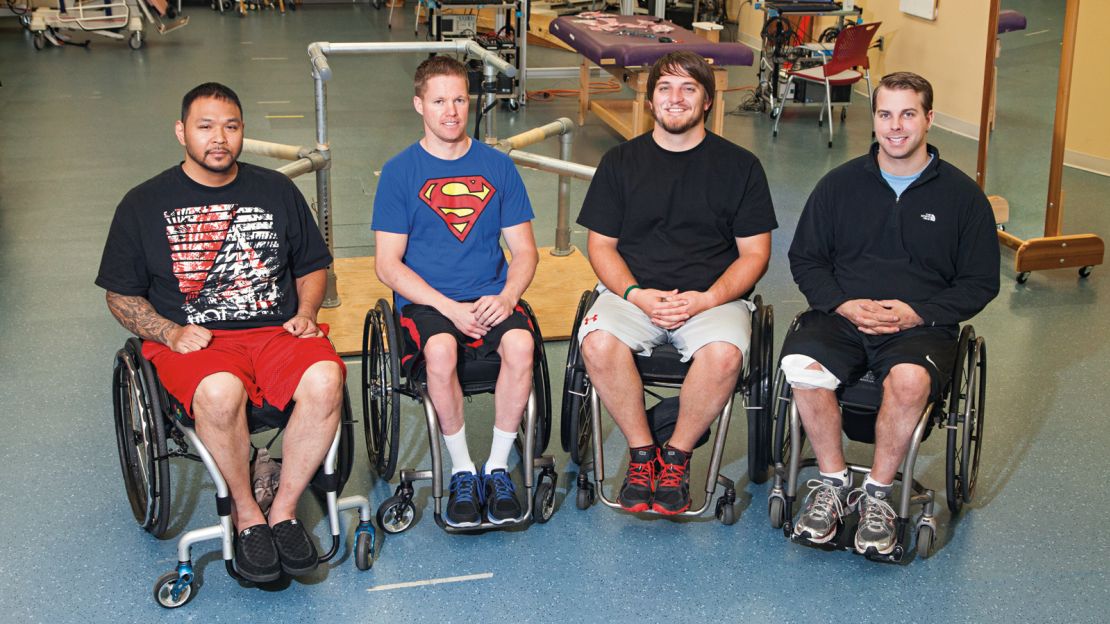 For three years Stephenson couldn't function sexually. Then one evening he was getting intimate with a woman and to his shock he had an erection.
"It went from zero to hero," Stephenson said.
No, it wasn't Viagra – doctors had previously prescribed the pill in huge doses, but all he got was a big headache. What gave Stephenson his groove back was an electrical stimulator surgically implanted in his spine as part of a study on paralysis.
Stephenson's friends were happy he was happy, but they expressed disappointment that the experimental stimulator didn't also get Stephenson walking again.
"I told them that not walking isn't such a big deal; wheelchairs are so advanced these days," he said. "But not being able to have sex is a big deal."
"It's a life-changer," agreed Andrew Meas, one of three other men who received the stimulator as part of a paralysis experiment at the University of Louisville. The men, who all experienced varying levels of sexual dysfunction, say their sex lives returned to normal once the stimulators were implanted.
This unexpected benefit of the stimulator treatment underlies a brewing debate in the spinal cord injury community: While it's often assumed that walking again is the ultimate goal for people using wheelchairs, many of the people in those wheelchairs argue that what doctors call "secondary conditions" such as sexual function and bowel and bladder control are just as important, if not more so, and should be given a higher research priority.
"I've talked to so many paralyzed men who say they don't want to walk again, they just want that back," Meas said.
A 2004 survey of more than 300 people paralyzed from the chest down – mostly men – found that regaining sexual function was their highest priority. Bowel and bladder control was No. 2 on their list. Regaining the ability to walk was No. 5.
"We don't have enough people focused on studying ways to solve problems like sexual function and bowel and bladder control," said Kim Anderson-Erisman, who conducted the survey, which was published in the Journal of Neurotrauma.
Anderson-Erisman, the director of education at the Miami Project to Cure Paralysis, has used a wheelchair since she was in a car accident at age 17.
"Not being able to walk is the easy part," she said. "When you can't control your bladder or your bowels, that's big, big, big, and we're still way behind on research for those things."
Slowly, the research is changing. The Christopher & Dana Reeve Foundation, for example, is looking for more ways to advance research for the "secondary conditions" of paralysis.
"These aren't secondary conditions if you're living with them," said Peter Wilderotter, the president and CEO of the foundation. "We can improve lives in the here and now and that's an extraordinary change in the way we think about this."
Stephenson agrees, and feels lucky that the stimulator changed his life. First, of course, is his "zero to hero" sex life.
"Before, I'd be out on a date just sitting there thinking I won't be able to perform later," he remembers. "Now I get to go out and have my night, and if it gets to that, I'm ready."
The stimulator also gave him greater bladder and bowel control. Before the surgery, Stephenson and the other men said they would sometimes urinate or defecate without warning.
"I'd be having a conversation and look down and go 'oh, snap, it's wet everywhere,'" he said.
But now Stephenson's bowel and bladder control are nearly where they were before his accident. That's not just important for his quality of life, but also for the length of his life; a too-full bladder can lead to fatal blood infections or kidney damage.
He said he hopes there's a shift in research funding so more people using wheelchairs will get to share his experiences.
"Sure, I'd like to walk someday, too," Stephenson said. "But just give me sexual function and bowel and bladder control – I'm a happy camper."