Story highlights
NEW: Hong Kong's leader CY Leung says government open to talks
Tells press conference that tolerance of mass occupation was limited
He said police had shown tolerance and restraint, despite accusations of excessive force
Asia's richest man urges protesters to go home
Hong Kong's leader made it clear on Thursday the pro-democracy protests which have clogged main thoroughfares in the city for almost three weeks cannot continue.
C.Y. Leung told a live press conference on local television that the government was eager to resume talks with the main student group – the Hong Kong Federation of Students – as early as next week.
However, he said city's tolerance of mass sit-ins was limited, and that some members of the public were "very discontent."
"We do not want to see anyone, including students, continuing to occupy the roads for a long time and creating conflict with the public who are disgruntled. We don't want to see clashes," he said.
"We cannot allow the situation to continue to have an adverse impact on Hong Kong society."
Growing discontent
At times during the near three-week protest, police have been forced to separate protesters from anti-protest groups intent on tearing down makeshift barricades blocking main roads.
Taxi drivers and business owners have complained that the protests have cost them income – at one stage early in the protest, a man threatened to jump off a bridge because his child's school had been closed for days.
The protests, which began in late September, have caused severe disruption in the city, impeding access to the city's financial district, forcing the cancellation and re-routing of tram and bus services and putting pressure on the local underground rail network.
At the peak of the protest in early October, tens of thousands of people came onto the streets at three locations in Hong Kong – Admiralty, Causeway Bay and Mong Kok – waving cell phones in unison as they called for universal suffrage.
However, in recent days numbers have dwindled.
The government and protesters had planned to start talks last Friday, but the government pulled out after protesters urged supporters to keep up the blockade.
Protest groups then accused the government of not being "sincere" in its offer, and issued another call for reinforcements.
What protesters want
Protesters want to be able to nominate candidates for the election of the city's chief executive in 2017. Instead, China's National People's Congress (NPC) has said they'll be able to vote from a shortlist approved by Beijing.
Leung said on Thursday that there is no way Bejing would retract its decision. "We have to implement the 2017 election of the chief executive within the framework set by the NPC," he said.
He said the move to give each Hongkonger a vote was a "big breakthrough, a big step." Currently the chief executive is elected by a specially-appointed 1,200 member election committee.
"I know some people including students feel we can be more ambitious but that's not in accordance with the Basic Law," he said, referring to Hong Kong's mini constitution.
Claims of police brutality
On Wednesday, the occasional scuffle between police and protesters took a darker turn with the release of a video which appeared to show several police officers beating up a detained protester.
Hong Kong police have vowed to conduct a full and impartial investigation, and the officers concerned have been temporarily relieved of their duties.
Leung said on the whole officers had shown tolerance and restraint during a period of "great stress."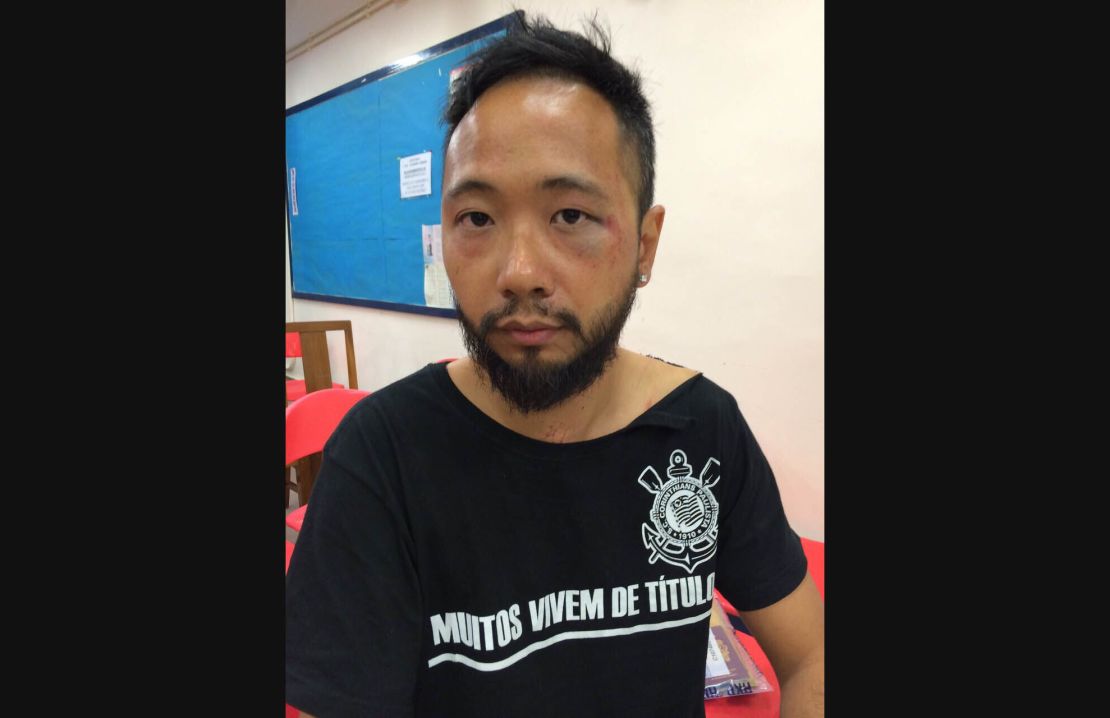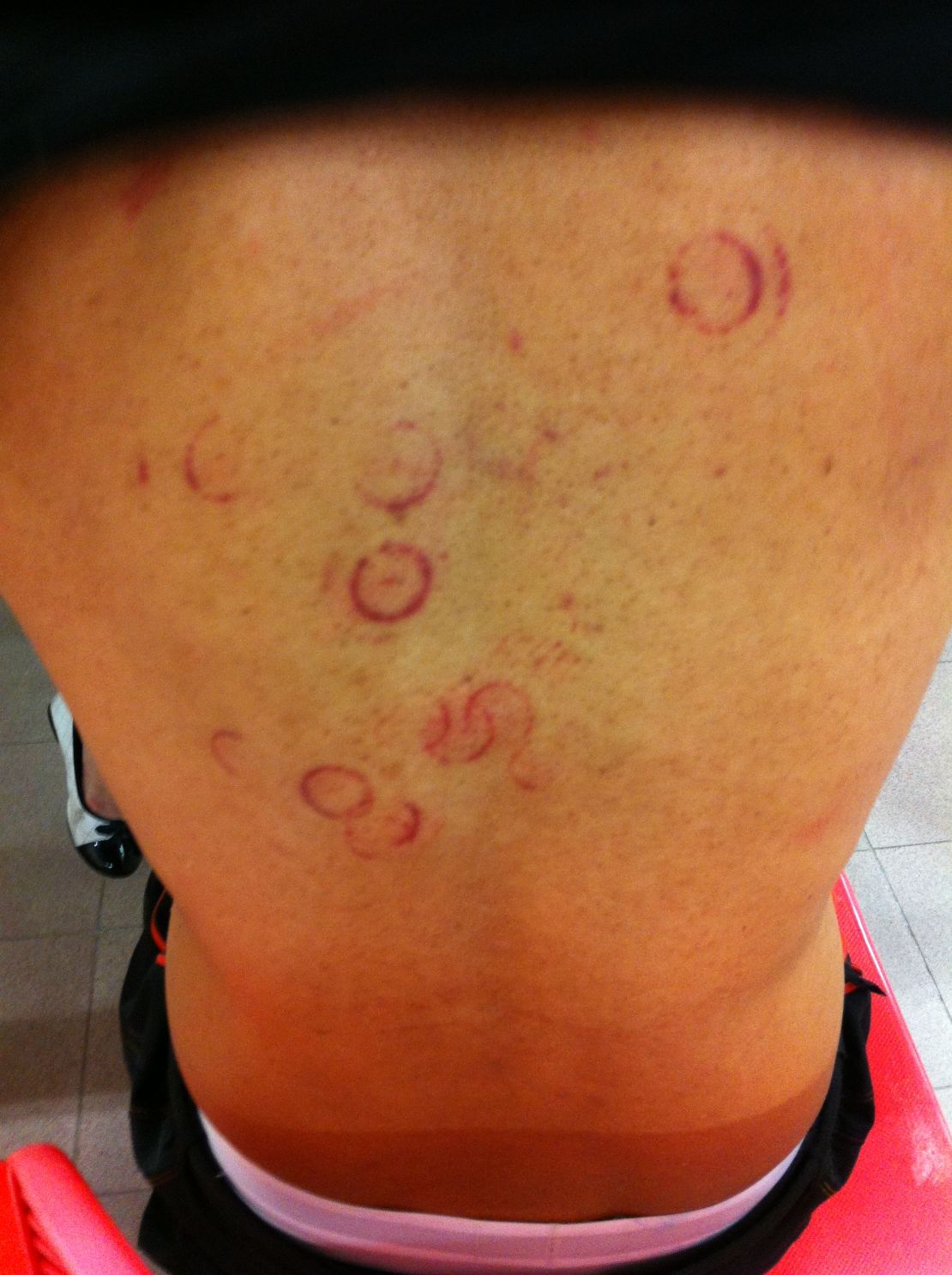 The alleged beating victim, Ken Tsang, a social worker in his 30s, lifted his t-shirt to show local media bruising and scratches to his back and chest as he left a police station late Wednesday night.
Reading from a prepared statement, he said: "You should have seen the TV footage of a number of police officers brutally assaulting me. I was… utterly defenseless," he said, according to the South China Morning Post. He said he planned to take legal action.
Tsang's lawyer Dennis Kwok told CNN his client was already cuffed when six or seven officers carried him to a dark corner and started kicking and punching him. "It was unprovoked and unnecessary for anyone to use that kind of violence on an arrested person," Kwok said.
Turf battles
For the second straight night on Wednesday, officers and protesters clashed on Lung Wo road, which runs past the central government offices in the Admiralty district of Hong Kong, near the main protest site.
Police said they fired pepper spray but only after protesters ignored warnings and tried to charge them. The melee followed the arrest of a 38-year-old man for disorderly conduct after he kicked a bottle into the path of a moving car, police said.
The road has been the center of a turf battle between police and protesters, who have been trying to rebuild barricades torn down in previous attempts to clear the way for traffic.
Li Ka-shing: Go home
On Wednesday, Asia's richest man, Li Ka-shing, waded into the debate, releasing a statement urging the protesters to go home.
"We can all understand the passion of the students. However 'pursuit' must be navigated with wisdom, all people should observe the rule of law – Hong Kong Police Force has always been guarding law and order, and the damage of rule of law will be the gravest grief for Hong Kong."
Addressing them as "young friends," he said the protesters' message had been heard.
"I sincerely appeal to all of you not to be emotional, I ask you not to let today's passion become tomorrow's regret, I plead that you immediately return to the side of your family members."
CNN's Elizabeth Joseph, Jonathan Stayton and Chieu Luu contributed to this report.