Story highlights
Israeli PM Netanyahu says the document shows there is "no moderation in Iran"
Iran's supreme leader Khamenei calls for Israel to be "annihilated"
He opposes a massacre of Jews, wants the West Bank "armed like Gaza"
Obama slams Iran's "anti-Israeli rhetoric and behavior"
A new document by Iran's supreme leader calling for the elimination of Israel shows that world powers must not rush into a deal on the country's nuclear program despite an upcoming deadline, Israel's Prime Minister said Monday.
"There is no moderation in Iran. It is unrepentant, unreformed, it calls for Israel's eradication, it promotes international terrorism," Benjamin Netanyahu said in a statement.
"This terrorist regime in Iran must not be allowed to become a nuclear threshold power. And I call on the P5+1 countries – don't rush into a deal that would let Iran rush to the bomb." (The P5+1 refers to the United States, China, Russia, Britain, France and Germany – the five permanent members of the U.N. Security Council, plus Germany.)
Iran insists it only wants nuclear energy. And Ayatollah Ali Khamenei, while calling for the elimination of Israel, said he opposes "a massacre of the Jewish people in this region."
Instead, he seeks a referendum. But in the meantime, "armed resistance is the cure," he says, calling for the West Bank to be "armed like Gaza."
The call reflects internal Palestinian politics as well. Iran supports Hamas, the militant group that controls Gaza. Hamas' rival faction, Fatah, controls the West Bank. On Sunday, the government in the West Bank accused Hamas of bombing its leaders' homes.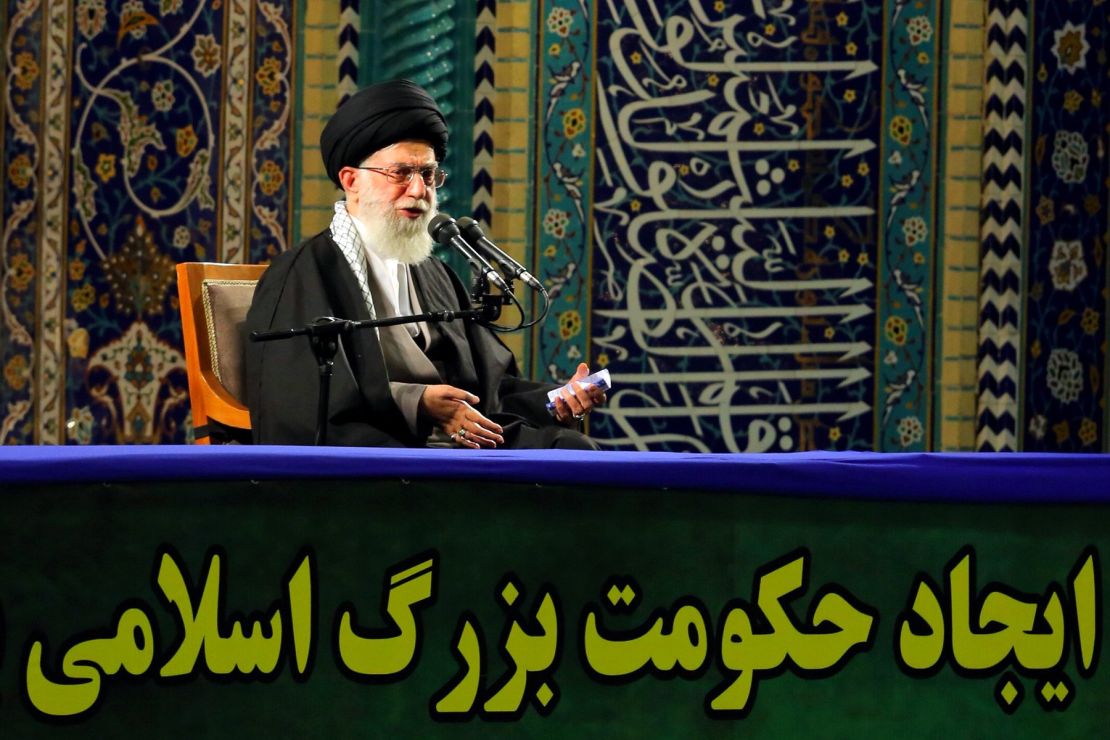 Israelis were stabbed in two "terrorist" incidents Monday, leaving one woman dead, police said.
Annihilation call made through Twitter
The Iranian leader made his call for Israel to be "annihilated" on Twitter over the weekend. Mixed in with tweets insisting that Iran is committed to diplomacy on other issues, Khamenei posted a series of tweets slamming Israel. Among them was a document called "9 key questions about elimination of Israel."
While he and other Iranian leaders have spoken similarly of Israel in the past, the one-page document, packed with specific details, was new.
It says the "proper way of eliminating Israel" is for "all the original people of Palestine including Muslims, Christians and Jews wherever they are, whether inside Palestine, in refugee camps in other countries or just anywhere else, take part in a public and organized referendum." The "Jewish immigrants who have been persuaded into emigration to Palestine do not have the right to take part," he adds.
It's unclear who Khamenei thinks the "original people of Palestine" are, given that the region's history dates back thousands of years and includes countless waves of immigration and exile.
A June poll by the Washington Institute found that most Palestinians in Gaza oppose a two-state solution and want to work toward abolishing Israel – a goal that is in line with Hamas' charter. A July poll by the Dialog Institute found that most Israelis support a two-state solution, Haaretz reported.
ISIS affects U.S.-Iran relations
U.S. President Barack Obama recently sent a letter to Khamenei about cooperating in the fight against ISIS, the terror group that calls itself the Islamic State. Revelations about the letter have raised questions over whether Obama's stance on Iran is softening.
U.S. officials insist Washington is not coordinating military actions with Tehran.
"There is some deconflicting, in the sense that since they have some troops or militias they control in and around Baghdad," Obama told CBS' "Face the Nation" on Sunday. "We let them know, 'Don't mess with us. We're not here to mess with you.' We're focused on our common enemy. But there's no coordination or common battle plan. And there will not be."
"We still have big differences with Iran's behavior vis-a-vis our allies, them poking and prodding at – and creating unrest and sponsoring terrorism in the region, around the world, their anti-Israeli rhetoric and behavior," Obama added. "So, that's a whole 'nother set of issues which prevents us from ever being true allies."
Tensions between Obama and Netanyahu are widely reported. U.S. Vice President Joe Biden sought to refute them Monday.
"Like all close friends, we talk honestly with one another. We talk directly with one another. We disagree with one another. We love one another, and we drive one another crazy," he said in a speech to the Jewish Federations of North America.
"We will not let Iran acquire a nuclear weapon, period," he added.
The deadline for the current round of nuclear negotiations between Iran and the P5+1 is November 24. Obama left it unclear Sunday whether a deal will be struck by then.
"The question now is: Are we going to be able to close this final gap, so that they can re-enter the international community, sanctions can be slowly reduced, and we have verifiable, lock-tight assurances that they can't develop a nuclear weapon? There's still a big gap. We may not be able to get there."
CNN's Mike Pearson contributed to this report.